How Jojoba Oil Really Affects Your Hair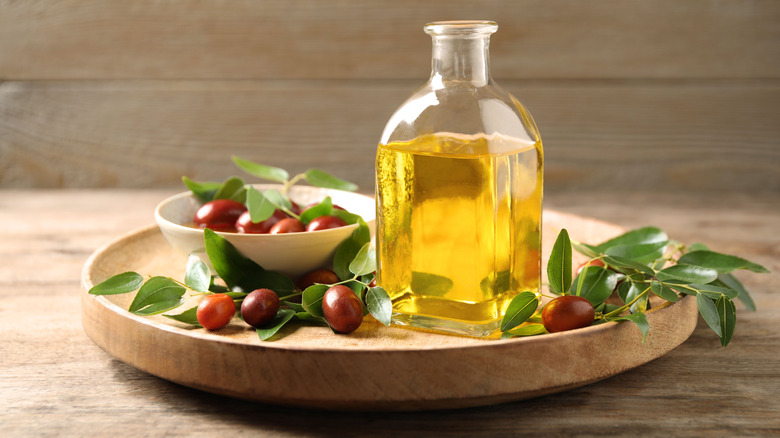 Shutterstock
Beauty bloggers often recommend using jojoba oil for hair care. Some say that it promotes hair growth, reduces dandruff, and moisturizes the scalp. Surprisingly, many of these claims are backed by science. For example, a 2013 research paper published in the Italian Journal of Dermatology and Venereology highlights jojoba oil's antibacterial, anti-inflammatory, and moisturizing properties. The oil also exhibits conditioning effects and may reduce hair breakage when used along with other products.
Due to its moisturizing properties, jojoba oil nourishes the scalp and may improve hair health. As hairstylist Michelle Sultan told Harper's Bazaar, this natural extract can soothe a dry, itchy scalp without clogging the pores. "Jojoba oil is one of nature's finest creations," he added.
This natural oil comes from the seeds of Simmondsia chinensis, the jojoba plant. Rich in liquid wax esters, it's highly compatible with human sebum and locks in skin moisture (via Science Advances). It's also an excellent source of vitamin A, vitamin E, essential fats, and other nutrients that may soothe dry skin and slow down aging, reports Prevention.
Jojoba oil may prevent and reduce dandruff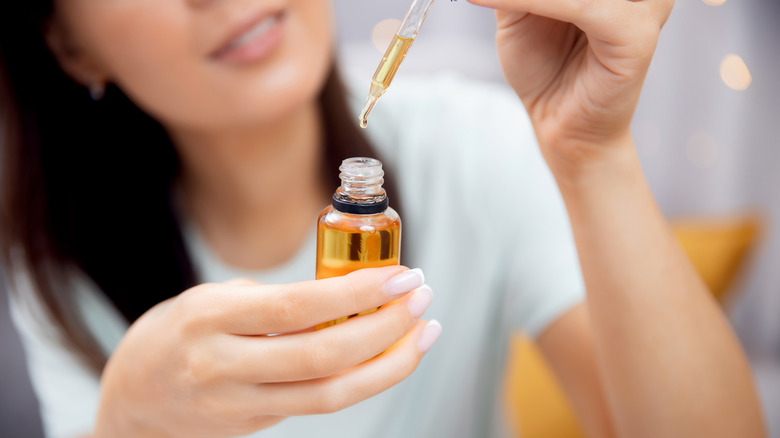 Shutterstock
Jojoba oil is a popular ingredient in hair conditioners, shampoos, and skin care products. Since it has a similar molecular structure to human sebum, it may help regulate oil production, as cosmetologist and hair expert Ghanima Abdullah told Byrdie. At the same time, it maintains the scalp's pH balance, according to wedding hairstylist Sally-Kate Duboux (via Byrdie). Both experts agree that jojoba oil may help control dandruff and reduce flaking.
Conventional anti-dandruff products can dry out the scalp and hair, as they reduce sebum production. Jojoba oil, on the other hand, locks in moisture, nourishing your scalp and hair follicles. This makes it ideal for all hair types, notes Cosmopolitan. Coconut oil, sweet almond oil, and other natural oils are moisturizing, too, but they don't protect against water loss. "Jojoba works best on the outside of the hair strand as a sealant against moisture loss," trichologist Audrey Sivasothy told Cosmopolitan.
If you're trying to get rid of dandruff, simply massage jojoba oil into your scalp and apply a few drops on your hair in the evening, says dermatologist Ife Rodney (via Cosmopolitan). Put on a shower cap before going to bed to prevent the oil from staining your pillow, and then wash your hair with shampoo in the morning. Rodney also recommends applying the oil on a damp scalp to increase its absorption into the skin.
Use jojoba oil to repair damaged hair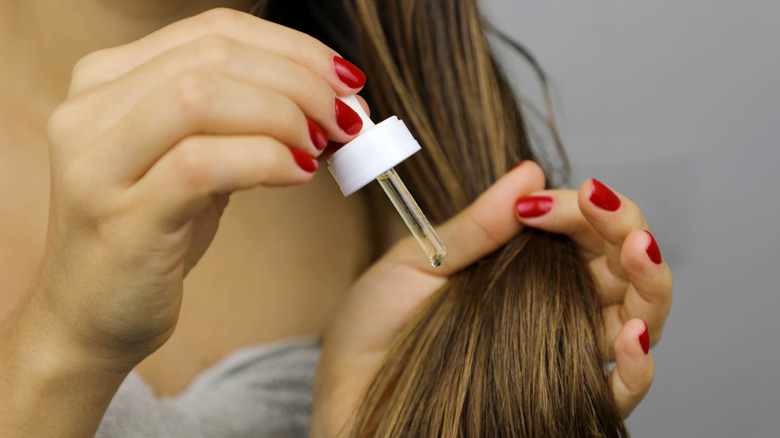 Shutterstock
As discussed above, jojoba oil moisturizes the hair and prevents water loss. Moreover, it boasts antioxidants and fatty acids that protect your hair from free radicals. These nutrients may also reduce the damaging effects of blow-drying and frequent heat styling, doctor Debra Jaliman told Prevention. She suggests applying a few drops to the hair before and after styling.
This natural oil may also help repair damaged hair. First of all, it's rich in vitamins that make your hair thicker. Second, it restores the scalp's pH balance without increasing sebum production, as Sally-Kate Duboux (who is also a wig specialist) explained to Byrdie. Third, it reduces excess sebum, unclogging the follicles and leading to faster hair growth. At the same time, it prevents your hair from breaking (via Healthline).
Considering these aspects, you might want to start using jojoba oil for hair care — just make sure you know your hair type. Duboux recommends applying a small amount of oil if you have fine or light-colored hair. Pour a few drops on your wrist or neck before applying it to your hair or scalp. Watch out for any signs of irritation, such as redness or itchiness. If there are no adverse reactions, go ahead and use jojoba oil to nourish your hair. Note that it is perfectly fine to combine jojoba oil with deeply moisturizing oils, such as coconut or argan oil.