Kamala Harris' Memorial Day Message Has Twitter Fuming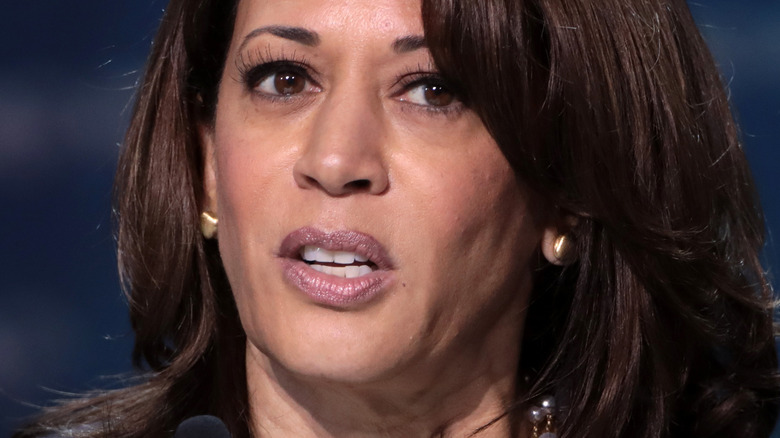 Shutterstock
Like most public figures, Vice President Kamala Harris enjoys posting to social media. Normally, she shares photos and messages about her various meetings with world leaders and congressional committees, with an occasional personal moment, as when daughter Ella graduated from college. But her May 29 message is raising ire all over the internet. The post — shared on Twitter and Instagram — showed a photo of herself smiling, with the caption, "Enjoy the long weekend."
Respondents were quick to bash Harris for not acknowledging that the long weekend includes Memorial Day, a federal holiday established to remember service members who fell in the line of duty. While many Americans do enjoy beach outings and barbecues, it's still proper to recall the reason for the time off. As one follower tweeted, "Kind of weird for the VP of the US to not mention the long weekend is due to Memorial Day." Others posted photos of military cemeteries and funeral processions.
Harris followed up on May 30 with a more solemn message: "Throughout our history our service men and women have risked everything to defend our freedoms and our country. As we prepare to honor them on Memorial Day, we remember their service and their sacrifice." Some saw this as a feeble attempt at apologizing, but one supporter said, "I am a veteran and I believe that our wonderful Madam Vice President can communicate both messages if she so chooses." Other respondents pointed out that part of Harris' weekend was spent delivering the commencement address at the U.S. Naval Academy graduation.
Donald Trump also delivered a questionable Memorial Day message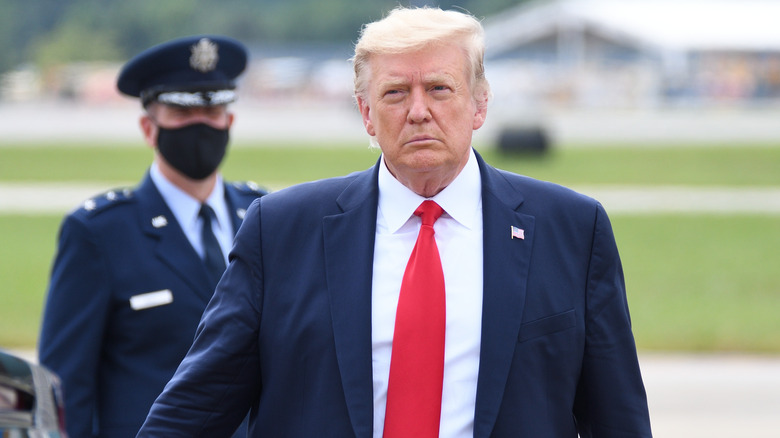 Shutterstock
Kamala Harris' post isn't the only holiday message raising eyebrows. Former President Donald Trump made his own statement about Memorial Day on May 27. Though he can't post on Twitter anymore, he still shares his thoughts publicly through his "From the Desk of Donald J. Trump" website. He began: "With Memorial Day Weekend coming up, tomorrow people start driving in the biggest automobile days of the year." Trump then spoke out about the rising cost of gas under the Biden administration and how much better life was when he was in office. He concluded: "Wasn't it great to be energy independent, but we are energy independent no more. Shame, shame, shame. Other than that, have a great Memorial Day Weekend!" 
Harris followers also noted that the former president has posted many tone-deaf Memorial Day messages over the years, both before and during his term. One fan recalled Trump's 2015 tweet, "I would like to wish everyone, including all haters and losers (of which, sadly, there are many) a truly happy and enjoyable Memorial Day!" In 2018, Trump not only wished America a "Happy Memorial Day," but then went on to tout his own accomplishments on the economy and unemployment. "Those who died for our great country would be very happy and proud at how our country is doing today," he wrote (via The Wrap). As the fan put it, "'Enjoy the long weekend' is nice and sincere compared to this [BS]."
Meghan McCain's criticism of Harris backfired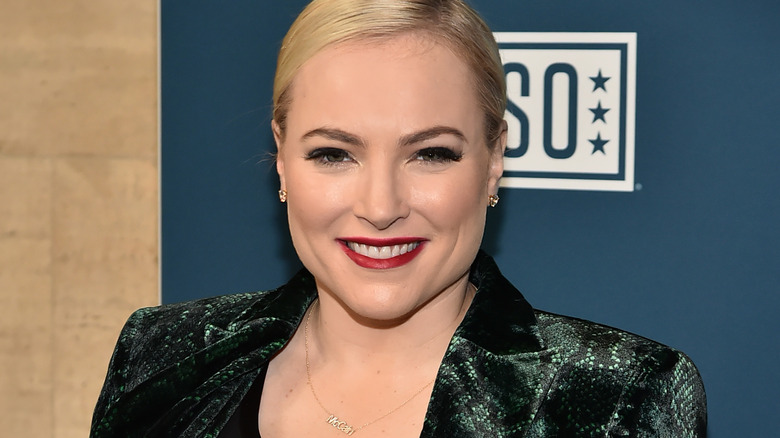 Theo Wargo/Getty Images
Another famous Republican took aim at Kamala Harris' message — but the reaction may not have been the one she expected. Meghan McCain, the main conservative voice of "The View," seized the opportunity to tweet, "A reminder that tomorrow is an extremely emotional and sacred day for millions of Americans. We honor those who have given the greatest sacrifice for our country. It's not simply (or cavalierly) 'a long weekend'. I pray for these families always ~ but particularly tomorrow."
This should have come off better than it did, particularly since McCain is the daughter of the late Sen. John McCain, himself a Vietnam War veteran. But her remark backfired on two counts. First, as MSNBC producer Kyle Griffin reported, the vice president visited Sen. McCain's grave at the U.S. Naval Academy cemetery and laid flowers there before addressing the new graduates. Then there was the fact that McCain bragged on Instagram about visiting a casino with her husband on the Saturday before Memorial Day.
McCain called herself "the happiest woman in all the land" for being able to play blackjack, craps and other games. Author and activist Charlotte Clymer, who served in the Army for seven years, was quick to address this: "Meghan, you literally spent last night gambling in a casino and gleefully tweeting about it...so, where exactly do you get off lecturing the Vice President about solemnity this weekend? As a veteran, I would really love to know."