Inside Donald Trump And Melania's Relationship Today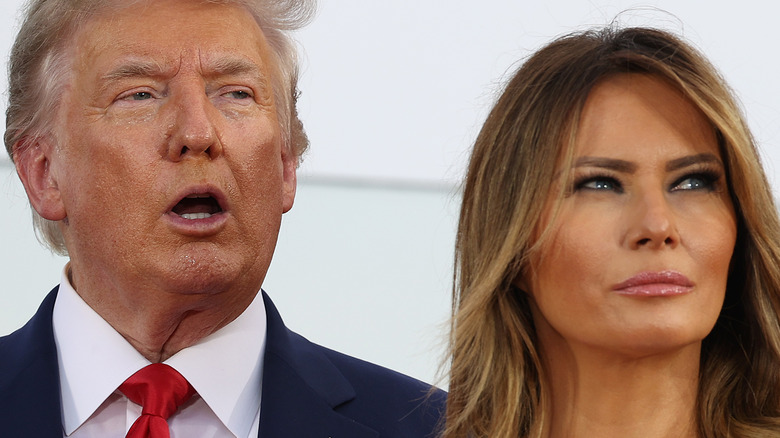 Tasos Katopodis/Getty Images
TBH, Donald and Melania Trump's relationship should hardly be gossip column material anymore, but that doesn't stop the Daily Mail from ogling at the couple when they eat together at Mar-a-Lago, their private table roped off for maximum exclusivity. You heard that right. Bookies might have made a fortune off of bets as to whether or not Melania would divorce Donald after the election (via Washington Post), but the two are still very much an item. File that bit of not-all-that-surprising information under "it is what it is," and move on. 
As The Guardian once reported, Melania Trump seems to have always known exactly what she wants out of her relationship with Donald. Take the time in 2016 that she took a rain check on moving into the White House while she renegotiated her prenup. Her former staff members are generally tight-lipped, not the least because they've signed non-disclosure agreements. But in September 2020 Stephanie Winston Wolkoff, a former senior adviser of Melania's (and self-described former friend of the former first lady) confirmed to BBC what everyone more or less suspected. "I do believe it's a transactional marriage ...  and Melania got two dynamic decades" out of the deal, she said.  
People's got new info as to the state of Donald and Melania Trump's post-presidency relationship. It turns out that after Donald, Melania and Barron had a Mother's Day lunch at Mar-a-Lago, Donald took off on a plane for Bedminister, New Jersey alone. Don't sound the divorce bells yet. 
Melania has her relationship with Donald 'down to a science'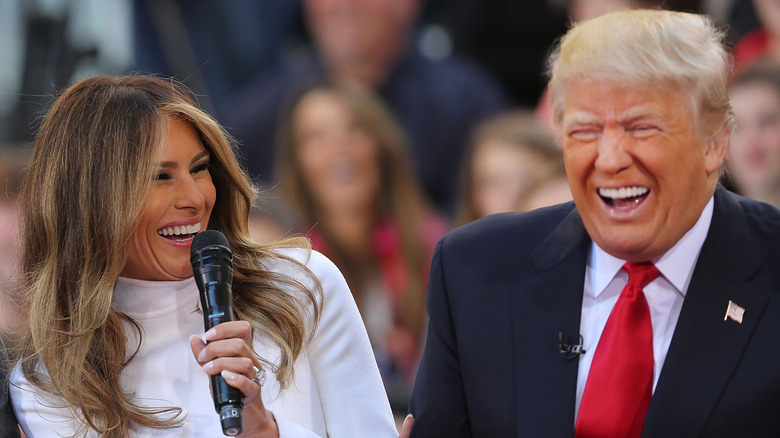 Spencer Platt/Getty Images
Donald Trump, the Daily Mail reported, said goodbye to his Florida supporters in early May during an event endorsing Missouri Rep. Billy Long, promising, "We'll be back here in October, maybe a little bit sooner." A source told People that Melania intends to divide her time between taking care of her son and his school priorities and spending time with her husband. "She has their relationship down to a science," said the insider. "She does what she wants and also continues as Mrs. Trump, so it's unlikely to expect much out of the order at this point."
People's info closely aligns with biographer Mary Jordan's version of Donald and Melania Trump's marriage. "I don't know any couple that spends as much time apart," Jordan told The Guardian. "They are often in the same building, but nowhere near each other ... She likes to be isolated. She is a loner. He is a loner." It also closely echoes CNN's recent profile, which reported that Melania has been an all-but ghost around Mar-a-Lago. When she does emerge from her afternoons spent with Barron and her frequent trips to the spa, however, she seems "happy and relaxed."
Clearly,  Donald and Melania are happiest when together-but-apart. A hairstylist who once worked for Melania, Lino Carbosiero, nonetheless swears the two have real feelings for each other. "They really have this little bond, they giggle and they laugh and it's really sweet actually," he told "Lorraine" in 2020 (via Daily Mail).
Could Melania Trump possibly want to be the first lady again?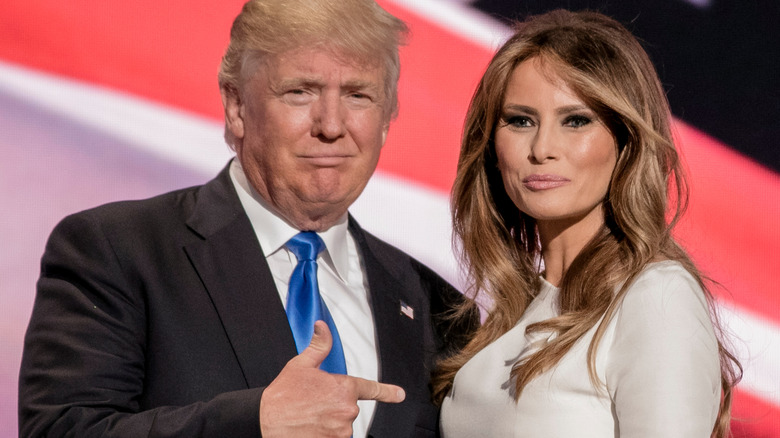 Shutterstock
Donald Trump may delight in hinting at a 2024 race, but could Melania possibly harbor a burning desire to be the first lady again? Here's what we know. In 2020, biographer Mary Jordan contradicted reports that Melania cried when Donald Trump won the 2016 election. "No one has seen Melania cry about anything," she told The Guardian. She's too concerned with her image. In the name of her image, it seems unlikely that Melania could get fired up about another political campaign. As Kellyanne Conway whispered to The Washington Post, the former first lady tried to convince Donald not to challenge the 2020 election results. CNN further reported that Melania was cranky about the damage done to her reputation after her husband refused to admit defeat. An insider allegedly told the media outlet that, in retaliation, she gave her husband the cold shoulder. 
Meanwhile, The New York Times talked to "people who knew" Melania who confirmed she never got a kick out of the publicity and security threats that go hand in hand with life as a first lady. Publicist R. Couri Hay, who The New York Times described as "an acquaintance" of Melania told the paper, "I think ... she did it for her husband." For these reasons, as a source told CNN, a 2024 run "might not go over well," with Melania. Still, it's hard to picture her marching through a strategy meeting in a bikini, the word "no" written across her stomach in protest, à la Jill Biden in 2004 (via The Washington Post).