Angelica & Sunhe Share The Hardest Part About Shooting sMothered - Exclusive
Throughout three seasons of "sMothered," fans have gotten an inside look into nearly every aspect of Angelica and Sunhe's lives. We've witnessed some of their worst moments, like Sunhe's cancer screening. We've also been there for some of the biggest moments in their lives, like Angelica's exciting baby news and surprising marriage proposal.
While all of us at home get to sit and watch it all unfold on screen, these intimate moments are something that the people around them don't even get to see. "We're vulnerable with everybody that's watching us, and that's not something that we are," Angelica explained in an exclusive interview with The List. "We're not outwardly like that, so the show really brings that out."
When emotions are at an all-time high, being stars of a reality show can be difficult. Yet, there's a reason that Angelica and Sunhe have kept coming back season after season.
Angelica and Sunhe say it's difficult revealing their most emotional moments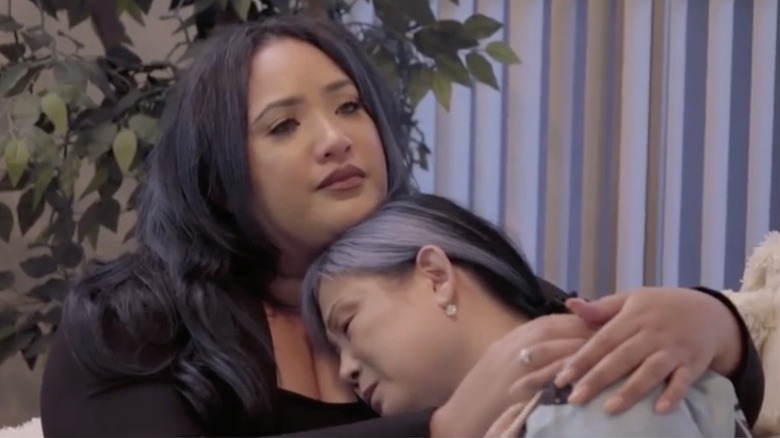 TLC/YouTube
Some of the most sentimental moments from "sMothered" are tough to see on TV. With all of these emotions being exposed, it's understandable that these scenes are some of the hardest to shoot. "When we're filming, we get in touch with our inner feelings that we have locked away," Sunhe explained to us, and that's when the tears take center screen for everyone to see. "I cry so much on the show," Angelica added. "I don't cry that much in real life."
Living through these major life events is hard, and they can be even harder to handle when they're being exposed to millions of viewers around the world. As difficult as it may be, getting these emotions out in the open are what help this mother daughter duo get through the toughest times in their lives. "It's almost like we're in therapy," Sunhe told us. "It's therapeutic in the same sense."
New episodes of TLC's "sMothered" air every Monday night at 9 p.m. ET/PT.