Here's How Many Grandchildren Clint Eastwood Has
Shutterstock
For well over half a century, Clint Eastwood has been one of Hollywood's most recognizable faces. Whether that's from his role in Sergio Leone's Spaghetti Westerns as the "Man with No Name," his equally famous role as Harry Callahan in the "Dirty Harry" series, or his work behind the camera in his later years, the actor has a lot on his plate.
Despite his busy career, Eastwood found the time to fall in and out of love a number of times, resulting in two marriages and eight children (via Closer). According to the magazine, Eastwood regularly keeps in touch with his kids, Laurie, Alison, Kyle, Scott, Kimber, Kathryn, Francesca, and Morgan Eastwood. "He's taken great comfort that at this time of his life ... all his kids are close," a source told Closer.
Even more so now, since he's become a grandfather with five grandchildren to share his years of wisdom with.
Since having grandchildren, Clint has 'settled down a bit,' according to his daughter Alison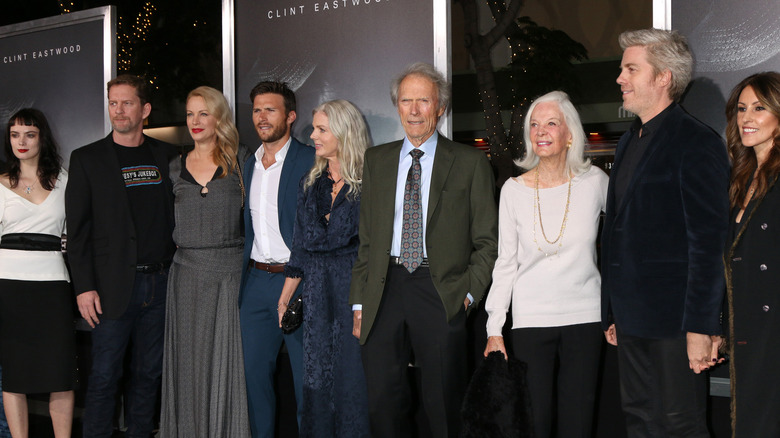 Shutterstock
Eastwood's first grandchild and grandson, Clinton, was born in 1984 to Kimber (via Closer), followed by his first granddaughter, Graylen, in 1994 to Kyle (via AmoMama). Laurie also has two children, Lowell and Kelsey, and Eastwood's youngest grandchild, Titan, was born in 2018 to Francesca.
As Distracify notes, Eastwood didn't spend a lot of time with his children due to his hectic work schedule. But it seems that in his older years, he's made his grandchildren a priority. "Throughout my childhood, he was working all the time and I didn't see him as much," his daughter Alison said (via Fabiosa), adding, "now he'll do a movie a year and he spends a lot of time with us." She has also credited Eastwood as being "a great father and a great grandfather."
"It's a lot of fun," she concluded. "I just think that he enjoys it now and I'm glad he's settled down a bit."