The Real Reason Clint Eastwood Isn't On The Hollywood Walk Of Fame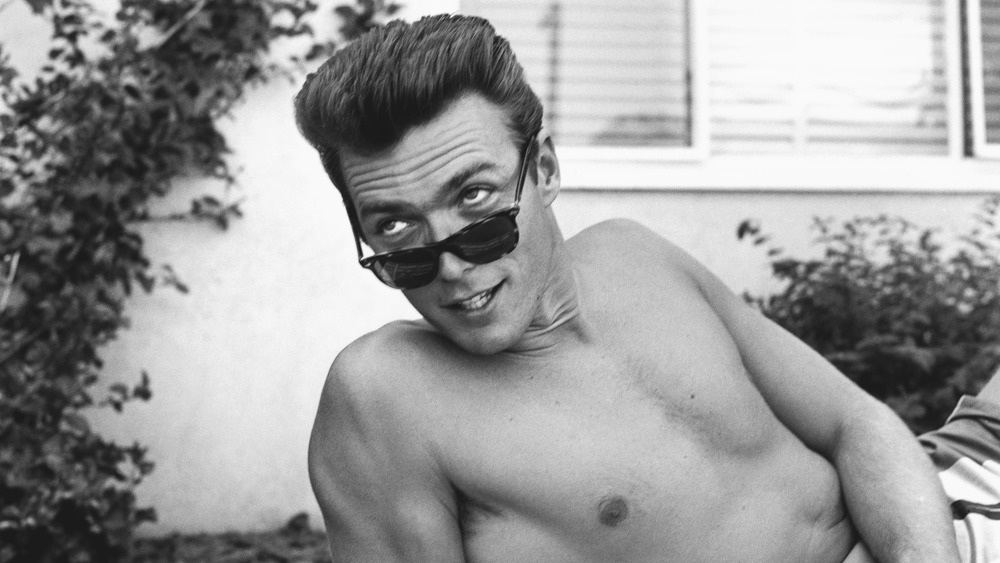 Michael Ochs Archives/Getty Images
Mickey Mouse, Bugs Bunny, Big Bird, the Simpsons, Kermit the Frog, Godzilla, Donald Duck, and Winnie the Pooh all have their stars on the Hollywood Walk of Fame (via the Dothan Eagle). Donald Trump has had his since 2007 (although, says The Guardian, his detractors have tried their best to demolish it). Why doesn't Clint Eastwood have his?
The man has certainly worked for it. In 2017, The Guardian reported that he'd either starred or directed in roughly a movie a year for the past 53 years. According to the National Endowment for the Arts, Eastwood's got five Academy Awards, five Golden Globes, a Screen Actors Guild Award, and five People's Choice Awards to his name. And you'll have to take their word for it. We tried tallying his awards on IMDb and got lost in his 150 wins and 174 nominations. He's loved himself in Unforgiven and Letters From Iwo Jima (via the Daily Record). You've loved him in Dirty Harry, Escape From Alcatraz, The Good, the Bad and the Ugly, and Million Dollar Baby.
But when you visit Los Angeles and stroll down Hollywood's Walk of Fame, you won't be able to pay your respects to Eastwood. "You always have to remember when anyone gives you an award, they might be wrong," Eastwood once told the Daily Record. Which might be why Hollywood's living legend turned his star down.
Here's why Clint Eastwood may have turned down his Hollywood Star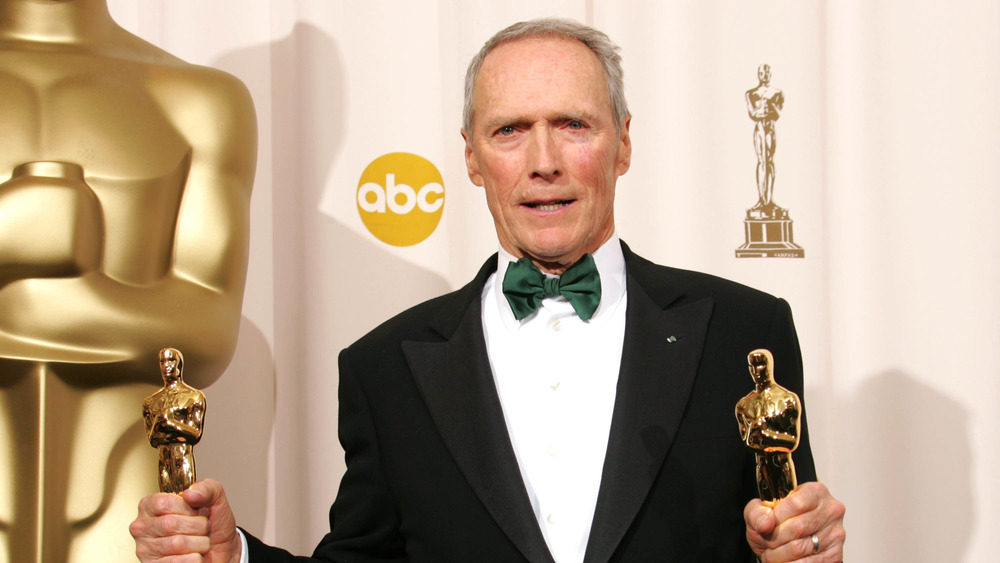 Carlo Allegri/Getty Images
Clint Eastwood, to our knowledge, has never talked openly about his reasons for rejecting a star on Hollywood's Walk of Fame. But we're happy to speculate. Like The Guardian points out, Hollywood heartthrob Gregory Peck's star was stolen with the help of a cement saw in 2005. Perhaps Eastwood doesn't want to meet the same fate. Or maybe he simply can't be bothered to go through the process.
Ana Martinez, producer for the Hollywood Walk of Fame, once told Today that, "There's one spot left in front of the Chinese Theater if [Clint Eastwood] wants it." To do so, Eastwood would have to pay $40,000 out of his own pocket, which would contribute to the construction of the star and the maintenance of the Walk of Fame. Within five years, the actor would have to schedule his appearance at his star's dedication ceremony. Five years might seem like ample time to do so, but not in the life of Hollywood royalty. While George Clooney was nominated, he never got around to setting his date. "It seems that he has a very busy schedule," Martinez once explained to Best Life. Maybe Clint Eastwood does, too. Or, maybe, he's busy living by his mantra: "I tried being reasonable, but I didn't like it" (via Good Reads).