Everything To Know Before Getting A Stack Perm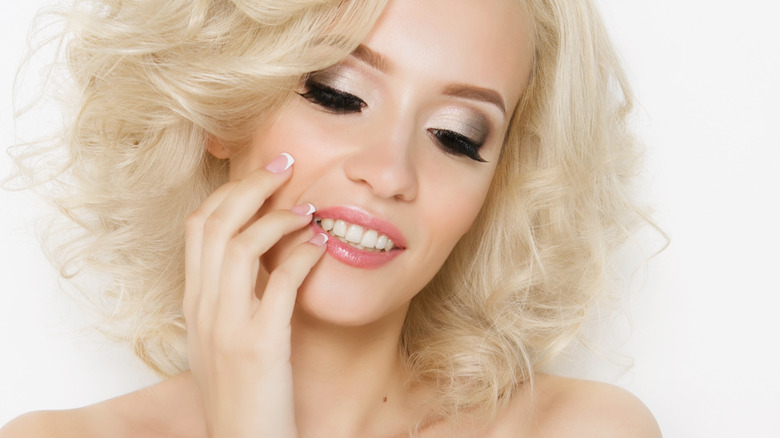 Shutterstock
The most legendary use of a perm in mainstream culture was as the primary piece of evidence signifying Ali Larter's character did NOT kill her husband. In "Legally Blonde", Elle Woods' knowledge of permanent haircare and ammonium thioglycolate chemical reactions wins the case! But did you know there's an entire plethora of perms to choose from? Forget the classic frizzy 'do murderess Chutney Windham sported on the stand, and welcome to the modern age (via Daily Mail). 
With a variety of curl tightness and sizes to choose from, it's easy to get overwhelmed, but if you're looking to stay on the cutting edge of hair fashion, might we suggest the stack perm? According to Cosmopolitan, the seventies are back in style. Thanks to high-fashion designers like Gucci's creative director Alessandro Michele, 1970s trends are dominating the runway. Seriously. We haven't seen this many bellbottoms since "Saturday Night Fever"! Stay ahead of the pack and transform into a groovy trendsetter by pairing the latest chic threads with a classic '70s stack perm hairstyle, aka the disco wedge. 
Stacked perms are the most low-maintenance form of perm
While we're forever in debt to Vidal Sassoon's protege, Trevor Sorbie, for gifting us the wedge cut (via The News), the "disco wedge" was first created by hairstylist Dwight Miller as a crimped take on Dorothy Hamill's mop (via Linda Seccaspina). It's designed for women with both medium and long length hair and, because it involves only perming the lower and middle sections (via Beach Wave Perm), it's one of the most manageable and low maintenance forms of perm.
Hairstylist Mateo Lara, who specializes in multi-textured perms, recommends the stacked perm for those looking to "create fullness and a layered appearance to your hair" (via Byrdie). The perm rod sizes are applied by stacking them one on top of the other, gradually moving further away from the scalp. "You use different perm rod sizes and focus on the middle and lower area of the head," explains Lara. The end result will be a smooth and straight look at the root with a mess of volume at the ends.
The size of your rollers will determine the texture and volume of your stacked perm
In order to achieve the perfect stacked perm, your hairstylist will first apply a perm solution to relax the hair. The next step is where the curly 'do gets its name. Perming rods, or rollers, are used to set the hair in curls. The rods are then stacked on top of each other to create a natural, layered progression of waves. This step is extremely important as the size of the rollers used will determine the texture and volume of your perm, so be sure to communicate with your hairstylist how tight you want your curls to be (via Beauty Answered). Pro tip: Bring a photo of the stacked perm style you're looking to leave with so you know you and your stylist are on the same page.
After your hair has set, your stylist should apply a neutralizer before removing your hair from the rollers. A high quality stack perm should hold for around six months, but not without your help. Treat your hair right after perming it by using plenty of conditioning lotion and any other specialized product your stylist recommends.
Most importantly, remember the cardinal rule of perm maintenance and avoid getting your new curls wet for at least 24 hours!