Britney Spears' Daring Instagram Post Is Raising Eyebrows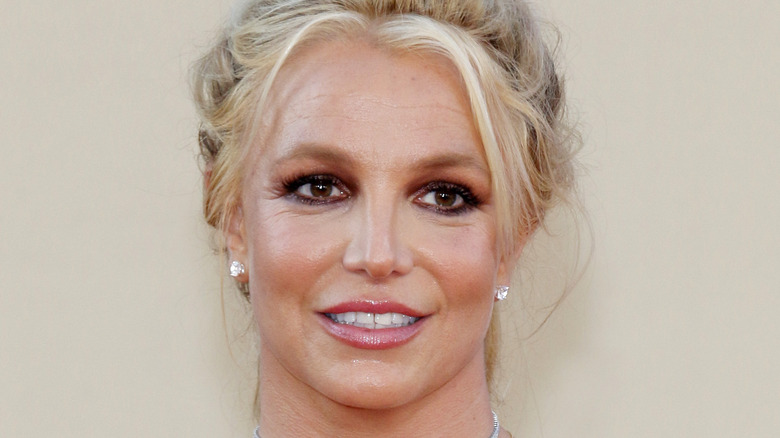 Shutterstock
Britney Spears' Instagram has been the subject of internet kerfuffles for some time now. Just last week she raised several eyebrows by posting the same photo of herself wearing a white top and pink flowers in her hair four times in a row, leading many followers to wonder what it could possibly mean (via The Mirror). The caption, which mentioned her supposed project "A Touch of Rose," left many scratching their heads. What even is "A Touch of Rose"? Was she sending a secret message to them? Is she in trouble? Is she unhinged? Is she even the person doing the posting? These are some of the most common questions posed in the comments of those photos. 
Now, Britney's Instagram is turning heads for an altogether different reason. While she often posts videos of herself dancing to different songs, the photos she just posted of herself dancing while wearing a neon bathing suit are particularly revealing. And rather than seeking something "hidden" in the post, followers are instead being treated to an eyeful of a part of spears that is very much out in the open (via People). 
Britney bares her butt on Instagram
Britney's most recent post shows her in multiple angles, dancing, while wearing a bright yellow one-piece bathing suit, a black fur coat, white boots, and a black choker (via People). The thing of it is, one of the photos, taken when the singer's back is turned, shows Britney's "assets" quite clearly. In the caption, Spears admits that this is uncommon for her, saying, "I never show my a— on Instagram," Spears admitted, adding, "And no ... I'm not wearing a thong 😳😳😳 !!!! ... "Oh well ... here's my a— ladies and gents 🍑🍑🍑 !!!!" she said. "Enjoy 😜😜😜😉😉😉 !!!!"
And if Spears' hindquarters weren't enough to get people's attention, the next part of her caption has people talking all by itself. It reads: "YELLOW 💛💛💛 !!!! I know ... pix are a little blurry but my phone kept moving around soooo that's why 😂😂😂 !!!! ... "I took these yesterday for fun 💚💚💚."
Why does this matter? Because there is a fan theory going back over a year saying that when Britney wears yellow, she is sending a cry for help (via Goat). This began after a commenter told her to wear yellow in the next post if she needed help. And then she did. Since then, any time the star wears yellow, especially when she makes a big deal out of the color, followers think she is sending a secret message to them, asking for help.