Meet John Mellencamp's New Girlfriend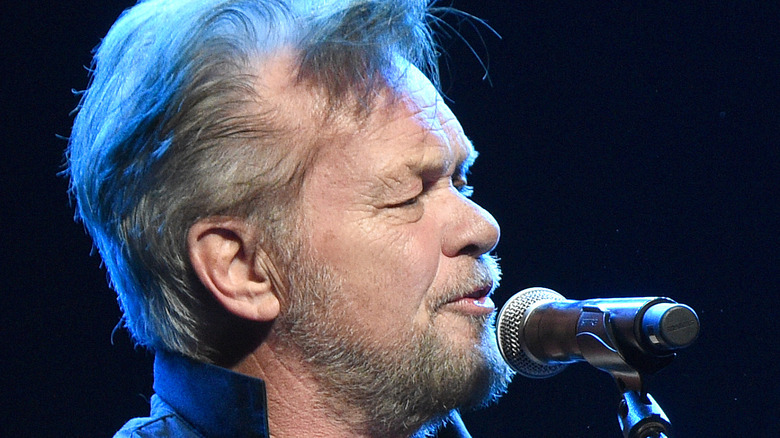 Kevin Mazur/Getty Images
John Mellencamp is a world-renowned singer and songwriter from Indiana who's been rocking the industry since the 1970s, according to his website. Yes, this pun was intended, as Mellencamp is known not only for his longtime rock career, but as an artist who infuses folk instruments — for example, fiddles — into the rock genre. His website states that he's released 24 albums during his career, with his 25th album set to release after the pandemic. His website also says that he's been painting a lot during the pandemic, allowing his creativity to run free. However, the artist has also been dating during the pandemic, and now we know just who he's been seeing.
The artist previously known as Johnny Cougar and John Cougar Mellencamp has two sons and three daughters, according to his website, and he's had several other relationships before landing with his current love bug. Most notably, Mellencamp dated and became engaged to actor Meg Ryan (via Closer). Mellencamp and Ryan spent eight years together but called off their engagement in October 2019. After things ended with Ryan, Mellencamp began dating Nurse Jamie Sherrill, a celebrity skin expert, in early 2020. However, their relationship couldn't withstand COVID-19-induced quarantining.
This is the woman Mellencamp has been 'wrapped up' with
Now, Mellencamp has been spotted with a new partner. These recent sightings show Mellencamp courting realtor Natasha Barrett, a Santa Barbara native whose website says she's been searching the world for love (via Page Six). The two were spotted most recently holding hands and walking across a Malibu beach together over Memorial Day weekend. Maybe Barrett just needed to hop over to Indiana all along!
Barrett is a high-profile realtor who has worked with plenty of big names. However, real estate wasn't her first career. Barrett previously worked in both the film and magazine industries, according to Page Six, and she even owned her own fashion brand. She's a woman of many interests, which is a great quality for any person to have. We love the philosophy that you never stop learning or growing in life, and it sounds like she does too.
Over the holiday weekend, the two were reportedly smitten with each other, with others on the beach noting that Mellencamp and Barrett were "wrapped up in each other" (via Page Six). It's unclear how long they've been seeing each other, but it seems like something is beginning to blossom, which we love to see.