Inside The Queen's Relationship With Zara Tindall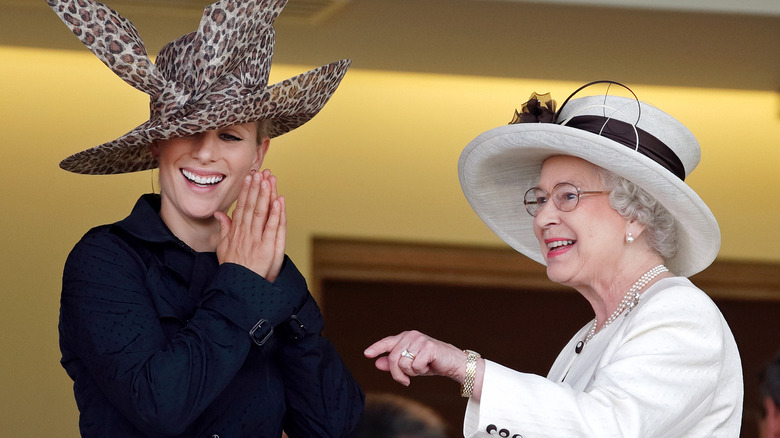 Max Mumby/indigo/Getty Images
With eight grandchildren, and ten (soon to be 11) great-grandchildren (via The Royal Family), you would be able to forgive Queen Elizabeth II for struggling to keep up with her extended family. But as we know, not only does she manage being the head of The Firm with finesse, she is adored as the matriarch by her family. While most of the internal workings and relationships of the Royal Family stay private, there have been many reports over the years that suggest that Queen Elizabeth and her eldest grandchild, Zara Tindall, share one of the closest relationships among the grandchildren, according to The Express.
Tindall and Queen Elizabeth have reportedly always been close, sharing their love for horses and all things equestrian (via Women & Home). Tindall followed in her mother, the Princess Royal, and her grandmother's footsteps and has ridden horses from a young age, having won a silver medal at the 2012 London Olympic games in equestrian eventing (via BBC America). Royal expert and Editor-in-Chief of Majesty Magazine Ingrid Seward told The Sun's Fabulous Magazine that "the queen has always adored Zara and is so proud of her riding success."
"They have a lot in common as they talk about horses and the queen has invested in several horses for her," Seward added.
Zara Tindall has been Queen Elizabeth's 'favorite' grandchild since she was a child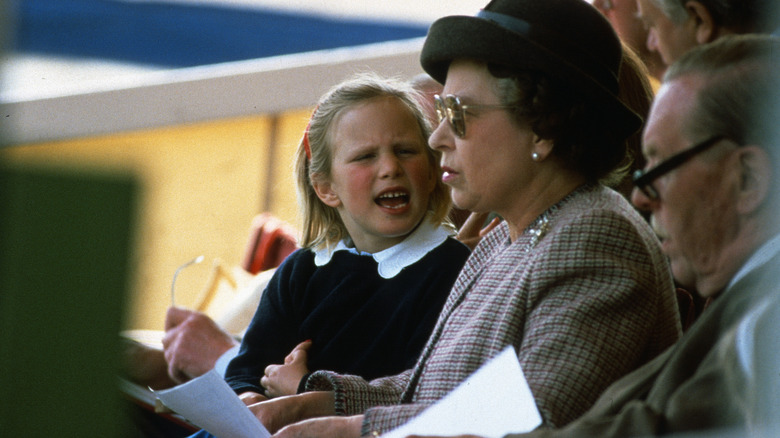 Anwar Hussein/Getty Images
The daughter of HRH Princess Anne and Captain Mark Phillips, Tindall (born Zara Phillips) was sixth in line to the British throne at birth, and is currently 19th in line of succession. Her Majesty, 93, is very close to her eldest granddaughter, 38, and her ex-rugby union husband Mike Tindall, 40, and Seward claims that the queen has "tighter bond with them than she does with Kate [Middleton] and [Prince] William" (via The Sun).
Despite the queen extending the offer of titles to her only daughter, Princess Anne, (HRH titles are usually only hereditary via the monarch's male sons) neither of her children — Tindall or her brother, Peter Phillips — were given royal titles at birth (via The Sun). Seward claims the Queen always felt she could be more relaxed around her eldest grandchildren Zara and Peter Phillips because of this, as she is simply their grandmother, and not their "boss" (via The Sun).
"I think the queen is closest to Zara and Peter as they were her first grandchildren and have always been the favorites," Ingrid revealed, according to The Sun.
Zara Tindall has mostly kept mum about her relationship with the Queen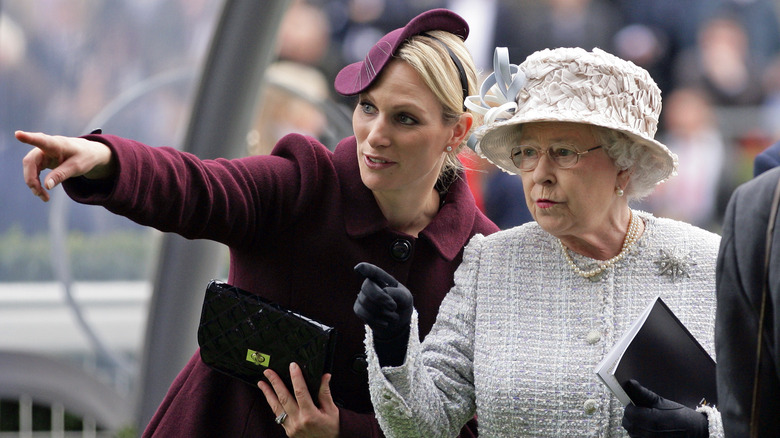 Max Mumby/indigo/Getty Images
Perhaps because of their close relationship, Tindall usually keeps quiet about her royal grandmother. However, she gave the public a very rare insight into her relationship with her grandmother when she appeared on the "House of Rugby" podcast with her husband Mike Tindall and host Alex Payne, in 2019 (via Hello! Magazine). Discussing their dream royal rugby team, the couple agreed that Queen Elizabeth would undoubtedly be the captain, holding a "quiet authority" over her team, and giving a "couple of key bullet points, with a glance of an eye." Podcast host Payne wanted to know if Tindall had ever been subjected to a stern look from her grandmother, to which she answered: "I always get the good look."
"We are okay. I think we are alright," she said. "Probably when we were much younger, but not recently, definitely not."