Here Are The Best Colors To Use When Creating A Smokey Eye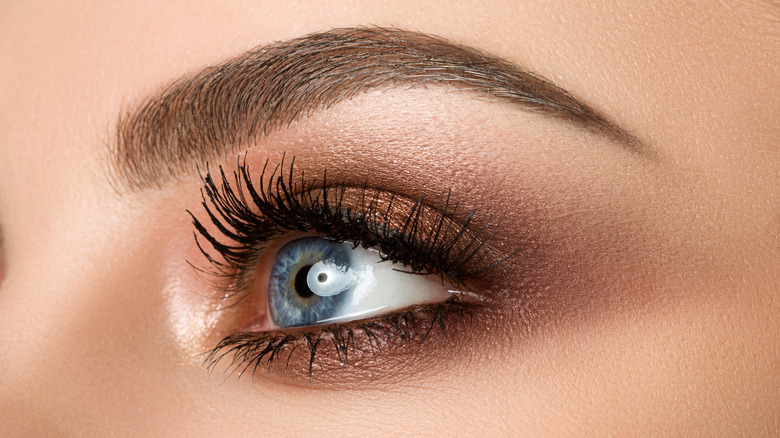 Shutterstock
Smokey eyes are the epitome of sultry, and are perfect for a bombshell makeup look that will turn heads. When creating a smokey eye, you might already know how to blend and feather for some serious mystery, but the colors you use are just as important. While your go-to palette might work great, there are tons of shades you might not expect that will elevate any smokey eye look. Curious? Here are the absolute best colors to use for alluring smoke eyes.
As per Azyaa Mode, you should consider your eye color, complexion, and hair tone when picking out the best shades for your smokey eye look. While some will look gorgeous with an azure, deep-cobalt eyeshadow look, others should stick to more subtle nude tones — it all depends on your features. When it comes to your eye color, the outlet advised green eyed-beauties to go for warm taupe, purples, and pinks, while brown eyes look great in any shade at all, particularly copper. Hazel glamazons look great in burgundy, gray, dark purple, and blue, while blue eyes look fantastic in peach, matte gray, or reddish brown (via Eye Makeup Looks).
While your eye color is a surefire guide to find a super-flattering smokey shade, there are tons of more tips to take into consideration. From skin tone, to hair color, to lip color, and to the event at hand, here's everything you need to know when picking out colors for a gorgeous smokey eye look.
You should take your complexion into consideration when creating a smokey eye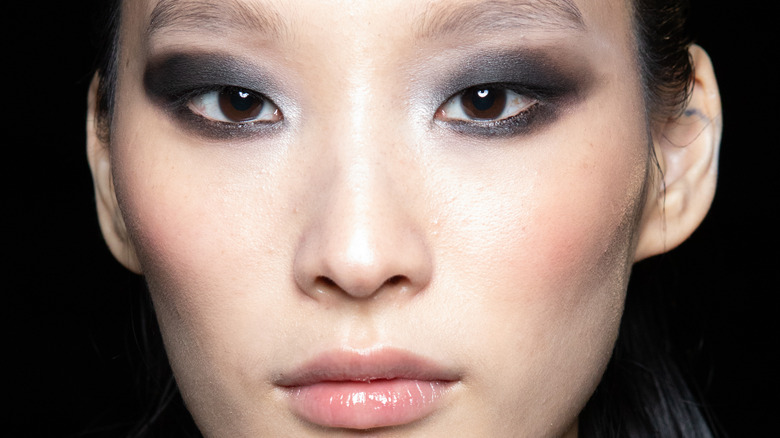 Rosdiana Ciaravolo/Getty Images
Just like eye color, your complexion is truly important when picking out your smokey eye palette. According to Azyaa Mode, fair skin tones should stick to sheer shades, and avoid silver or overly bright colors. Olive complexions look beautiful with brown, olive, and nearly any earthy shade, while dark skin tones should go for warm tones like sultry bronze or burgundy. When considering your hair color, keep in mind that blondes look fantastic in gray, pink, black and blue, while brunettes should go for flattering purple, green, brown, and copper. Red-haired beauties are advised to try olive or eggplant tones.
Once you know the best eyeshadows for your coloring, it's just as crucial to consider if your smokey eye look is meant for a daytime brunch, a nighttime gala, or something right in between. As per The TrendSpotter, a daring pitch-black smokey eye is just the thing for an alluring night look, while a lighter bronze will take you from dusk to dawn. Burgundy is great for a sultry dinner look, and emerald green shadow is perfect for special occasions. As per the outlet, colorful smokey eyes (whether green, blue, pink, or another shade) are easier to pull off in the daytime, so keep it in mind for your next afternoon wedding or lunch with friends!