The Best Lipstick Looks To Pair With Smokey Eyes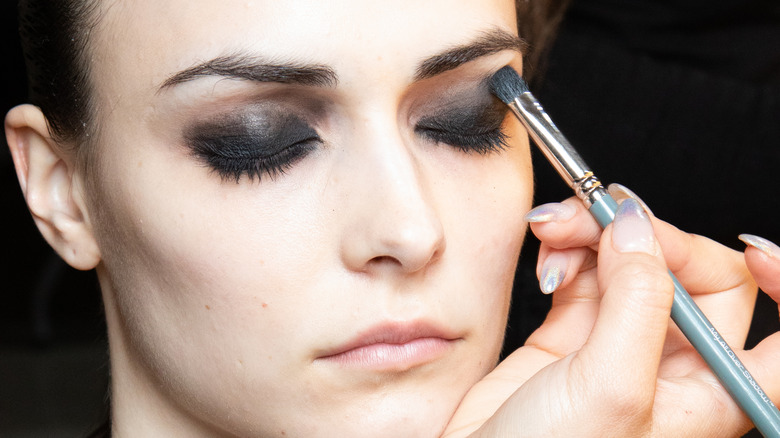 Rosdiana Ciaravolo/Getty Images
Makeup is ever-changing — we've cycled through bold, neon eyeshadows and understated, pastel shades, all the way to shimmers in rust colors and pigmented hues. But if there's one eye look that's a timeless trend, it's smokey eyes. According to Bésame Cosmetics, the modern-day smokey eye comes from the 1920s when the silent movie industry took off. This trend was inspired by the original smokey eye looks of ancient Egyptians, per The Vintage Woman Magazine. The look in the 1920s consisted of smudged black kohl (a combination of lead, charcoal, oil and/or water) on the eyelids. 
More recently in the early 2010s, gray and black smokey eye looks became a clubbing staple, with several celebrities popularizing the trend (via Entertainment Tonight). Since makeup techniques have evolve, there are now so many ways to achieve a smokey eye look without having to resort to the usual gray/black scheme. However, with the plethora of color options out there to achieve a sultry eye look, it can be difficult trying to find a corresponding lipstick.
How to pair lipsticks with a classic smokey eye look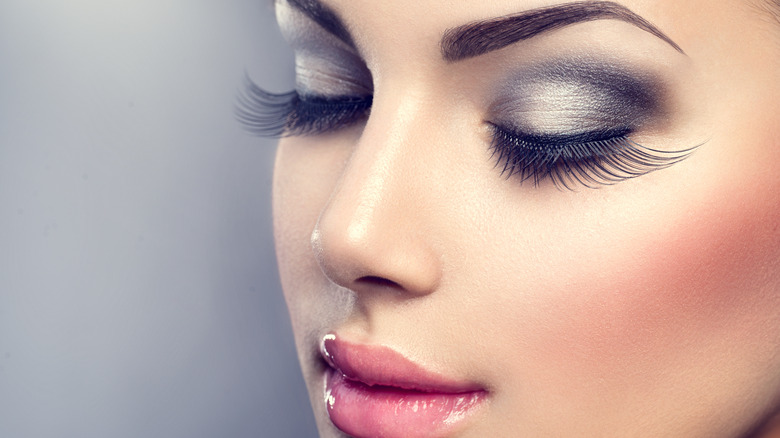 Shutterstock
For a classic gray-toned smokey eye look, Byrdie suggests wearing a classic berry lipstick. According to the outlet, the richness of berry hues complement hazy, charcoal-toned eyeshadows and is a go-to look for the elegant Kerry Washington. Similarly, Elle UK's smokey eye guide recommends pairing a gray smokey eye with a rosy-toned lipstick. Makeup artist Terry Barber told Elle UK, "Rather than pair dark eyes with a boring beige, I love lips with a hint of rose. Soak lips in lip balm first, then create a sculpted edge with a lip pencil that looks like the color of rubbed lips."
For a dramatic look that showcases your eyes, Byrdie suggests pairing a beige nude lipstick with a blown-out, smokey black eyeshadow, like Jennifer Lopez's signature smoldering look. And if you don't want that concealer lip look, Indian Makeup and Beauty Blog suggests topping off a light nude lip with a clear gloss to complete the look. The blog also suggests wearing a peach-toned lipstick with brown smokey eyes. L'Oreal recommends wearing a 1960s-inspired baby pink lipstick with black smokey eyeshadow or navy blue eyeshadow.
Try adding a splash of color to your smokey eye look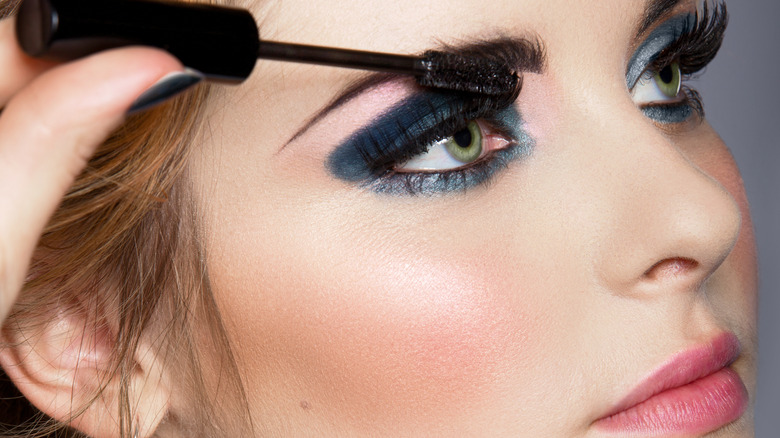 Shutterstock
Glamour recommends experimenting with different eyeshadow colors when creating a smokey eye, especially highlighting rich, jewel-tone shades. L'Oreal recommends pairing a vibrant emerald eyeshadow with a neutral nude-colored lip, close to your skin tone, so that your eyes can stand out. Byrdie suggests pairing emerald or a darker hunter green with a peachy-nude lip color. Jessica Alba, who founded Honest Beauty, demonstrated a smokey eye tutorial with eggplant-colored eyeshadow and a muted nude liquid lipstick. She used the lipstick as her blush as well and added, "I like to keep these [cheeks and eyes] tonally really in-sync so that the star of the show is the eye."
If you are daring and want to bend the rules, there are ways to pair darker lipstick with a bold, smokey eye. Indian Makeup and Beauty Blog notes that you can turn up the dial on your smokey eye by pairing it with a light plum shade, but you should avoid dark, vampy plums so that it doesn't clash with your eyes. Elle UK recommends against combining red lips with smokey eyes, stating it could look "clownish." However, Indian Makeup and Beauty Blog disagrees, stating that smokey eyes can work with an understated red lipstick and even makes for a perfect vintage look. Glamour UK noted several celebrities — including singer Perrie Edwards and Viola Davis – as examples of women who have paired red lipstick with smokey eye looks.