The Exact Lip Color Samantha Wore On Sex And The City
It is without question that the women of "Sex and the City" continue to inspire our wardrobes. It's impossible not to admire the looks these ladies pulled off for the six seasons they hopped from bars to brunch and into each other's supportive arms (via IMDb). It must be the magic of syndication and the film spin-offs that keep Carrie, Charlotte, Miranda, and Samantha at the forefront of our minds when we think about what to wear.
Carrie may have taken the most risks, but it was Samantha's bold designer looks that continue to have us lying awake in bed at night wondering how to pull off her style. "Samantha's fashion is all about being flamboyant. Sometimes it's a little trashy and fun. She doesn't take herself too seriously," shares Kim Cattrall when speaking of her character's style (via YouTube).
As neutral as her makeup was in comparison to her outfits, it still makes a lasting splash with us. We're dying to know exactly what lip color Samantha used to make her knowing grin look as fabulous as the rest of her.
The makeup products of the four stars were recently shared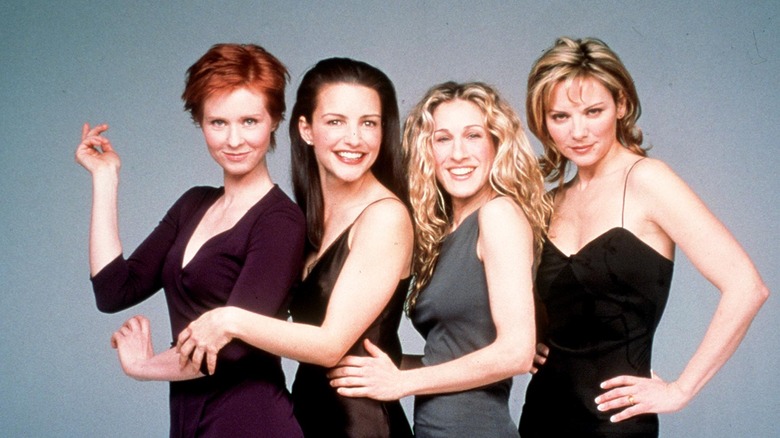 Getty Images/Getty Images
Luckily, we found the answer. In a recent issue of "Makeup Artist Magazine," the four ladies' looks were broken down and specific products used on set were revealed. Carrie's always 10-minutes-late flushed cheeks were flushed by Benefit in Daffodil. Charlotte's flawless matte skin was touched up by Armani #4 and #5. Miranda's flattering golden smoky eyes were made possible by Estée Lauder Pure Color in Rose Confetti. And Samantha's anything-but-boring neutral lips were painted on with FACE Stockholm Pot Glass and lined by Laura Mercier Natural Lips Lip Pencil (via FCH).
Any insider tips we can get to achieve a resemblance to one of these iconic characters and their inspiring looks is a fabulous gift. And while it appears Samantha Jones won't be making a return to the series revival (via StyleCaster), we have more than enough in her style archives to keep us inspired. And her fiercely neutral lip is just a great place to start.