The Best Lip Colors Of 2021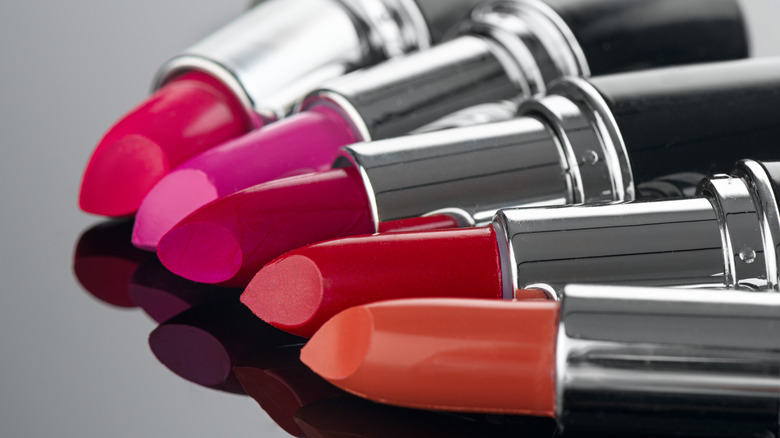 Shutterstock
Our lips have been out of sight for the past year due to mask regulations so you might be wondering, why should we care about lipstick anymore? As more outdoor and virtual opportunities become available to us, you'll be showing off your lips more and more. "Lip color is something that makes a polished statement on virtual platforms, and this season [the] lips will help bring some brightness," Sephora Collection's national artist Helen Phillips told Bustle. But even if you don't go see anyone, putting on a little makeup to chill or work at home can be really empowering and set us in good mood for the rest of the day.
Chances are you'll be with your mask on and off throughout the day so it's really important that you get a smudge-proof lipstick. "I think people want longer wearing lipsticks that don't smudge and stay on forever," Erin Parsons, celebrity and editorial makeup artist, told Instyle. Matte formulas are better for that but if you want to go with some other formula that tends to stain, try sprinkling translucent powder on your lips after applying lipstick (via Allure). Now that you know how to keep your lipstick looking gorgeous all day, here are the colors that are going to be all the rage in 2021.
Pink shades are in, including fucshia and magenta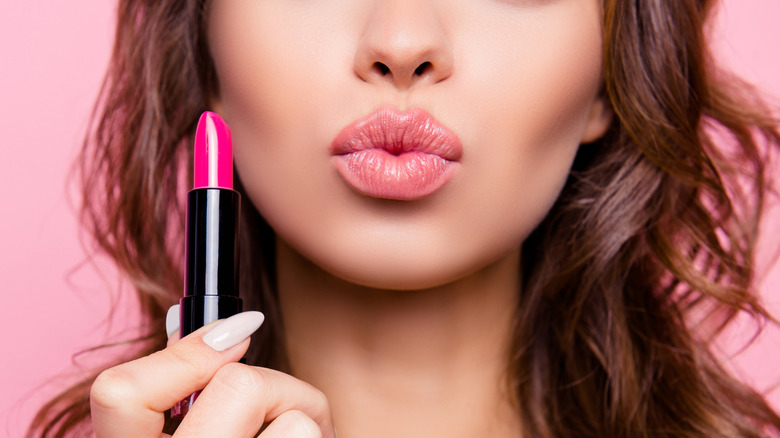 Shutterstock
Let your lipstick talk for you by wearing a shade of pink. According to Oprah Daily, fucshia is one of the it colors for this season and goes well with all complexions. Celebrity makeup artist Camara Aunique recommends MAC Matte Lipstick in Candy Yum-Yum, which has a vibrant highly-pigmented formula. "This is my all-time favorite pink lipstick," she told Oprah Daily. "I used to wear it every day with a deep plum lip liner."
Nude shades will also be in high demand this season. Celebrity makeup artist Sarah Tanno told New Beauty that she loves Marc Jacobs Beauty New Nudes Sheer Gel Lipstick in Hey Stranger. "This is my favorite pink lipstick, hands down," she said. "It's a gorgeous pink that's a pumped-up version of your lip on lighter complexions and a gorgeous, natural pinky nude on darker tones." Semi-sheer cream glosses like this one are a great choice because they won't smudge and leave tons of pigment on your mask. 
Reds and brown tones will dominate the summer scene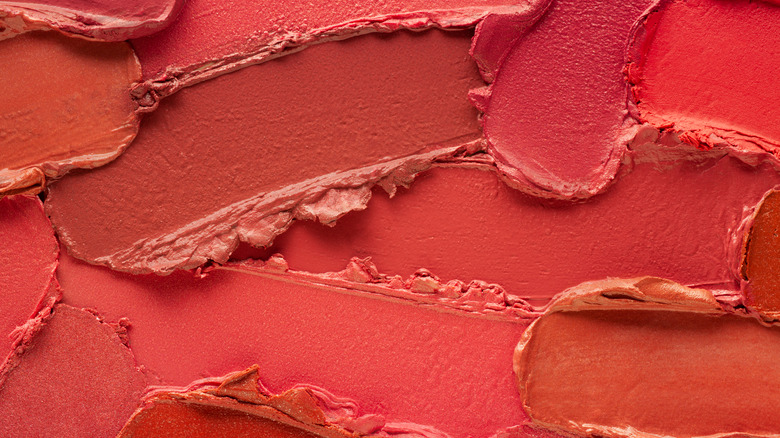 Shutterstock
The classic red lipstick isn't going anywhere this summer. We'll be seeing more and more red lips in the streets while red-toned browns will also make an appearance. Byrdie Associate Editor Holly Rhue recommends Kevyn Aucoin Beauty's Unforgettable Lipstick. "It's creamy, doesn't budge, and comes in matte or shiny iterations." And after a year of barely wearing makeup, red is certainly a classic shade that is the perfect welcome back to wearing lipstick again.
Coral is also coming strong this season. This tone goes well with all skin colors and it's easy to combine with other shades to create a more natural look. Celebrity makeup artist Katie Hughes told Elle that she swears by Wet 'n Wild's Mega Cushion Matte Lip Cream in Melon Like It Is. "I love its soft-looking quality," Hughes says. "It looks diffused on the mouth and is super easy-to-use."