A Look Inside Darnell Ferguson's Life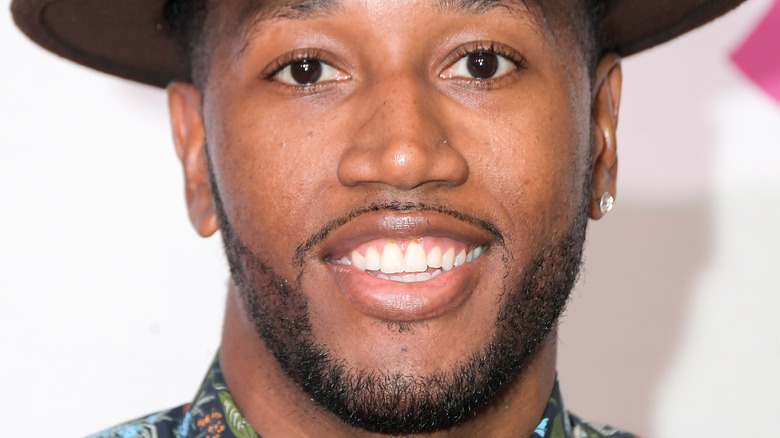 Michael Loccisano/Getty Images
Darnell Ferguson, one of 16 chefs competing in Guy Fieri's "Tournament of Champions" (via Food Network) and a regular contestant on popular Food Network shows, including "The Rachael Ray Show" and "Guy's Grocery Games," is known as much for his food's bold flavors and his positivity (per The Columbus Dispatch).
He has overcome adversity throughout his life, including the total loss of his SuperChefs restaurant in 2015 when a fire ripped through the business (via I Am SuperChef). The flames may have ruined the restaurant, but they did not affect Darnell's faith. "The difference between where I was at and where God wanted me to be was based on my ability to patiently suffer. I went through it knowing I could come out the other side," he writes on his website.
The author of the comic book, "Becoming Super," continues to stay positive and pay it forward as he looks to empower young kids in undeserved communities (via WHAS-TV).
Darnell Ferguson is a mentor
Before he was Darnell "SuperChef" Ferguson, the Columbus native was a student trying to make ends meet. And before he was a chef for Team USA during the 2008 Beijing Olympics, Black Business reports Ferguson was arrested several times for selling drugs, spent some time in jail, and had to stay with friends because he didn't have an apartment.
Despite these setbacks, Ferguson followed his passion for food. His drive to succeed, his positive outlook on life, and his out-of-the-box thinking led to the creation of pop-up restaurants and flavorful dishes (via Black Enterprise). Now, the famous chef and father of eight with his wife, Tatahda, hopes to empower kids in underprivileged communities by teaching them how to cook. He hires teens and those in need to work in his restaurants, where he shows them how cooking can serve as a creative outlet, according to his website, I Am SuperChef.
 When Darnell launches a new eatery, he envisions doing more than feeding people. In an interview with The Business Journals, Ferguson discussed how opening his new restaurant in the West End of Louisville would motivate other business owners to bring their establishments to the area and impact the community in a positive way. Obviously the "SuperChef" does more than cook up flavorful dishes.