Why A New Photo Of Demi Lovato Just Landed The Singer In Hot Water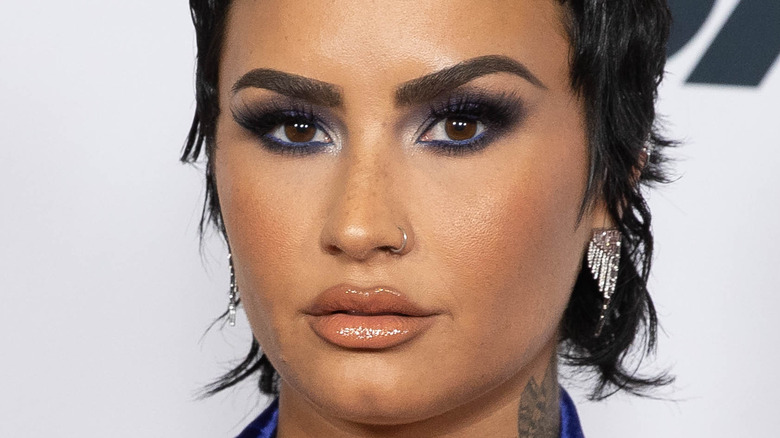 Emma Mcintyre/Getty Images
Demi Lovato may have thought they were finally past their yogurtgate scandal. For those who missed it, in April, the singer took Los Angeles-based frozen yogurt shop The Bigg Chill to task for being triggering with how it labeled flavors (via Eater). As fans know, Lovato has openly discussed their struggles with disordered eating, recently revealing each day is still difficult for them (via Self).
Back to the yogurt shop — diet and sugar-free foods available at The Bigg Chill did not sit well with Lovato, which they shared on Instagram, with the shop responding that these options are made for customers with special diet needs, such as those with diabetes, Celiac disease, or vegans (via Page Six). It's worth noting Lovato received intense backlash for coming down on a small, woman-owned, local business, and eventually apologized for having "jumped to conclusions," and getting "the messaging wrong" when it came to why the shop's yogurt was labeled as such (via Los Angeles Times).
But now, the singer finds themselves in hot water for an unrelated photo that seems to show them supporting the diet culture they slammed just months ago.
What's in the new controversial photo of Demi Lovato?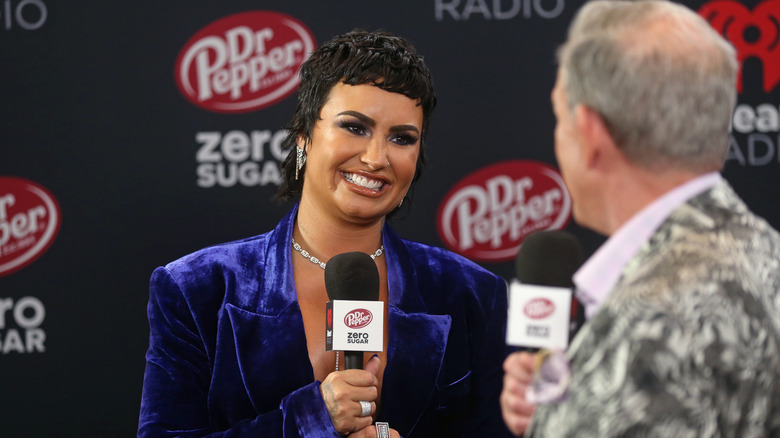 Getty
Having aligned themselves with being anti-diet culture, a picture of Lovato has some people seeing red. As Fox News reports, the image in question shows the star holding a microphone that is branded with a Dr. Pepper Zero Sugar logo. They are also seen standing in front of a Dr. Pepper Zero Sugar backdrop during an interview at the iHeart Music Awards last week (via Page Six).
Twitter immediately lit up with criticism for the star, with one person tweeting, "So is diet culture okay only when it gives you money, Demi? This is why people are failing to take them more seriously because this is just hypocritical."
Based on the photo, another Twitter user accused Lovato of being inauthentic, alleging they had used the yogurt situation to stay "relevant." Another person noted, "Oh the irony...holding a microphone with Dr Pepper zero logo after [they] tried to destroy a frozen yogurt place for having sugar free options."
For their part, Lovato's rep told Page Six, "Demi was doing a promotional stop for the awards show as a good partner to iHeart. They've apologized for comments made weeks ago and have moved on to focus on their cause work in the area of eating disorder awareness and Pride."