Everything We Know About Bethenny Frankel's New Business Venture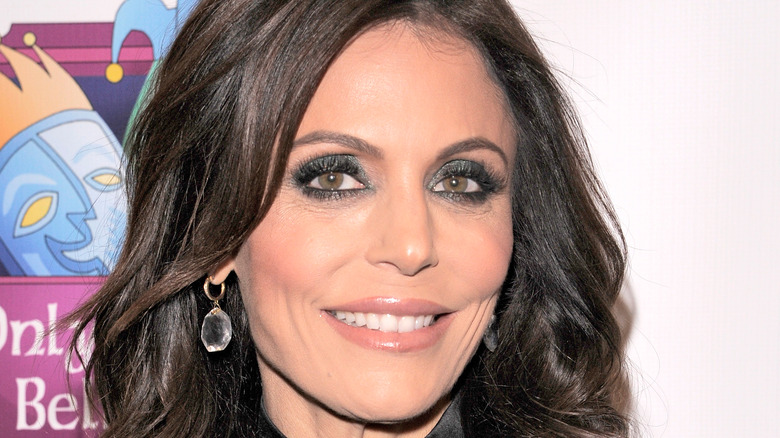 Shutterstock
Bethenny Frankel is already worth a ton of money, with Celebrity Net Worth reporting she counts $70 million as her current fortune. Among her business venture success stories is her brand, Skinnygirl Cocktails, which includes Sangria, Piña Colada, and Spicy Lime Margarita among its flavors (via Thrillist).
In 2011, Frankel sold the brand for an astonishing $100 million (via Women's Health). Now, she is gearing up to dip her toes into the world of alcoholic beverages once again, but this time, it's wine the "Real Housewives of New York" star has her eye on (via Page Six). The mogul took to her Instagram to announce her new venture, which is called Forever Young.
Frankel, who recently got engaged to Paul Bernon, also used her post to boast about the success of her cocktail brand. "Can lightning in a bottle strike twice?" she started out asking in her post, which was accompanied by a photo of the star posing with a bottle and glass of her wine. 
She went on to claim, "I cracked the code in the spirits business once before. My little cocktail baby was the fastest growing liquor brand in history, at the time. I paved the way for many other media personalities to launch their own cocktail brands and created a new category."
When can you try Forever Young wines?
Forever Young wines are already available for purchase online. Frankel describes her varietals, which come in Malbec, Sauvignon Blanc, Cabernet Sauvignon, and Rosé, as "absolutely superb" in her Instagram post. She goes on to say about the wine, "It is next level. Every note is delicious. It is balanced. It is elevated. It is legit. With every sip, you will understand why I entered back into this space."
The price points for the wine range from $11.99 to $16.99. In a video on her website explaining the inspiration for the line, Frankel, who is 50, asks, "What is better than feeling forever young?" She notes her line is "vibrant" and "delicious."
Back on her Instagram, Frankel called out her Skinnygirl cocktail line for being a game changer, writing about the previously male-dominated spirits space, "Now it's a whole new world for women, thanks to my little brand that could. I waited until I found another brand and concept that I wanted to call my own." And that is Forever Young. Bottoms up!