What You Need To Know About Rob Lowe's Sons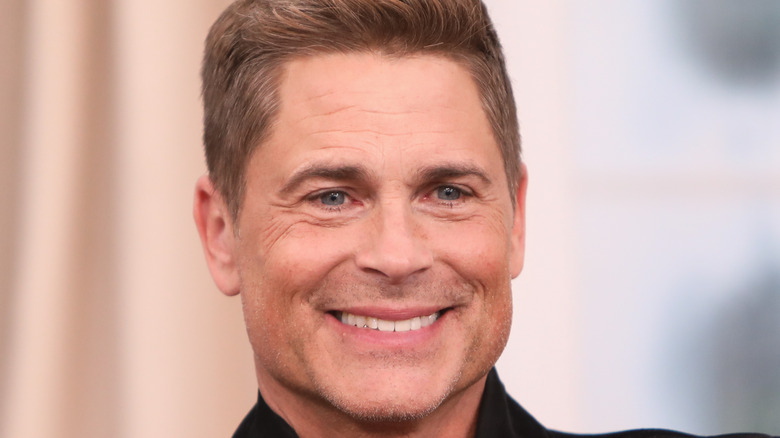 Paul Archuleta/Getty Images
Rob Lowe has had a long and successful career. The actor has starred in films such as "The Outsiders" and "St. Elmo's Fire," as well as TV shows like "Parks and Recreation," "The Grinder," and "The West Wing" (via IMDb). He's also a published author. However, he's been very vocal in revealing that his biggest and best accomplishment has been fatherhood. Lowe and his wife, makeup artist Sheryl Berkoff, share two sons together, Matthew and John, who are the light of their lives. "Family means absolutely everything to Rob. It's what's kept him grounded and sober now for nearly 26 years. It helped Rob organize the priorities in his life," a source previously told Closer. The insider went on to reveal that the couple is very proud of their sons and that the boys really are Rob's "best friends."
In 2018, Lowe told Today that "no matter how many movies or books or TV shows," he will also consider parenting his boys to be his "proudest achievement." Lowe says, "Raising those guys has been my favorite thing I've ever done. They're just great kids. Sheryl and I were both lucky that we had the wherewithal to spend a lot of time with them and be really involved and it's paid off." Lowe spoke about life as a dad again in November 2020, telling People magazine, "[My kids] teach me lessons every day, and they give me s— every day, but it's a ton of love ... my greatest joy is definitely being a part of their lives."
Rob Lowe has a tight bond with his boys
Rob Lowe and Sheryl Burkoff have two adult sons, per Closer. Their oldest, Matthew Edward Lowe, was born in 1993. Matthew appears to have his father's good looks and common interests. In 2017, Matthew joined his famous father for the A&E series, "The Lowe Files," which featured the father and son traveling the country in hopes of exploring famous unsolved mysteries. In addition, Matthew is a scholar who graduated from Duke University in 2016. After ending his education at Duke, Matthew went on to attend Loyola Law School until 2019. He's also active on social media, often referencing his favorite activities, such as fishing and spending time at the beach. He also shares plenty of photos of his adorable dogs.
The actor's youngest son, John Owen Lowe, was born just two years after his big brother, in 1995. He also attended a prestigious college, graduating from Stanford University in 2018. Like Matthew, John appeared on "The Lowe Files" as well. He also had a role in his father's former TV series, "The Grinder," where he shared some memorable scenes with his dad. John is also an avid social media user and fills his feed with snaps of himself hitting the gym and spending time with his family. He also recently co-wrote an episode of his dad's TV series, "9-1-1: Lone Star." It appears that the Lowes are among one of the most tight-knit in Hollywood. "Rob and Sheryl knew they did something right with these two boys," a source close to the actor told the outlet. It appears that the family genuinely love being together and make their relationships a high priority.