Who Is The Bachelorette's Connor Brennan?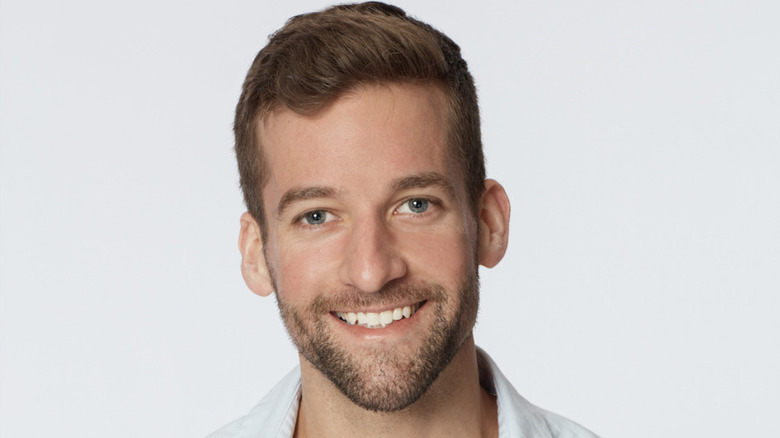 ABC/Craig Sjodin
On June 7, 2021, on ABC, former "Bachelor" contestant Katie Thurston will be on the hunt for a husband during Season 17 of "The Bachelorette." Katie first appeared on Matt James' season of "The Bachelor." She gained quite a few fans with her memorable limo exit (she greeted James with a vibrator in tow) and her disapproval of the bullies she felt existed during that season, according to The Seattle Times. The filming of the 17th season of "The Bachelorette" took place at the Hyatt Regency Tamaya Resort in Albuquerque, New Mexico throughout March and April 2021, according to The Sun. After Chris Harrison's disastrous interview with Rachel Lindsay and the resulting fallout, former "Bachelorettes" Kaitlyn Bristowe and Tayshia Adams are taking over hosting duties. 
One of the contestants vying for Katie's heart this season is Connor Brennan, a 29-year-old math teacher and musician from Nashville, Tennessee. According to the biography about Brennan on ABC's website, the math teacher has a degree in medical physics and has worked as a nuclear engineer in the past. Just from scrolling through Brennan's Instagram, it's clear that "The Bachelorette" contestant has many other hobbies and professions, which include being a spin instructor and a pianist. Aside from these professions and hobbies, it also appears as though Brennan has many other interests.
Connor Brennan advocated for the transgender community while filming The Bachelorette
Connor Brennan's mother, Lisa Brennan, is an author. She wrote the book "The Auditorium in My Mind: Treasuring My Transgender Child," which is about her daughter and Connor's sister who is a transgender woman. In a post on her Instagram profile, Lisa detailed how her son honored the transgender community during his time on "The Bachelorette." 
"While we're proud that our son, Connor is going to be on this season of 'The Bachelorette,' we're even more proud that he wore a trans flag ankle bracelet (picture #2) in honor of his sister (and all trans people!) for all of filming," Lisa wrote in an Instagram post. 
Connor is also a certified artist on Spotify and has released songs "Rough Draft" and "Back to You" on the platform. His ABC biography states that he is hoping to find a woman who shares his enthusiasm for life and is genuine, kind, socially accepting, and generally open-minded. The biggest dealbreaker in a relationship for Connor would be if his partner was disrespectful to waiters. Given Katie Thurston's previous remarks about bullying, it seems as though the pair might make a great couple.