Bachelor Matt James Calls Out Contestants Accused Of Bullying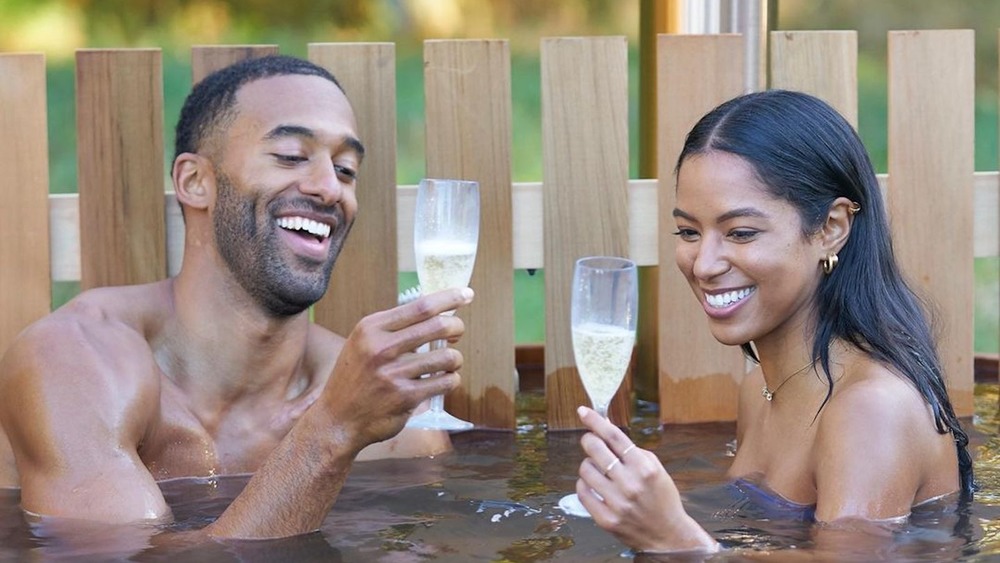 ABC
Throughout a tumultuous season of The Bachelor, viewers have endured watching as various women vying for Matt James' heart have ruthlessly ganged up on and bullied other contestants. Finally, the audience watched as the victims were vindicated last night.
Last week, Katie warned Matt about the incessant bullying that had been taking place since contestant Sarah left to be with her father who is suffering from ALS. When five new women joined the house of contestants, the bullying worsened. Anna shared a rumor with the group and this season's villain, Victoria, that one of the new contestants worked as an escort in Chicago, People reports. During Monday night's episode, the disrespect finally came to an end after Matt got wind of what was going on (via Entertainment Weekly).
To start, Matt asked to speak with Brittany and wanted to see what happened. After she broke down and told the story, the Bachelor went to the source. After listening to Anna's side of the story in which she explained that she heard the rumor through acquaintances in Chicago, Matt looked compassionate, but didn't let it slide. "I have a responsibility to the women that are here, to Brittany, to myself, to follow my heart," he said. "And unfortunately, I can't see you being part of that journey anymore" (via People). After explaining that he was looking for a wife who could shine without tearing other people down, the Bachelor moved on to protect other women in the house. 
After Anna, Matt James confronted Victoria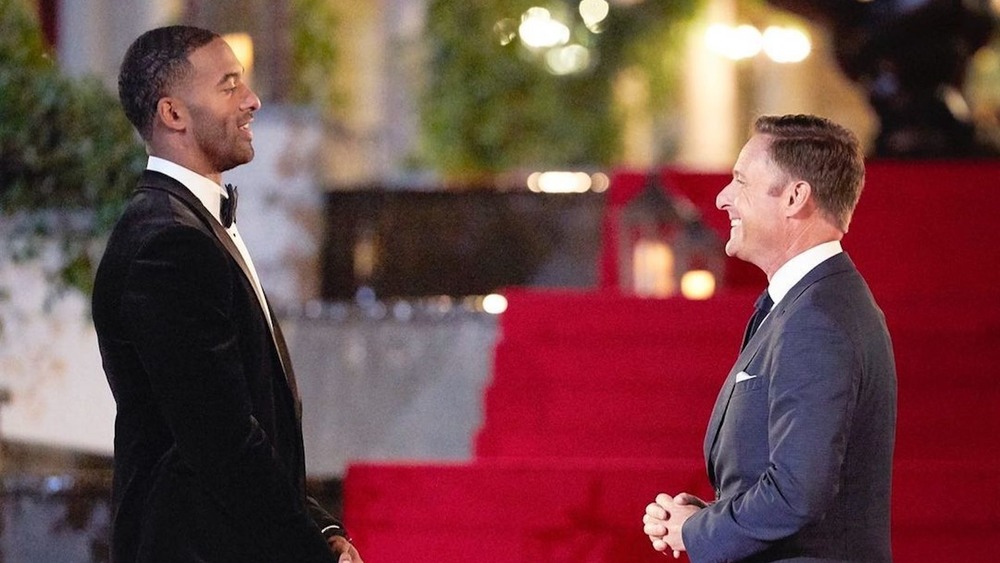 ABC
Just as viewers breathed a sigh of relief, they were left to wonder how resident bully, Victoria, would fare. Victoria's antics included taking a crown off of another contestant's head, calling other women names and telling the new people in the house to leave. Once everyone saw Matt escort Anna to the door, those who were involved in the bullying quickly rushed to apologize for their behavior in a last ditch effort to avoid going home.
Yahoo reports Victoria tore into producers, saying, "I hope I don't get sent home for this. Literally, there's no one in here he can marry besides me. Like, I'm literally the best option for him, and, like, I'm the only one with a working brain in this room, and I'm not even being rude."
After Victoria spoke with Matt, Chris Harrison told the group that they were going straight to the rose ceremony in which she did not receive a rose. True to form, before she left, the self-described "Queen" had a few words to add to their awkward encounter. Victoria told Matt, "I honestly feel so sorry for you that you would listen to hearsay and not all of the facts behind a situation. So goodbye."
In addition to Victoria, fans also wanted MJ to face the consequences of her actions — such as dubbing the new girls the "JV" squad while the rest of them were the "varsity." Next week, we'll find out if justice is finally served.