Here's How To Save Wrinkly Clothes Without An Iron
Shutterstock
You're getting ready for the day and you pull out your favorite outfit, only to see that it's a wrinkled mess. And if you don't have an iron or just can't stand ironing, you may think you're out of luck and will just have to show up looking frumpy. But not to fear — there are a handful of ways to get smooth clothes without an iron.
Use steam. The best use of steam to get rid of wrinkles would be to use a steamer specifically designed for your clothing, and they're actually a better option than an iron for some items like knit sweaters or sequined and beaded items (per Good Housekeeping). Another way to use steam is via your dryer. If you put a damp towel into your dryer with your wrinkled clothes and run it for five to 10 minutes and remove promptly (via Real Simple). Remember to not try this option with items that you wouldn't normally put in the dryer on a medium or high heat.
And, if you need to multitask to get out the door, while you're taking a shower hang your clothes neatly on a hanger in the bathroom, close the door, and take a nice, long, steamy shower. But don't forget the most important step — when you get out, quickly place the items on a flat surface and smooth them flat (from Racked). It may not get the items as pressed as an iron, but it will definitely help.
Wrinkle release spray works great but avoiding wrinkles is better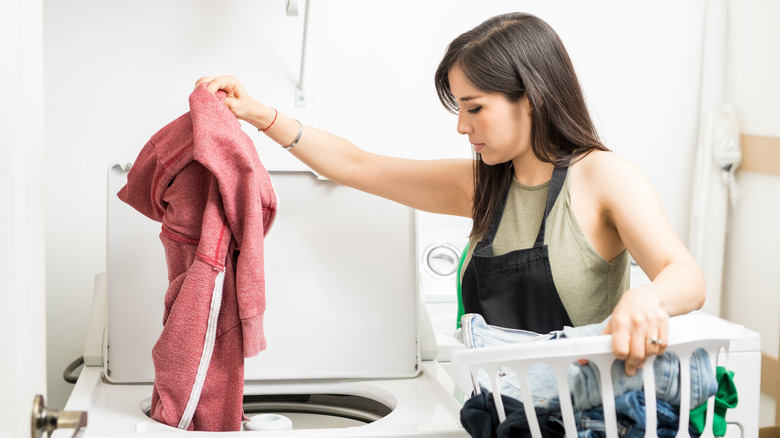 Shutterstock
You can also hang up the items, lightly dampen them, and then blast it with a hair dryer — though not too close since hair dryers can get hot! And if there's just a small area like your collar that you want to flatten out, dampen the fabric and use a flat iron. If it's silk or another delicate material, make sure to turn down the heat setting (via Real Simple).
Probably the quickest option would be to invest in a wrinkle release spray. The benefits to those are they can come in travel size options and add a fresh scent to your clothes (via Travel + Leisure). You can make your own wrinkle release spray with one cup of distilled water and one cup of white vinegar and a few drops of colorless essential oils (via DIY Natural).
And then there's always the maxim that an ounce of prevention is worth a pound of cure. If you want to avoid wrinkled clothes, make sure to sort your clothes by weight for the dryer. Heavier items like jeans will take longer to dry than a lightweight tank top, and the more time items stay in the dryer, the more they may overheat, allowing wrinkles to form (via The Spruce). Take your clothes out of the dryer promptly, still warm, and fold them or put them away as soon as you can (from Real Simple).