Here Are Sophie Turner's Beauty Must-Haves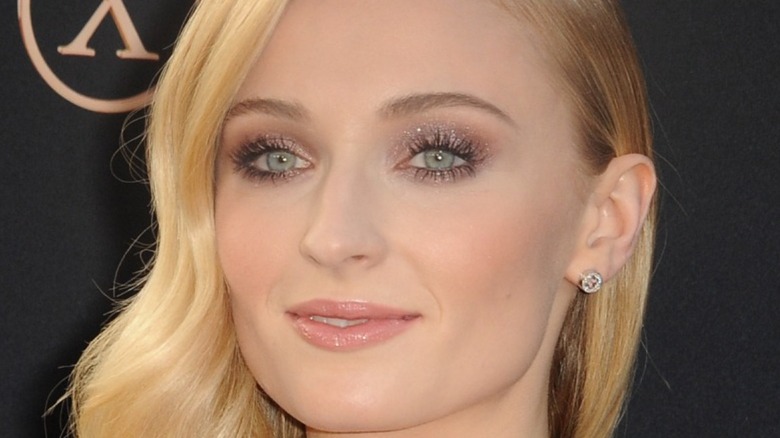 Shutterstock
Sophie Turner's skin glows on and off screen. Over the years, she's become more intentional about skincare and has dedicated serious time and effort into crafting the right beauty routine for her (via Women's Health). The Emmy-nominated actress and skincare guru told W Magazine that she is conscious about how her eating habits influence her skin, and incorporates healthy fats and carbs into her diet. For clear skin, she follows her beauty team's trusted advice and drinks a lot of water and moisturizes consistently, considering she cites the dry weather in the U.K. as wreaking havoc on her skin.
Like many of us beauty lovers, Sophie Turner is also very intentional about the products she uses, especially when it comes to her luscious blond locks. "[Hair colorist] Sonya Dove recommended Wellaplex No3 Hair Stabilizer, and I've been using it ever since," she revealed (via W Magazine). "It's a treatment I can do anywhere, and it's like a second assistant, working behind the scenes to restore the health of my hair and prepare it for my next transformation. Whether I am getting into a new character with a hair-color change, like when I went from red to blond, or need some major hair recovery after a particularly challenging hairstyling, it's amazing." Turner also opened up about her relationship with her hair and why she is particular about the hair products she uses. This eye for detail clearly translates into her overall beauty routine.
Here are the beauty products that Sophie Turner swears by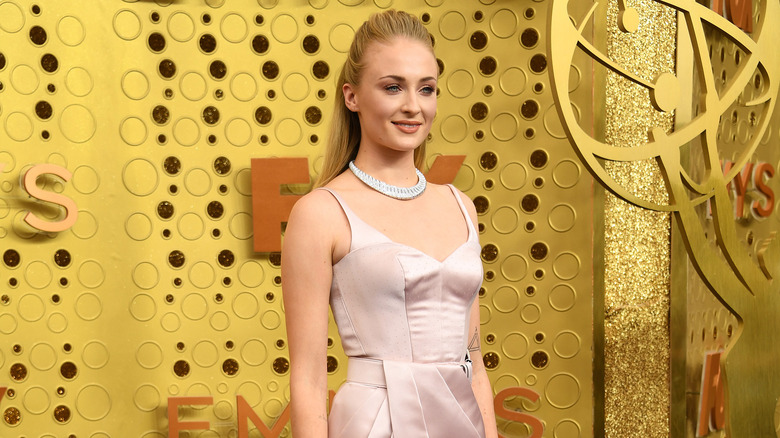 Kevin Mazur/Getty Images
In an interview with Allure, Sophie Turner revealed all of her beauty secrets for clear, healthy skin. Unless she's on the red carpet, the "Game of Thrones" alum typically goes makeup-free — which means her skincare game needs to be on point. "I just use micellar water to clean my face and iS Clinical Cream Cleanser," she explained. "Then I use my trusty Boscia Cactus Water Moisturizer and Ole Henriksen Truth Serum." The benefits of micellar water are endless, including acting as gentle makeup remover and hydrating skin.
During an appearance on celebrity hairstylist Christian Wood's IGTV series "Morning Wood," Turner shared more beauty hacks that give her skin its signature glow (via New Beauty). In the video, she shared that snagging Rilastil Difesa Sterile Cream during a trip to Italy was a game changer. "It's totally changed my life. I don't know what it says on the front or the back, but I just asked the woman at the pharmacy, I was like, 'My skin is breaking out. Can I have something?' and so she gave me this and it's a lifesaver. It just calms your skin down."
Her nighttime routine is low-key and consists of Peter Thomas Roth's Cucumber Gel Mask, which she refrigerates before using. "It has aloe in it, so after being in the sun or whatever, you can just put it on and it's just so calming and soothing," she explained (via New Beauty).