Mike Pence Reveals The One Thing He And Donald Trump Will Never Agree On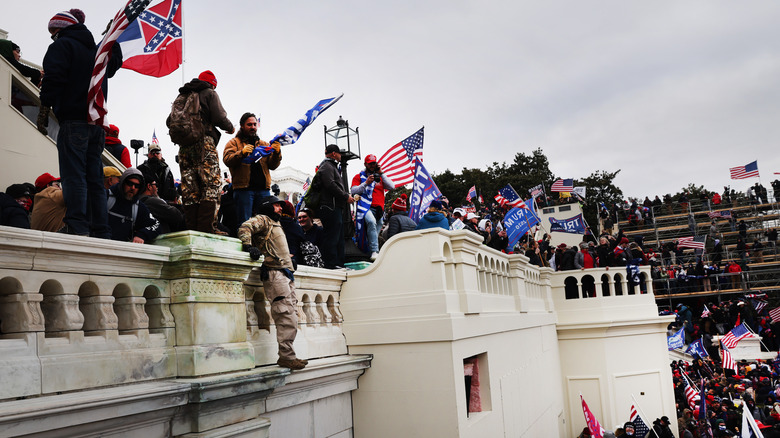 Spencer Platt/Getty Images
Former Vice President Mike Pence hasn't said very much, at least publicly, since rioters stormed the U.S. Capitol to try and disrupt the Electoral College vote count on January 6, 2021. But that all changed during a republican dinner in New Hampshire when he chose to speak about that day, and he made comments that are certain to raise eyebrows within what is now the mainstream faction of his own party. "As I said that day, January 6 was a dark day in history of the United States Capitol," he said. "But thanks to the swift action of the Capitol Police and federal law enforcement, violence was quelled. The Capitol was secured," Pence said (via Associated Press).
Pence said that on the same day, Congress joined together after the violence ceased, and continued doing the important task that they were gathered to perform. "President Trump and I have spoken many times since we left office," Pence said. "And I don't know if we'll ever see eye to eye on that day." Bold words from a vice president who has rarely spoken out against the man who governed with him. 
Mike Pence broke with Donald Trump on January 6, 2021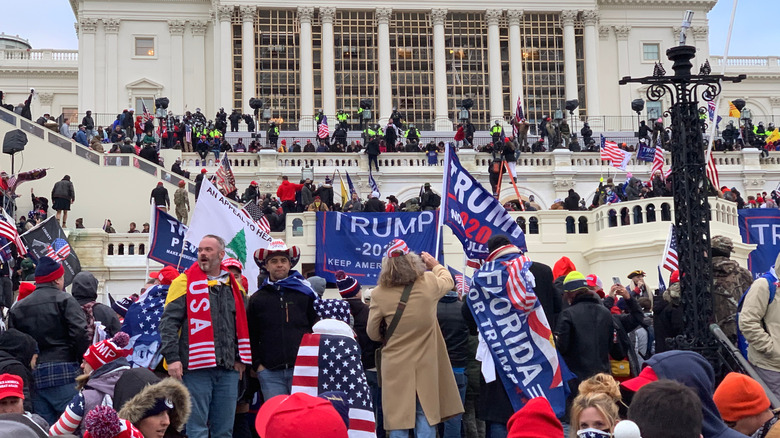 Shutterstock
From the time they took their oaths of office until the beginning of 2021, Donald Trump had a loyal vice president in Mike Pence, who did what it took to keep his boss happy. But all that changed when Pence headed to the Capitol to carry out one of his last jobs — that of seeing to the Electoral College count which would declare Joe Biden the winner of the 2020 election. Pence ended up huddled in a secure location while pro-Trump rioters, some chanting "Hang Mike Pence," wandered the halls of Congress (via The New York Times), causing what officials now say is worth $1.5 million in damage (via The Washington Post).
Pence's speech in New Hampshire is a departure from the position many GOP members have adopted in recent months. GOP lawmakers in both the Senate and the House of Representatives rejected a proposal that would have created an independent commission to look into the attack on the Capitol, and one of those that voted against the motion was Pence's brother, Greg Pence, who is a representative from the family's home state of Indiana (via HuffPost). Those who have resisted toeing the party line, like former Vice President Dick Cheney's daughter, Liz Cheney, have been punished.