Kyle Richards And Lisa Vanderpump's Feud Explained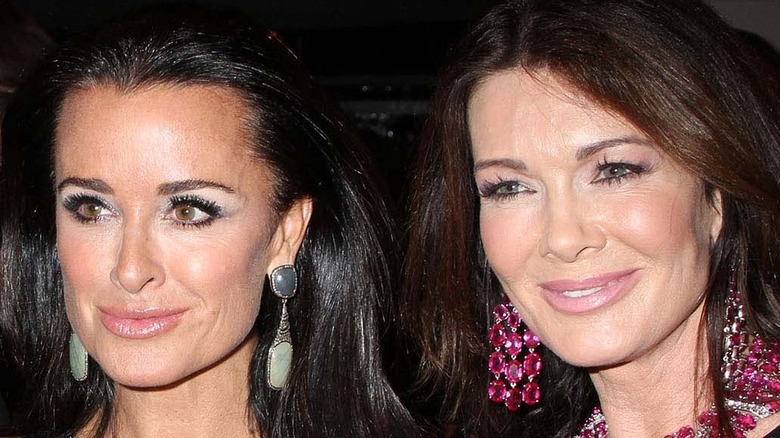 Shutterstock
Bravo's "The Real Housewives of Beverly Hills" stars Lisa Vanderpump and Kyle Richards have more in common than being OG's of the reality series. Before their televised falling out in Season 9, the two used to be close friends. When the series first premiered in 2010 (via IMDb) it appeared the two moguls were tight, but under the surface their friendship was much more intricate. Richards has alluded to Vanderpump's calculated nature a number of times on the series, even stating that being friends with her was akin to playing chess with Bobby Fischer (via Inquisitr). 
While Vanderpump and Richards fought a number of times during the series, the straw that broke the camel's back stemmed from co-star Dorit Kemsley's adoption of a dog. According to Us Weekly, Kemsley adopted the dog from Vanderpump's rescue center, Vanderpump Dogs, but after the pup allegedly attacked members of Kemsley's family, the canine mysteriously ended up in kill shelter. The disturbing story was leaked to the press and Vanderpump's co-stars were convinced she was the whistleblower.
Vanderpump is no stranger to being ganged up on, but she couldn't stomach her only "true" friend, Richards, turning against her as well. Their fight culminated in an epic kitchen brawl with Vanderpump's husband, Ken Todd, banishing Richards from their home with famous last words, "Goodbye, Kyle!" (via YouTube). Following Season 9, Vanderpump hung up her diamond and has since retired from the "RHOBH" franchise, but Richards isn't through dishing about their relationship. 
Real Housewife Lisa Vanderpump sent Kyle Richards her restaurant bill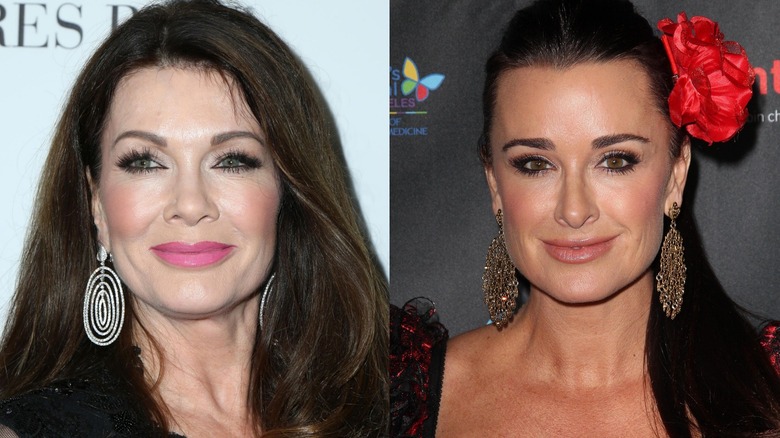 Shutterstock
The two reality stars ran into each other at SHU restaurant nearly two years after their falling out (via Vulture.) While the ladies never spoke, Vanderpump attempted to break the ice by "cheekily" sending Richards her check. However, Richards took this as a slight, eventually joking to paparazzi that Vanderpump "dined and dashed." And the "Halloween" star didn't stop there. 
On a "Watch What Happens Live" appearance, Richards told host Andy Cohen that upon leaving the restaurant, Vanderpump allegedly vandalized a young fan's photo. "When she left the dinner, she went outside and there was a fan who collects autographs," Richards explained. "He had a 'Real Housewives' picture that he wanted all the cast to sign ... And Vanderpump put X's through all our faces and mustaches and crossed us out and put a heart next to her name and signed it and ruined his photo" (via YouTube).
The photo in question has since been posted to Instagram by podcaster Christian Gray Snow and has received multiple comments by former and current "RHOBH" stars, all taking Richards' side. But Vanderpump was ready to defend her actions.
Kyle Richards accused Lisa Vanderpump of gaslighting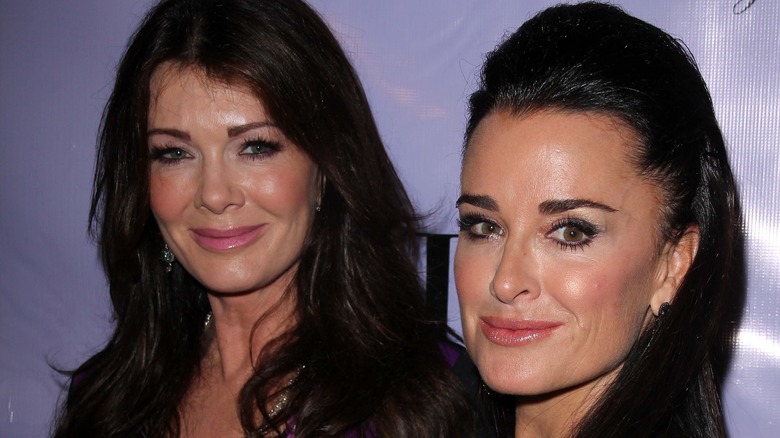 Shutterstock
The Brit set the record straight on what really happened outside the Bel Air restaurant via an Entertainment Tonight interview. "Again, Kyle makes it about her and says it was a kid's picture," Vanderpump stated. "It was a paparazzi guy — you know when they have the 10x12s? He said, 'Will you sign this for me?' ... He's probably going to sell that picture for a fortune!" She insists that Richards' story is "another attempt" to "malign" her character.
Richards responded to the interview with an Instagram comment claiming, "I NEVER said it was a 'kid's photo — talk about gaslighting. It WAS a fan, NOT a paparazzi. Now for the love of God, let it go Lisa." It appears the reality stars have reached a stalemate in their feud, but until Vanderpump receives her apology (via Yahoo News), the war will continue to rage on.