Why The Star Of Subway's Latest Commercial Looks So Familiar
We've all seen those Subway commercials with our favorite athletes in them enjoying a turkey bacon club or a nice tuna sub. The food chain has come a long way since its affiliation with Jared Fogle, who was the spokesman for the company for quite a few years since he lost a massive amount of weight by eating their products.
But in recent times, Subway has branched out to partner with extremely famous talent, including multiple Olympians and professional athletes. Consumers may not see the correlation between the two, but the fast-food chain is making big moves in the industry. By teaming up with the most famous faces, the brand is garnering some large-scale exposure. What swim fan could forget the commercial with Michael Phelps? The commercial showed off its yummy foot-long turkey and bacon avocado sub as the motivational tool Phelps needed to swim laps (per AdAge). Now that the summer Tokyo Olympics are just around the corner, Subway has teamed up with another well-known face.
Megan Rapinoe's Subway commercial is funny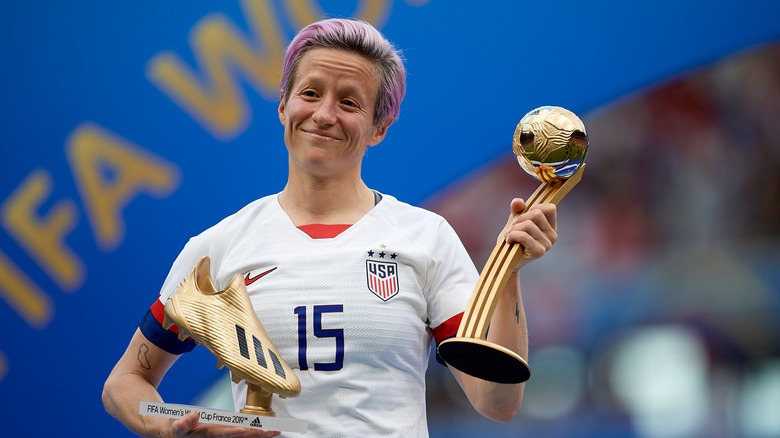 Shutterstock
Subway has made it clear to users of their eateries that they are searching for athletes who have the talent, popularity, and real love of the brand. As a result, TV viewers may have noticed a new face spearheading their commercials (via YouTube), and it is none other than USWNT soccer star Megan Rapinoe. 
The ad starts with two men walking across a field talking about ordering some burritos. Suddenly, Rapinoe kicks a soccer ball at them and says they should get Subway instead. The athlete suggests an oven-roasted turkey with banana peppers for "a little extra kick." The writers used clever wordplay there — get it, a kick? Then she spots another guy eating something other than Subway. She kicks a ball at him, knocking the food directly out of his hand, and she shouts, "Get a freshly made footlong from Subway instead!" While it may not be the most well-put-together commercial, it did the trick and got fans talking.
Megan Rapinoe deserves all the accolades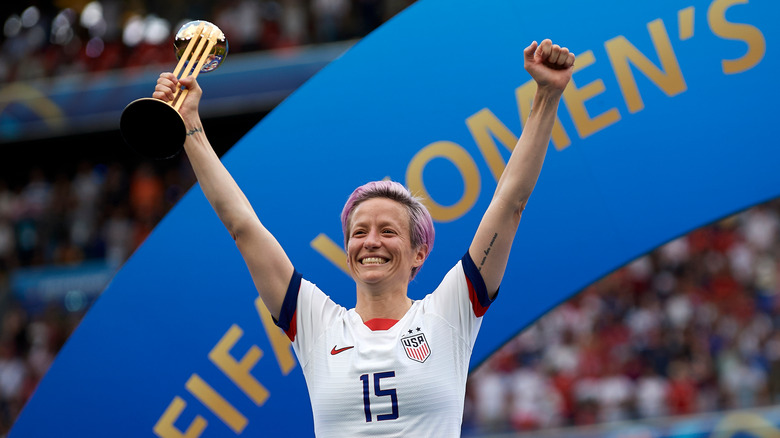 Shutterstock
The forward (per U.S. Soccer) is a force on and off the field, with her quick feet and polarizing opinions. Megan Rapinoe has won two World Cups and an Olympic gold medal (per Team USA), but she isn't stopping there. The U.S. women's team is the most successful in the sport's history, and yet, they are not treated as such. Rapinoe is one of the players spearheading the fight for equal pay against the USSF (via NPR). Even though a judge dismissed the team claim in 2020, Rapinoe is unapologetically herself, and this is why she is beloved by her fans. 
She made headlines when she kissed the World Cup trophy and said, "I deserve this!" (per Huffington Post), sending a new message to women that stereotypes of staying in the shadows and remaining quiet about the right for equality could and would be changing. Soccer fans are looking forward to watching her score goals with her chest puffed out and arms spread wide open in Japan as she takes in all that she and her teammates deserve.