The Truth About Elle King's Relationship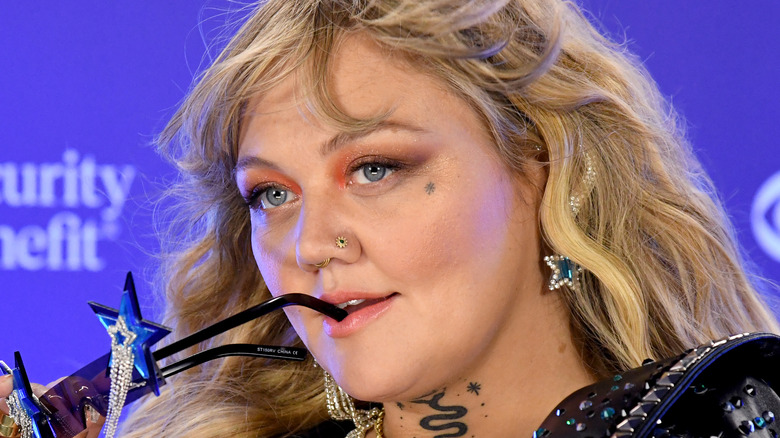 Kevin Mazur/Getty Images
Elle King is currently pregnant and ever since the country singer announced the exciting news, fans have been wondering about her fiance. So, who is he?
According to a report from Stuffs That Matter, King's fiance and baby daddy is a tattoo artist named Dan Tooker, who has made a name for himself by creating traditional tattoos and showing off his impressive creations on social media. As the outlet explained, Tooker is not only a solo artist, but has also worked as a collaborator alongside artists from famous tattoo studios, including Riverside Tattoo company in Boston, Massachusetts, and Studio XIII in Orlando, Florida.
While their report went on to say that the average salary of a Boston-based tattoo artist is just a hair over $100,000, it's highly likely that Tooker brings in more than that, due to his high profile status on social media and his much-talked-about relationship with King.
As fans can see from King and Tooker's social media feeds, the couple began dating in late 2019 and announced their engagement in October 2020.
"We rode horses up a mountain to go gold panning. I had a ring in my pocket and I was going to toss it in the gold pan and propose to [Dan Tooker] ... but of course, my soulmate beat me to the punch and proposed to me the exact same way," King revealed on Instagram at the time. "So I immediately got down on my knee too. I love you Daniel. 1 year down, forever to go. I said Yes by the way and so did he."
Elle King announced her pregnancy on Instagram
On March 3, just months after confirming her engagement to Tooker, King returned to Instagram to announce exciting baby news to her fans and followers. "Well, we did something!" she wrote. "Me and [Dan Tooker] made a little human! We are very excited to share the news that we are pregnant."
"This news comes with a great deal of fear, and I hope that all mothers-to-be, in whatever sense that may be, know that I am trying to be very sensitive," King continued as she revealed past miscarriages. "You see, this miracle baby comes after two very big losses. It's a terrifying and extremely painful experience for everyone. But the sun always rises, and I never really let go to let the universe decide when I was ready."
King went on to say that before announcing her pregnancy, each pregnancy announcement she would see from other women "felt like a dagger to me."
Years prior to her relationship with Tooker, King was married to Andrew Ferguson.