The Real Meaning Of Harry And Meghan's Daughter's Name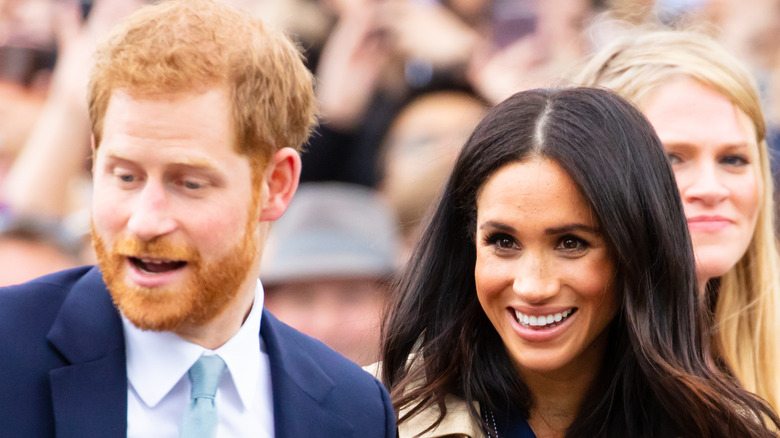 Shutterstock
Here she is! Prince Harry and Meghan Markle welcomed their daughter on Friday, June 4. The official statement was released on Sunday (via Archewell Foundation): "It is with great joy that Prince Harry and Meghan, The Duke and Duchess of Sussex, welcome their daughter, Lilibet 'Lili' Diana Mountbatten-Windsor, to the world. Lili was born on Friday, June 4 at 11:40 a.m. in the trusted care of the doctors and staff at Santa Barbara Cottage Hospital in Santa Barbara, CA. She weighed 7 lbs 11 oz. Both mother and child are healthy and well, and settling in at home."
The news came as a surprise — though a welcome one — to fans who had been expecting the arrival a little later. Sources had been hinting that Meghan would be giving birth on June 10, which would have been Prince Philip's 100th birthday (via The Standard). Plenty of royals watchers had also been betting — as in laying down actual money — that the couple would name their daughter Philippa or Pip in honor of Harry's grandfather. 
Instead, Harry and Meghan's daughter's name honors two other beloved family members. Keep reading to see who the little one was named after!
The royal baby's names have beautiful meanings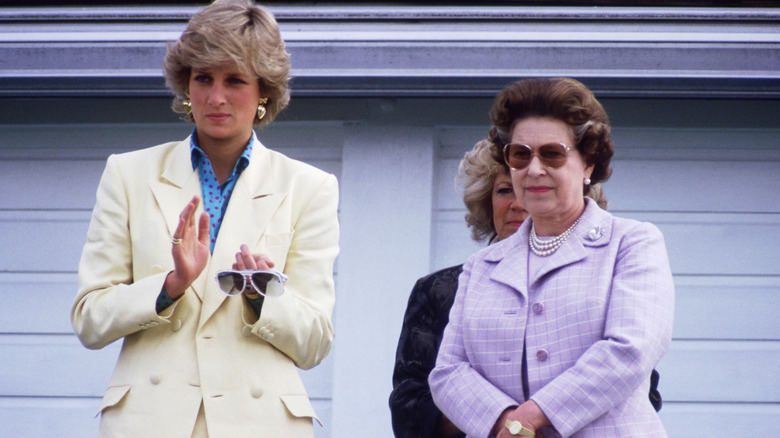 David Levenson/Getty Images
As the Archewell Foundation's statement explains, "Lili is named after her great-grandmother, Her Majesty The Queen, whose family nickname is Lilibet. Her middle name, Diana, was chosen to honor her beloved late grandmother, The Princess of Wales." Little Lilibet doesn't know it yet, but she will be carrying on a sweet family tradition. As a young girl, the queen couldn't pronounce the name Elizabeth, so it came out as "Lilibet." Her dad, King George VI, called her by the nickname, as did Prince Philip (per Red). When the prince died in March, it was thought that this would also be the end of the queen's special name. Now, Prince Harry and Meghan Markle have ensured that the memory will live on.
Elizabeth is a beautiful name in itself; per Nameberry, it means "pledged to God" and was the name of John the Baptist's mother. The name Lily (or Lili) is a lesser-known nickname for Elizabeth, with the association of the purity of the lily flower. As for Diana, it comes from the Latin for "divine," per Nameberry, which certainly reflects the esteem with which many held Prince Harry's mother. Diana was also the Roman goddess of the hunt and fertility, per Britannica; in ancient times, women would pray to her to help them conceive. 
Prince William and Kate Middleton's daughter, Charlotte, also has the middle names Elizabeth Diana. Could the Sussexes have made their name choice as a show of solidarity with Harry's estranged brother?