Donald Trump's Viral 'Backwards' Pants Finally Explained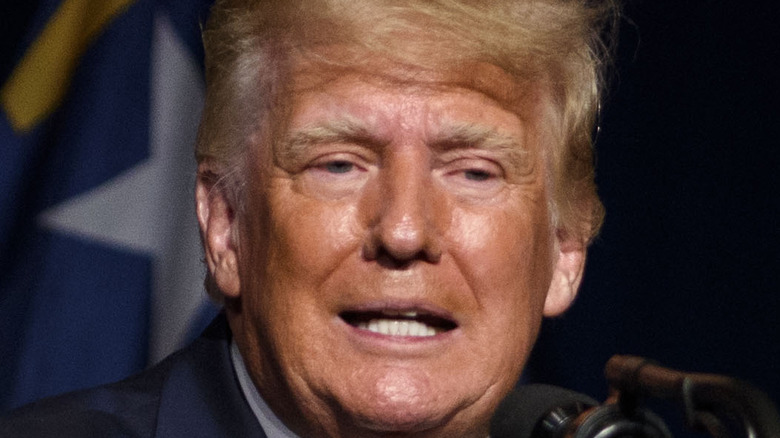 Melissa Sue Gerrits/Getty Images
When Donald Trump appeared at the North Carolina Republican Convention, he was expected to be the talk of the town – but perhaps not in the way that he expected. During his 90-minute speech, Donald Trump reiterated many of his claims, including those about having the November 2020 election "stolen" from him, and for developing the COVID-19 vaccine, but that wasn't what kept television audiences enthralled. Instead, those watching were busy pointing out that it looked like he was wearing his pants backwards (via New York magazine).
As one Twitter user put it: "Unfortunately for Trump, wearing his pants on backwards distracted everyone from his brilliant command of the English language and his keen insights on how to fortify democracy."
Author Tomi T Ahonen even came up with a satirical take on Dr. Seuss' "Green Eggs and Ham" on Twitter, writing: "I do not like his silly rants; I do not like those unpressed pants; I do not like him on those ramps; Or whining about modern lamps; I do not like him he's a con; I do not like Trump #DiaperDon."
Snopes debunked the Internet chatter about Trump's pants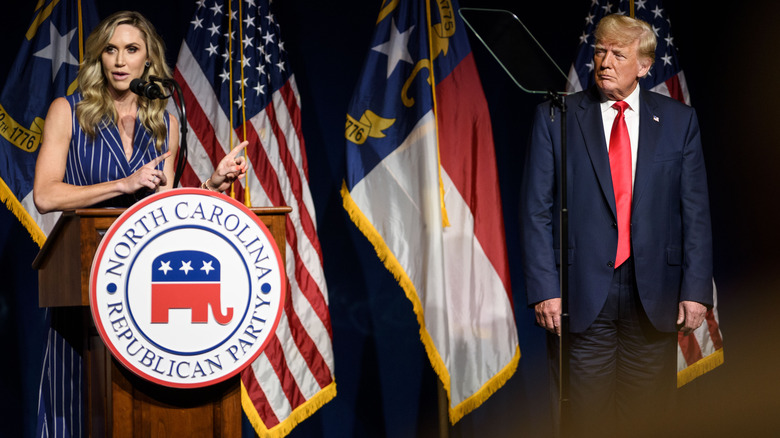 Melissa Sue Gerrits/Getty Images
While the internet poked fun at the former president for his sartorial choices, fact-checking site Snopes came out to say that no, the former president did not have his pants on backwards. "You asked, so we watched the 90-minute speech," the site announced. Snopes writer Madison Dapcevich said that while it appeared to social media that Trump's trousers didn't have a fly, professionally taken images show that, in fact, he did. Dapcevich also noted that a "video posted by C-SPAN of the 90-minute speech also showed the former president wearing pants the right way. As such, we rate this claim as 'False.'"
Still, the internet wasn't ready to give up. One social media user responded to Snope's fact check by tweeting: "I believe we can all agree that regardless of whether Trump was wearing his pants backwards or not, we can all agree that there was something not right about his pants. They're wrinkled in all the wrong places, and his standing like a cro-magnon almost gives me vertigo."
Another decided to give credit where credit was due: "If you ever think your life is unbearable, just remember someone employed by Snopes had to go back and research whether former President Trump actually had his pants on backwards."