Alicia Silverstone Joins TikTok With A Video That Has Fans Buzzing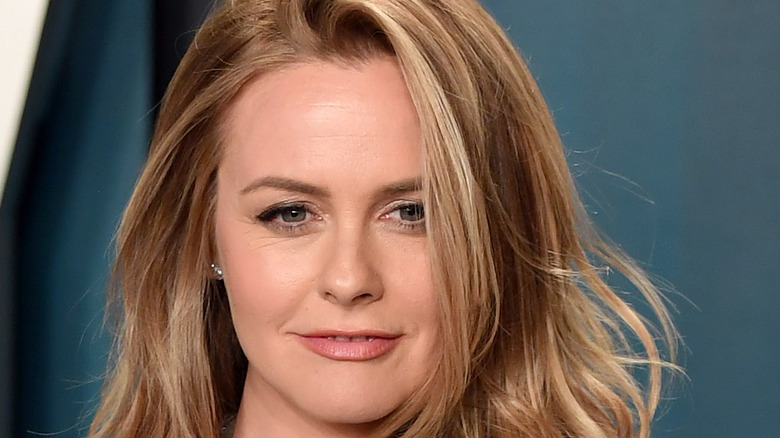 Karwai Tang/Getty Images
She totally paused — and then joined TikTok. We speak of "Clueless" star Alicia Silverstone, who took a page out of Catherine O'Hara's playbook, and recreated a famous scene from her iconic film (via Indy100).
In the scene, Silverstone, who also shared the hilarious clip to Instagram, can be seen wearing a yellow plaid blazer like the one she donned as Cher in "Clueless." Of course, this time, the star paired the look with pants instead of a mini skirt from Contempo Casuals. She struts along to "Just a Girl" by No Doubt, when all of the sudden, her 10-year-old son, Bear, slings his arm around her like a guy did in the movie scene. The star, now 44, shrieks, ""Ew. Get off of me. As if!" (via Deadline). She then pushes him out of the frame of the video.
But unlike in "Clueless," Silverstone soon hugs Bear, who comes back into the frame with a big smile on his face.
Fans are kvelling over Alicia Silverstone's TikTok debut
Not surprisingly, fans basically freaked out over Silverstone's "Clueless" scene recreation. Even her celebrity friends were here for it, with designer Christian Siriano commenting on Instagram, where the actress captioned her video, "I guess I'm on TikTok now," "The Queen!!!!!!"
About her decision to join TikTok, Alyssa Milano joked, "It happens to the best of us."
Meanwhile, followers overwhelmingly observed that Silverstone looks the same as she did in the 1995 movie, with one commenter saying in part, "Haven't aged a day" (via IMDb). "U still look the same," another said.
We are just having a hard time believing "Clueless" happened 26 years ago! Many other commenters observed Bear was a mini-version of his famous mama, with one writing, "Holy cow your child looks like you."
Ultimately, we second one commenter's notion when they wrote, "Now I need to go watch Clueless for the 1,247,2838 time." Same!