What Does Kelsea Ballerini And Halsey's The Other Girl Mean?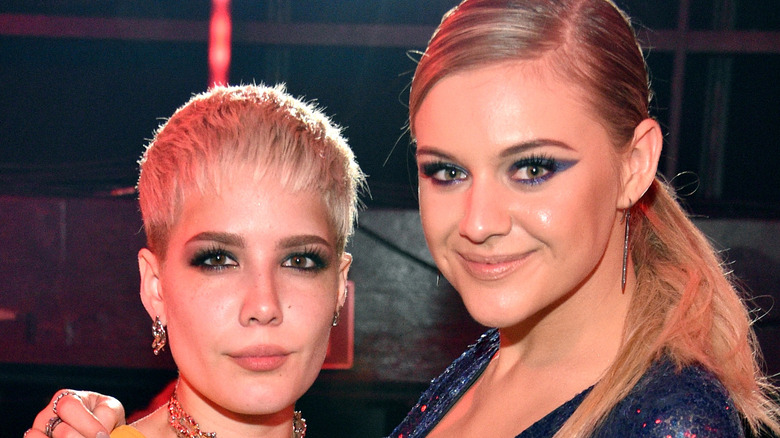 Kevin Mazur/Getty Images
Kelsea Ballerini's latest album "Kelsea" shows her range as an artist like never before, and we're here for it (via American Songwriter). The 27-year-old Tennessean goes from exploring down-country roots with Kenny Chesney on "Half of My Hometown" to going a whole new direction on "The Other Girl" featuring Halsey. And her musical risks are paying off: Ballerini's R&B-country collaboration with Halsey is quickly rising to the top of the charts (via Billboard). A song about cheating with a main theme of empowerment, "The Other Girl" is a lot more complex than you might expect.
As songwriter Shane McAnally explained to The Boot, "The Other Girl" was written with Ballerini while she was on tour with Keith Urban. Created as a modern-day "Does He Love You" by Reba McEntire and Linda Davis, the pair wrote the "Kelsea" track as a powerful female collaboration. Penned and recorded on a moving bus, Ballerini told American Songwriter that you can "hear the bus rumble" on her vocals. Once the sultry song was complete, it was time to think of the collaborator – as McAnally recalls, Kelsea quickly told him, "I want to send this to Halsey."
A rapid-fire text later, Kelsea soon went to Halsey's house to play her the song, which she immediately signed up for (via American Songwriter). Longtime pals, they met in 2018 at one of Halsey's Nashville shows, connecting over karaoke and beers (via People). Finding empowerment in each other, their new song subverts expectations of being "the other girl."
The Other Girl has an even deeper meaning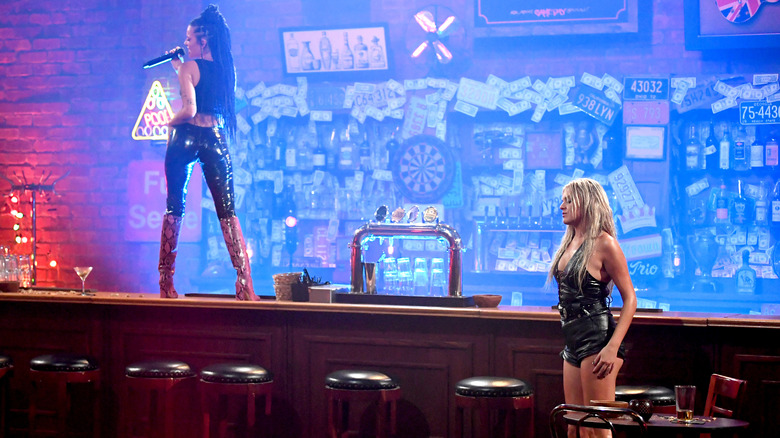 Kevin Winter/cmt2020/Getty Images
"The Other Girl" is all about two women who have just found out they are being cheated on with each other, wondering if the other is "more promiscuous" or has something they don't. The women wonder aloud, "I bet you're bold, I bet that's why you seem to occupy his mind / I bet you're smart, but do you know about me?" (via Genius), playing into a hint of jealousy. But it doesn't last long – as Halsey told The Boot, "The Other Girl" is about being "empowered," and not letting "misogyny turn us against each other."
In the chorus, the powerhouse pair analyze how neither of them are right nor wrong in the situation. Lyrics like "Is it me? Is it you? ... Who's the first? Who's the fool? Who's the diamond? Who's the pearl?" show that neither is better than the other. Halsey explained to The Boot, "People wanna pin it on the other girl, and make it the other girl's fault," but in this song, the duo is saying, "You know what? Forget him. We're not gonna hate each other."
A cheating song that's not about anger, "The Other Girl" even alludes to the book "The Scarlet Letter" with lyrics like, "Scarlet letter on her chest / Can't love with this on her conscience." Analyzing shame, this track is "a dark and angsty story song" as described by Ballerini (via Sounds Like Nashville), while still managing to be the perfect summer song.