The Best Jewelry For An Oval Face Shape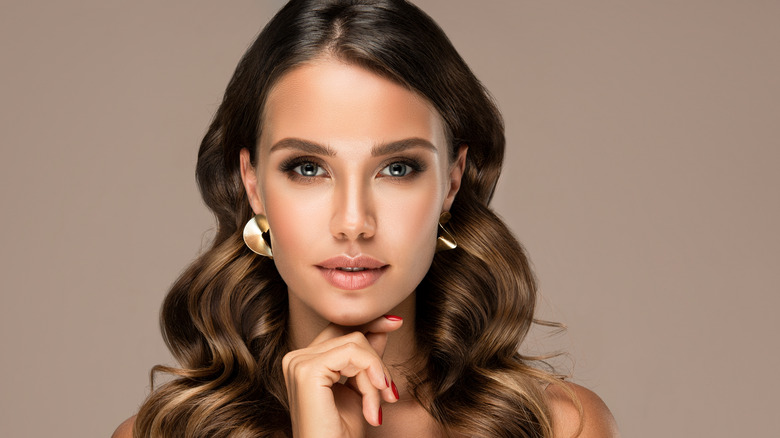 Shutterstock
No matter your face shape, we can all agree that the right jewelry can add a hint of sparkle to any look, working as a perfect complement. While round faces can benefit from face-lengthening, dangling earrings, and heart-shaped faces look great in delicate chokers (via Fire Mountain Gems), oval faces have tons of styles to experiment with. As per Artisan and Fox, "oval faces can wear almost any shape or style of earring," with almost as much play room for necklaces. That being said, there are a few styles in particular that give an oval face just the right amount of va-va-voom.
If you don't know your face shape, it's pretty easy to figure out if you have an oval face. According to the website Jen Bradley Moms, you have an oval face if "your face is longer than it is wide," and if you have a rounded jaw. If that sounds about right, you should look for earring styles that add some width to your face and create more balance. Rounded stud or cluster earrings work well, or small hoops. Another great tip? Bright-colored drops will draw the eye to each side, creating the illusion of facial width. As per Artisan and Fox, oval faces also look great with delicate, soft earrings with a curve to them. Try chunkier chandeliers, or even create contrast with triangle-shaped styles.
While rounded, shorter earrings look great on oval faces, experts advise avoiding long, straight drops (via Jen Bradley Moms). Styles that are too thin and long will only add more length to an oval face, and may not be flattering.
The best necklace styles for oval faces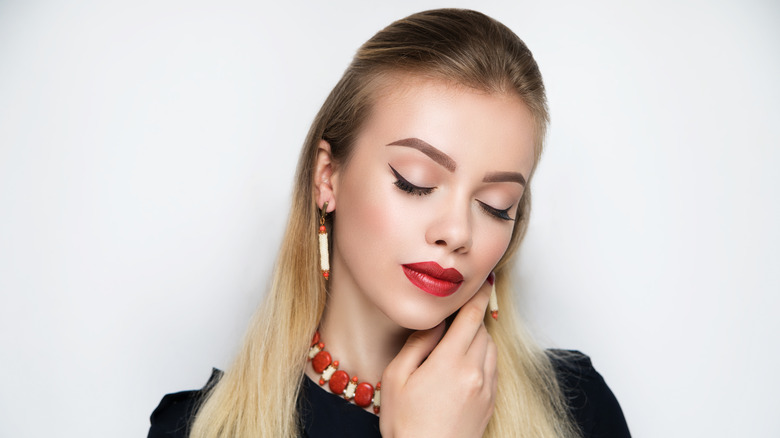 Shutterstock
Once you know the right earring styles for a delicate oval face, it's time to think about the most flattering necklaces. Artisan and Fox recommends creating more roundness with soft, curved necklaces that draw the eye up. Try pearls, ribbon necklaces, and open link chains to play with circular styles and will give the appearance of more width. A rounded or moon-shaped pendant will be super-flattering on you as well.
Apart from your necklace components, you should also think of the best chain lengths. According to Jen Bradley Moms, short necklaces are your best bet, specifically one that's right at the collarbone. Chunky, rounded necklaces look fantastic on you and will add curves and width to your face shape. Cad Cam NYC advises sticking to necklaces "that don't fall below the shoulders." So what kinds of necklaces should you avoid? Long, drop necklaces will only pull your face down and create unneeded length, especially styles that reach past the bust. Moreover, v-shaped necklaces will create a similarly unflattering effect.
As per Fire Mountain Gems, also think of your other features when choosing a necklace: chokers are great for long necks, while drop styles are great for drawing more to the neckline.