The Truth About John McCain's Son James McCain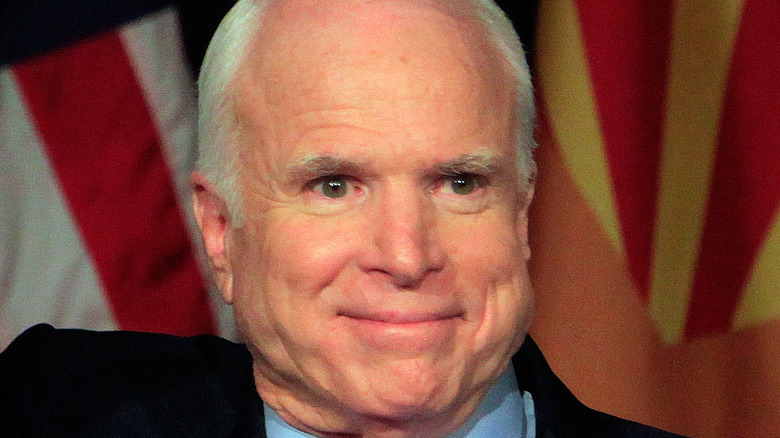 Eric Thayer/Getty Images
The late senator John McCain is known to many as an American hero for his tireless years of service in the military, as well as his decades in the United States Congress. McCain also has one famous offspring, Meghan, who is one of the hosts of the ABC daytime talk show, "The View." While Meghan is known for her controversial takes on current topics, McCain's youngest son, James McCain, is not the star his sister is despite what he has done in his life.
John McCain had seven children. He adopted his two oldest children, Doug and Andy, when he married their mother, first wife Carol. While McCain and Carol were married, they had a daughter together named Sidney. The late senator later married Cindy McCain in 1980 and they had three biological children, Meghan, Jack, and youngest son, James. They also adopted a daughter from Bangladesh named Bridget (via Good Morning America).
John McCain kept his children out of the spotlight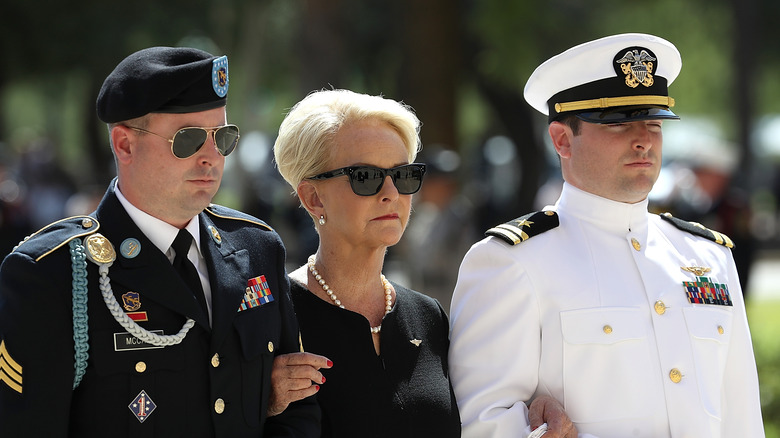 Justin Sullivan/Getty Images
McCain didn't talk about his children very much throughout his career for their own privacy, especially after attacks on Bridget during the 2000 presidential primaries (via The New York Times). Eventually, his wife and children started spending more time in the spotlight when McCain ran for president against Barack Obama in 2008.
"It's intentional," McCain told The New York Times during the campaign. "I just feel it's inappropriate for us to mention our children. I don't want people to feel that, it's just, I'd like them to have their own lives. I wouldn't want to seem like I'm trying to gain some kind of advantage. I just feel that it's a private thing."
At the time, Meghan became the outspoken one and even joined McCain's presidential campaign, according to The New York Times. However, Jack and James McCain were busy following in their famous father's footsteps. John McCain was a military man first, and while he served in the Navy in Vietnam, he became a prisoner of war (POW) from 1967 to 1973. He became a member of the House and then a Senator from Arizona after his release (via Biography).
James McCain chooses a different path of service than John McCain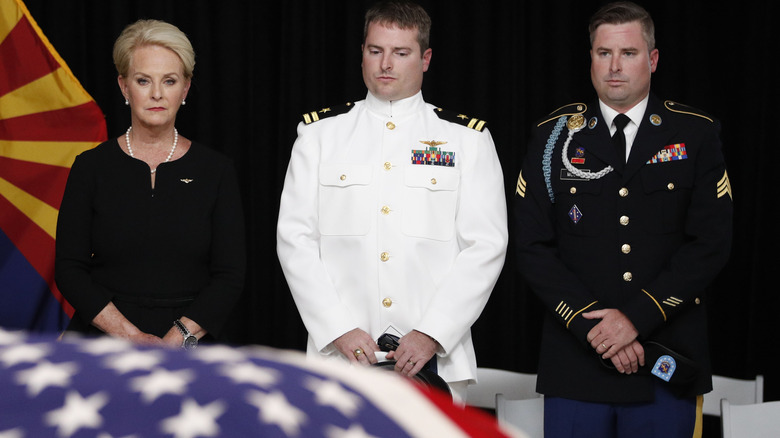 While John McCain served his country well in the Navy, as his father was a Navy man, too, James McCain chose a different route and became a Marine instead, according to Town & Country.
James was only 19 when he served a tour of duty in Iraq, a country the United States went to war with in 2003. The elder McCain endured scrutiny about that controversial war for years, especially when he was a presidential candidate in 2008. He would answer the questions, but would also never mention that his son had served there. Military service was separate from politics to the McCain family and James' service was just not a topic for public scrutiny.
Just because James found a different military path from his father didn't mean he wasn't devoted to him. The senator's youngest son spoke at his 2018 funeral, reading a poem John McCain read at his own father's funeral, Robert Louis Stevenson's "Requiem" (via Town & Country).