Ellie Kemper's Public Apology Is Turning Heads
Shutterstock
Ellie Kemper released a public apology for her past participation in a controversial Missouri debutante ball on Monday.
Days after eyebrow-raising photos of the "Unbreakable Kimmy Schmidt" actress being crowned as the "Queen of Love and Beauty" at the Veiled Prophet Ball back in 1999 resurfaced, Kemper took to her Instagram page, where she shared a statement with her fans and followers about her involvement the Veiled Prophet Organization, which was co-founded in the late 19th century by former Confederate officer Charles Slayback and other prominent white people from St. Louis, Missouri (via The Atlantic). 
"Hi guys — when I was 19 years old, I decided to participate in a debutante ball in my hometown. The century-old organization that hosted the debutante ball had an unquestionably racist, sexist, and elitist past. I was not aware of this history at the time, but ignorance is no excuse," she wrote of the event, which only allowed white participants until 1979. Kemper continued, "I was old enough to have educated myself before getting involved. I unequivocally deplore, denounce, and reject white supremacy."
Ellie Kemper's post received mixed emotions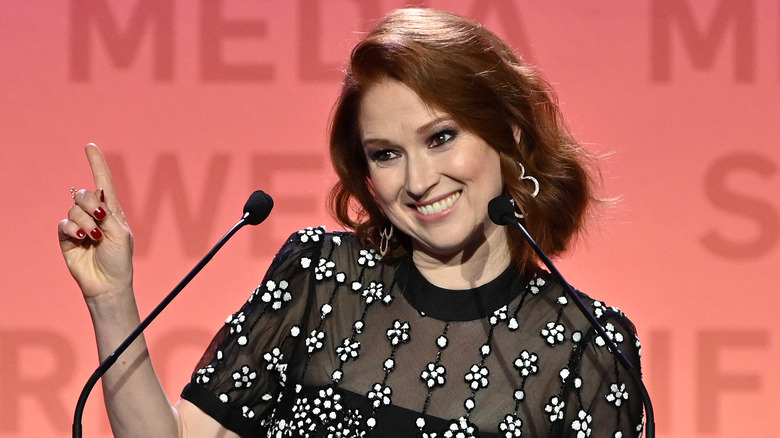 Dia Dipasupil/Getty Images
According to Ellie Kemper, she believes strongly in the values of "kindness, integrity, and inclusiveness," as she wrote in her Instagram post. She added, "I promise that moving forward I will listen, continue to educate myself, and use my privilege in support of the better society I think we're capable of becoming."
In the comments of her post, Kemper received a number of supportive messages from her fellow celebrities, including Wendy McLendon Covery, Katie Couric, Angela Kinsey, and Alec Baldwin. She also received a flood of comments from fans, many of whom were actually disappointed to see that she had apologized.
"The internet strikes again canceling a celeb because of something that they partook in 20 years ago," one person complained. "Stop trying to appease the woke mob, you'll never be woke enough," another noted.
After someone else accused Kemper of "caving to cancel culture," a fourth person called out those who were suggesting the actress did nothing wrong. "Here comes all the white people saying that nothing was wrong in the first place and that she is forgiven. It's not your place to do so," the commenter stated. "The whole point of this scandal is to showcase the racism that has been woven into our society. Y'all think these KKK balls still aren't going on? Y'all don't think organizations aren't actively working against marginalized people? Racism is not just calling someone a slur. ... Don't forget that."