The Complex Dating History Of Emma Watson Explained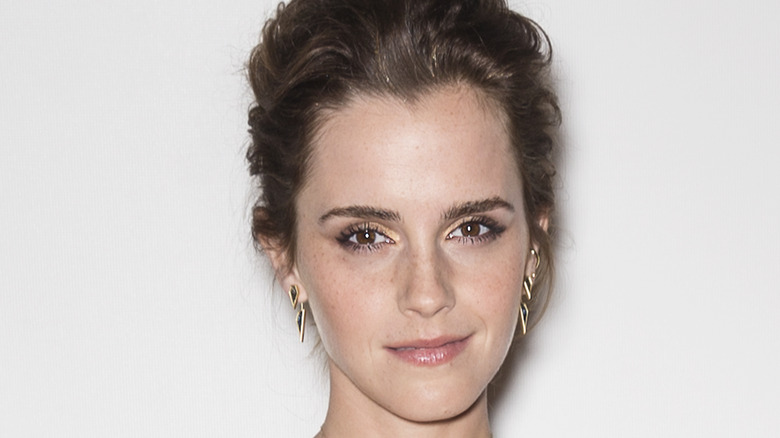 Shutterstock
Since she first appeared on screens as the vivacious Hermione Granger in "Harry Potter and the Sorcerer's Stone" in 2001, fans have speculated about Emma Watson's love life. Between other acting commitments, becoming a UN Women's Ambassador, and attending university, she's lived her whole adult life in the spotlight. In 2012 she joked with Glamour, "Anyone I get photographed with is automatically my boyfriend. So it just makes it look as if I've had, like, 6,000 boyfriends."
According to Life and Style, Watson has officially been in a relationship since April 2020. The publication writes that she was first seen with businessman Leo Robinton in Oct. 2019. "Emma seems to have found the guy she wants to be partnered with in Leo," a source told the publication. "She's even stopped saying she's 'self-partnered.'" Vanity Fair reported that rumors were circulating that they'd made the decision to get engaged in February 2021.
However, Watson put those rumors to bed on Twitter. "Dear Fans, Rumors about whether I'm engaged or not, or whether my career is 'dormant or not' are ways to create clicks each time they are revealed to be true or untrue," she wrote, "If I have news – I promise I'll share it with you."
And over the years there have been many rumors about Watson's love life.
Emma reportedly dated musicians, fellow actors, and businessmen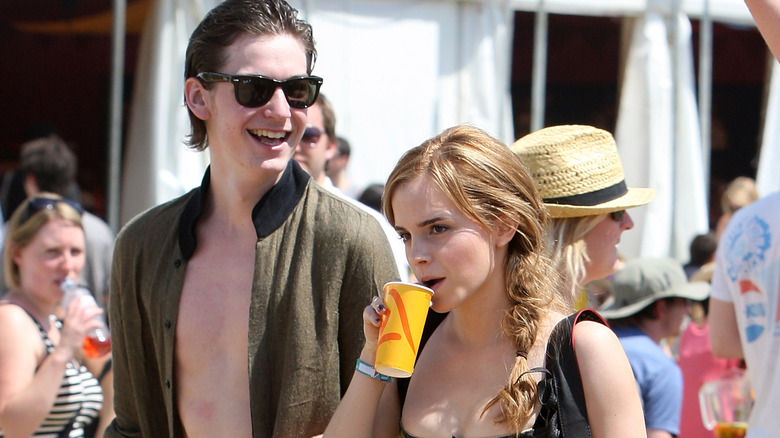 Claire Greenway/Getty Images
The Telegraph reported that Emma Watson was linked to Angus Willoughby, a drama student she met at the Royal Academy of Dramatic Arts in London in 2007. Life and Style explains that in 2008 she had a flirtation with "Made in Chelsea's" Francis Boulle. However, he told Heat magazine, "I didn't want to be the boyfriend of some child actress."
Pop Sugar writes that in November 2009 rumors started to circulate that Watson had met and struck up a relationship with fellow Brown student Rafael Cebrian. However, they parted ways after six months. Us Weekly reported that in 2010 Watson met One Night Only frontman George Craig at a modeling shoot. The pair hit it off and she even appeared in one of their music videos. She told BBC Radio One, "I couldn't believe (how good the music was). I'm a big fan. Everything he did was amazing."
Distractify writes that during her time at Brown University and Oxford University, Watson was linked to Matthew Janney and Will Adamowicz respectively before dating actor Roberto Aguire in 2015. Us Weekly reported that following her breakup with Aguire, Watson struck up a relationship with William 'Mack' Knight.
They were together for two years and speaking about her love life to Vanity Fair she said, per Grazia, "I've noticed, in Hollywood, who you're dating gets tied up into your film promotion and becomes part of the performance and the circus."
Has Emma ever dated any of the Harry Potter cast?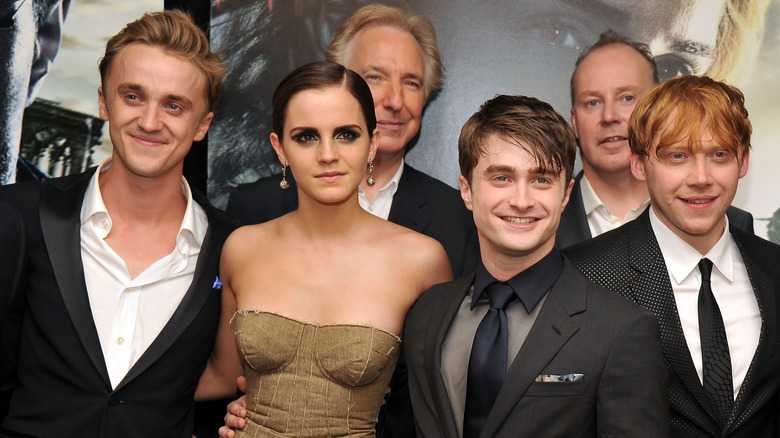 Stephen Lovekin/Getty Images
Prior to getting together with her current rumored partner, Leo Robinton, Pop Sugar explains that Emma Watson was linked to tech CEO Brendan Wallace and fellow actor Chord Overstreet. Fans have been curious about her personal life since she first appeared in the "Harry Potter" franchise. And rumored inter-film flirtations have always been things that have excited fans.
Capital explains that in the decades since the "Harry Potter" films were released there have been rumors that Watson and Tom Felton (who played Draco Malfoy) were together. Rupert Grint who played Ron Weasley told Entertainment Tonight, "There was always something. There was a little bit of a spark. But we were kids. It was like any kind of playground romance."
And Felton brushed off questions about any suspected romance while speaking to Capital and said, "As far as the romantic side of it, I think that's a Slytherin/Gryffindor thing rather than a Tom and Emma thing. I absolutely think the world of her. I think to be a part of what we've all been a part of, but for her to be the only girl, certainly the youngest one on set, to grow up with what she had to grow up with was incredibly exciting. You're going to get me teary now, but no, I think she's a fantastic influence on the world."