What Dog The Bounty Hunter's Ex Girlfriend Moon Angell Has Been Up To
Fans of the long-running reality show "Dog The Bounty Hunter" were well-acquainted with bounty-hunting power couple Duane "Dog" Chapman and his wife, Beth (via CNN). In 2017, it was revealed that Beth had been diagnosed with throat cancer, and two years later, in 2019, the heartbreaking news that Beth had died left fans shocked and saddened. A grieving Dog tweeted on the morning of her death: "It's 5:32 in Hawaii. This is the time she would wake up to go hike Koko Head mountain. Only today, she hiked the stairway to heaven. We all love you, Beth. See you on the other side" (via CNN). His other half was gone, but he wouldn't be on his own for long.
In January of 2020, just shy of seven months after Beth's passing, the world was introduced to Dog's new girlfriend, Moon Angell. Moon was no stranger to the Chapmans, having been a friend of the family for two decades. Moon worked as Beth's assistant and was even a member of the bridal party when Dog wed Beth in 2004 (via The Sun). Given the short time span between Beth's death and the news of Dog and Moon's relationship, the pair was met with a significant amount of backlash. Even Dog's own daughters, Cecily and Lyssa, publicly expressed their disapproval of the relationship (via Page Six).
Moon Angell is keeping busy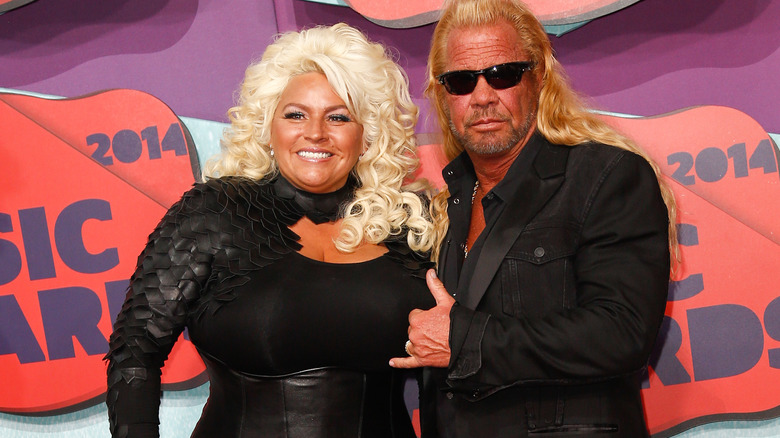 Shutterstock
At the time, Duane "Dog" Chapman appeared smitten with his new love, going so far as to propose to her during an appearance on "Dr. Oz." Moon Angell turned down the offer of marriage, noting that she sees Dog as a friend. "We're friends. I love you as a friend," she told him (via Metro). "I don't see you as that. ... I can't marry you, at this very moment."
Following the failed proposal, Moon moved out of Dog's Colorado home and the union ended (via The Sun).
Since the split, Moon has been living life on her own as a chopper doll, bodybuilding judge, and talent scout, according to her Instagram bio. She also seems to be focusing on herself. Her Instagram is full of quotes, inspirational messages, tattoo shots, and photos showing her support for the Kansas City Chiefs football team. Moon also posted a heartfelt birthday message to her son, Justin, who appears to be the main man in her life these days.