1 In 3 People Agree This Was The Worst Beauty Trend To Come Out Of The Pandemic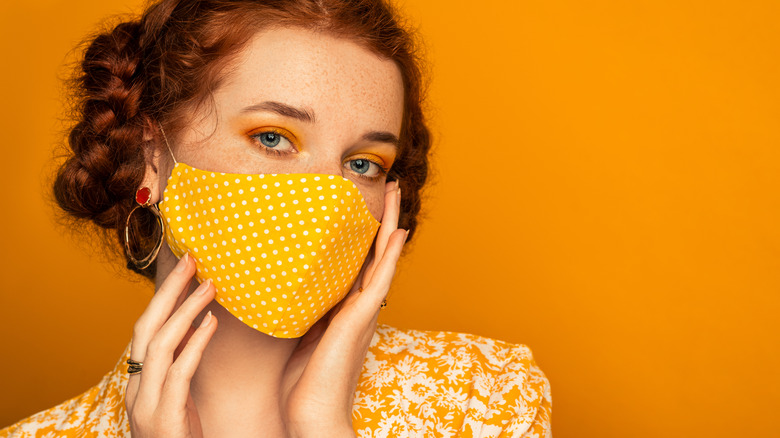 Shutterstock
To say the coronavirus pandemic has completely altered the beauty industry and our spending habits is an understatement. In 2020, right at the peak of the lockdown, many of us simplified our beauty routines and chose comfort over glam, or hit TikTok for DIY skincare hacks and makeup tutorials. According to Marie Claire UK, in addition to its physical, mental and emotional toll, the COVID-19 pandemic put a serious strain on businesses, workers, and consumers. Unsurprisingly, this inadvertently forced some to take a more hands-on approach to their skincare routine.
So many beauty trends popped up in the year that everyone stayed home. In June 2020, at-home spa products flew off the digital shelves (via Vogue Business). There was also a 203% increase in skincare fridge sales, followed by a 70% growth in facial steamer sales. TikTok's #ForYou page was flooded with videos of people putting their own spin on popular beauty trends, But there are some trends that we can all agree to leave behind, like the controversial fox eye makeup look. The List polled 699 people in the U.S. and asked which beauty trends were the worst offenders. There was a clear "winner," with other trends getting honorable (or dishonorable?) mention.
One-third of respondents said this DIY hair trend has to go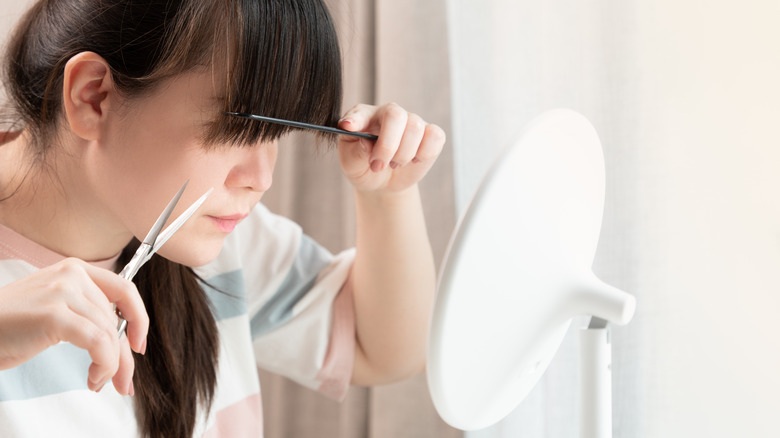 Shutterstock
In The List's survey, 34% of respondents gave an emphatic "no" to DIY bangs and haircuts. 2020 saw the rise of buzz cuts, long bangs, and close-cropped pixie hairstyles (via Allure). This DIY haircut wave made total sense. With little to no access to hair salons, beauty lovers took matters (and their hair) into their own hands.
Next up on the chopping board were lash extensions, with 18% of voters being left unimpressed by the beauty trend. Quarantine nails were right behind this beauty trend, as 17% of recipients shared that they preferred trips to the nail salon — though lockdown obviously made that impossible. There's no question that the pandemic hit the nail salon industry hard, especially since government-mandated closures coupled with a lack of customers did not stop their regular bills from accumulating (via Harper's Bazaar).
More beauty trends that got the axe
Our respondents did not hold back in the survey. Coming in fourth, 17% of respondents chose DIY face masks as the worst beauty trend to come out of the pandemic. But the biggest surprise was that only 14% of people polled said they weren't fans of the fox eye trend. The goal of this beauty look is to use makeup to give off the illusion of having almond-shaped eyes. 
Per Teen Vogue, model and reality TV royalty Kendall Jenner is often lauded as the poster child for this popular trend. In March 2021, the "Keeping Up With the Kardashians" star even posted an Instagram video showing off her makeup look and simply captioned it with a fox emoji. But there's a dark history behind this beauty challenge that's hard to ignore. TikTok beauty influencers landed in hot water for hopping on this makeup trend as it mimics years of cultural appropriation and racial insensitivity toward people of Asian descent (via CNN).
Full disclosure: This isn't to say that this is the definitive list of beauty trends you should avoid at all costs. If your favorite beauty trend made an appearance, but helped get you through quarantine — go for it. Just make sure that it's not at the expense of cultural appropriation.