Why You Should Be Using Volcanic Ash For Skin Care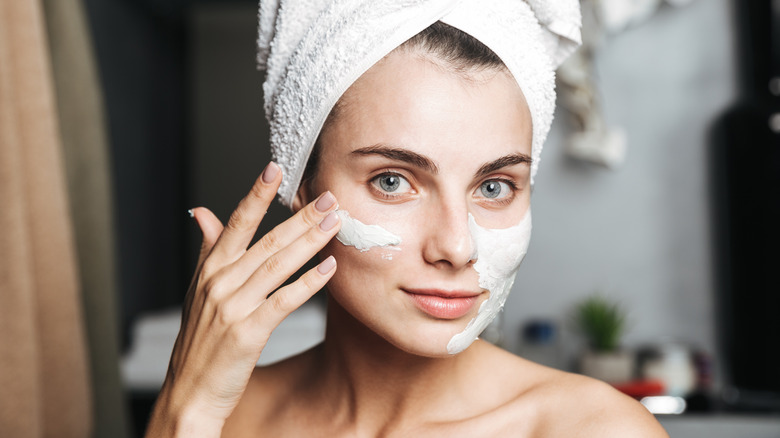 Shutterstock
Around the world, volcanic ash and mud are used at high-end spas and wellness destinations — think the Four Seasons in Hawaii, Calistoga Hot Springs in Napa, the mud baths at Sulphur Springs in St. Lucia (that you may have seen on "The Bachelor"), and the world famous Polynesian Spa in New Zealand. And there's a reason for that — volcanic ash has all kinds of beneficial properties to leave your skin healthy and glowing (via Glamour). But you don't have to leave your house to enjoy the benefits of volcanic ash. Here's why and how you should add a little bit of luxury to your life with volcanic ash skincare.
"Volcanic ash is basically like clay, so similarly it is very good at removing oils, dirt and debris from the skin," explains dermatologist Sejal Shah to The Healthy, adding, "Volcanic ash is mineral rich, including sulfur which has antibacterial properties." The sulfur also helps protect your skin from damaging free radicals (via Glamour).
Volcanic ash is good for inflamed skin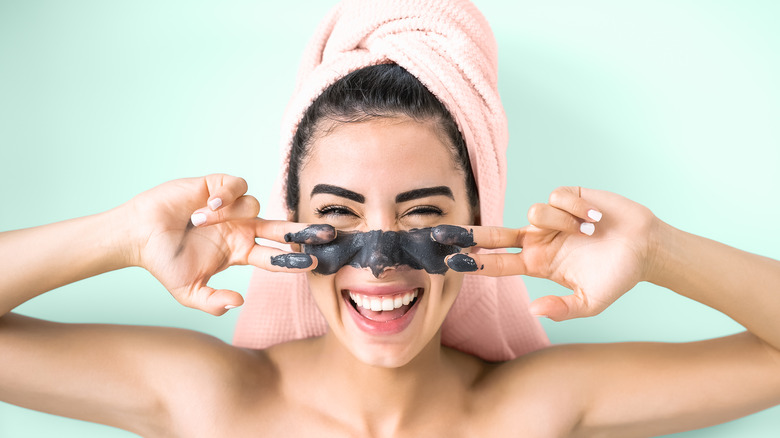 Shutterstock
Shah's not the only professional who's a fan. Sonya Dakar, celebrity esthetician — she's worked with Gwenyeth Paltrow and Jennifer Lawrence — and founder of Sonya Dakar Skincare and Skin Clinic, told Byrdie, "Volcanic ash is extremely rich in minerals and has antiseptic, antibacterial, and antioxidant properties. So it works really well to not only clear blemishes but heal the inflamed, irritated skin." That makes it good for psoriasis and eczema (per Greatist). And since the particles are so fine, volcanic ash products also work well as an exfoliator (via Glamour).
One thing to keep in mind is that it can be drying. Since volcanic ash products work to draw out oil from your pores, you can have too much of a good thing. Don't use them every day unless you have particularly oily skin. As Adarsh Vijay Mudgil, M.D. and founder of Mudgil Dermatology in New York City, explained to Byrdie, volcanic ash, when used as a mask, can "help give the skin some 'pop'."
If you're curious about what's available these days, note that Crabtree + Evelyn carries a volcanic ash face mask (from $36), as does Shaffali Volcanic Ash + Sage Earth Mask (from $52). For cleansers, MAC has a Mineralize Volcanic Ash Exfoliator (from $33) and Savannah Bee uses volcanic ash in their charcoal facial cleanser (from $14).