The Drugstore Lip Product That Celebrity Makeup Artists Swear By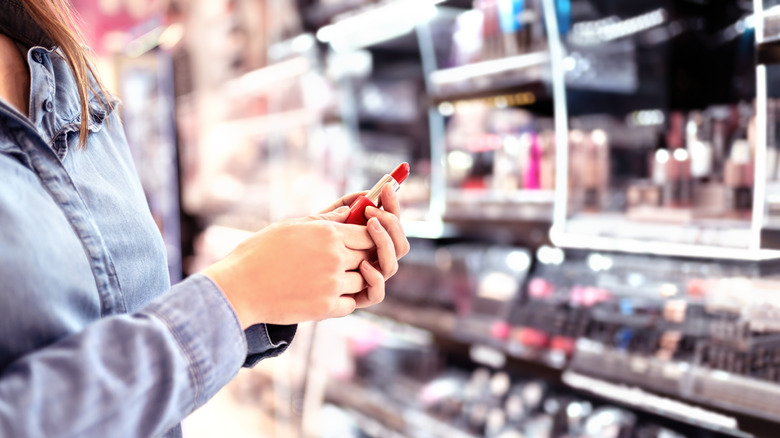 Shutterstock
Drugstore makeup is proof that quality doesn't always equal expensive. This renaissance of makeup affords us the opportunity to flawlessly transform our faces, all it takes is a trip to your local pharmacy. And you won't be taking this journey alone. Celebrities like Meghan Markle swear by the cheaper alternatives, be it makeup wipes, foundation, or even travel size makeups (via Good Housekeeping).
Next time you're browsing the aisles, celebrity makeup artist Toby Fleischman suggests picking up a few essentials, including fake eyelashes, mascara, finishing powder, and even makeup brushes! Considering Fleischman is responsible for blessing us with Ruby Rose, Anna Kendrick, and Elliot Page's red carpet looks, we'll take her word for it (via Mixed Makeup). Her hot makeup takes may seem unorthodox, such as using baby shampoo to remove eye makeup (via YouTube), but the celebrity artist's resume speaks for itself. 
So, when it comes to nabbing a drugstore lip product, we'll defer to her judgment.
Makeup artists agree your best bet is "anything Burt's Bees"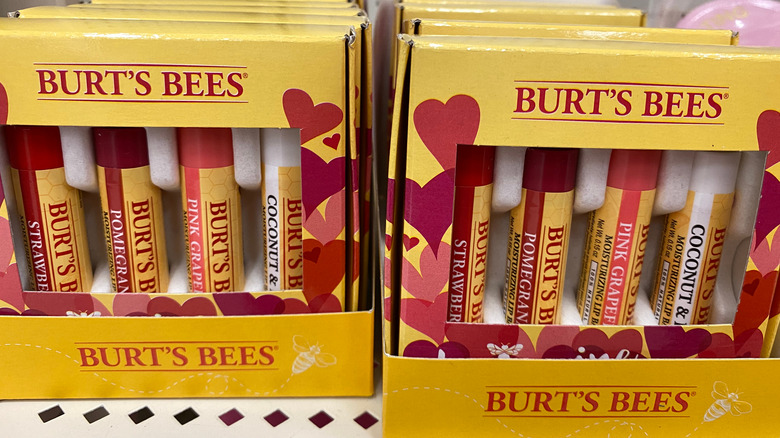 Shutterstock
Celebrity makeup artist Toby Fleischman, along with makeup artists Brittany Spyksma and Fiona Stiles, determined that when it comes to lips, your best bet in the drugstore is "anything Burt's Bees" (via Byrdie). "From the chubby lip pencils to the lip shimmers, I always stock up on their products," Fleischman said. For only $10, the brand's lip crayons offer a "just-bitten wash of color." Not a bad price for 100% natural ingredients, featuring shea butter, jojoba oil, and kendi oil to create a creamy, matte finish (via CVS). 
Hollywood stars have long sworn by the moisturizing brand to soften and color their lips. In a November 2020 interview with Byrdie, actress Lily Collins revealed that Burt's Bees Beeswax Lip Balm is one of her go-to products, as she "constantly puts on all day." 
"Burt's Bees has that really great, obviously, hydration in it," the "Emily in Paris" star explained. "But also it makes it feel tingly because of the peppermint which I love too."
Collins is in good company. Other celebrity fans of the product include Blake Lively, Selena Gomez, and Rosie Huntington-Whiteley (via People). So treat yourself to some Burt's Bees lip products — they're suitable for any budget!