Alex Morgan's Net Worth: The Soccer Star Makes Less Than You Think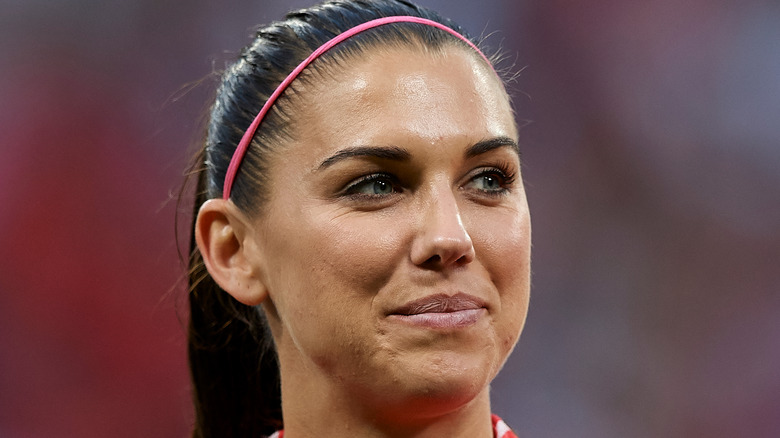 Shutterstock
The United States Women's National Team is gearing up for the Olympics, which will be taking place in Japan in July 2021. 
While the whole roster is filled with major stars such as Megan Rapinoe, Julie Ertz, and Kelley O'Hara, one name has stuck out thanks to her offensive goal-scoring skills. Alex Morgan helped get a new generation of girls to play soccer, just as Mia Hamm, Carlo Lloyd, and Abby Wambach had done before her.
The women have had to battle sexism within their own industry and sued the USSF for equal pay (per NBC News). The men have yet to make or win a tournament in years. The USWNT argument was dismissed in May 2020. The USSF reached a settlement on working conditions but not pay. The USWNT is the most successful in international women's soccer. They have won four Women's World Cup titles (1991, 1999, 2015, and 2019), four Olympic gold medals (1996, 2004, 2008, and 2012). While they are all one team, Morgan has often stood out as one of the top players.
Alex gets paid significantly less than her male counterparts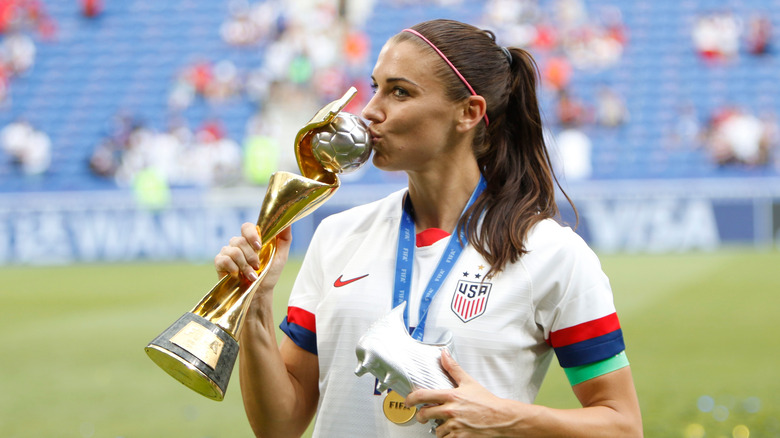 Shutterstock
Alex Morgan has been one of the biggest soccer stars in America for the past decade, thanks to her one-of-a-kind goals. The 30-something is a two-time FIFA World Cup champion and an Olympic gold medalist. She also won the Golden Boot in the last World Cup. According to Forbes, the forward is worth around $3 million.
Morgan's salary may feel like a large sum, but it isn't nearly as compatible with her male counterparts when broken down. When she won the 2019 World Cup, the entire team split the $4 million purse (via Celebrity Net Worth). Fans are well aware that this number is extremely unfair as the French men's team split $38 million for their win. Morgan would have received a $90,000 bonus for making it past the quarterfinals. The outlet broke down what the athlete would have earned with the rest of her teammates, noting that there was a qualifying and roster bonus of $37,500 respectively, a victory bonus of $110,00, the Victory Tour, which earned the team $61,869. The total earnings for Morgan would have been around $245,869. Naturally, if the USMNT ever were to win a World Cup, each player gets $1.1 million.
Alex has a number of notable endorsements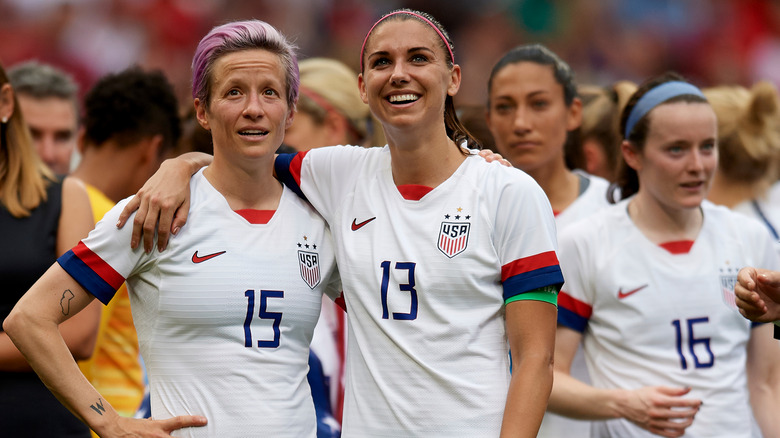 Shutterstock
Alex Morgan does have her endorsement deals that would also bring in some income. She works closely with Nationwide, Nike, Coca-Cola, Panasonic, and Bridgestone. 
Forbes revealed she was the only top-ten woman athlete who wasn't a tennis player and that she has "a massive endorsement portfolio worth ten times as much as her roughly $400,000 on-field salary and bonus last year," going on to say, "She has more than a dozen current sponsors, including Volkswagen and AT&T. Her latest is an Alex Morgan Barbie Doll, as part of the brand's Role Model Series."
Morgan also established a soccer camp in partnership with Make-A-Wish Foundation, and she was one of the first players to join Juan Mata's Common Goal charity. The star player also donated one percent of her total winnings to soccer charities (via USA Today). While she may be one of the highest-paid soccer players, there is still a noticeable salary gap that fans are hoping is closed in the near future. Hopefully, change can be made with another gold medal under their belt from the 2020 Japan Summer Olympics.