Here's Why You Should Make The Switch To Mango Butter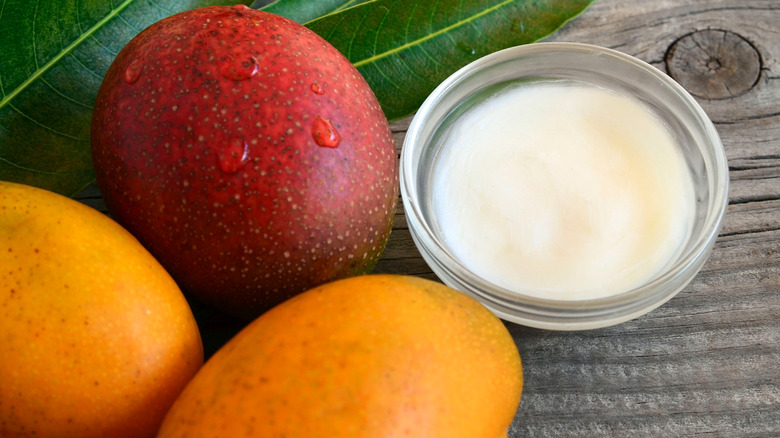 Shutterstock
You might already have creamy, moisturizing shea butter and cocoa butter in your beauty arsenal, but have you ever thought of giving mango butter a try? A vitamin-packed powerhouse, mango butter is extracted from mango seeds and cold-pressed into a thick consistency (via WebMD). Once the mango seed oil is transformed into a rich butter, this creamy super-achiever is ready for use on your hair, body, and even face. Melting to the touch, mango butter is also compared to coconut oil, but might even pack more benefits.
First off, mango butter is a surefire bet for adding a dose of suppleness to your skincare regime. As per Flora's Angels, the fruity extract is lightweight and silky — a welcome alternative to anyone who finds shea butter too thick. Because of its signature airy texture, mango butter will absorb into your skin fast (especially after the shower!) and permeate down each layer. And its moisturizing capabilities aren't just skin-deep: Nutrients like omega-6 and 9 fatty acids are known for their softening properties, adding radiance and elasticity to both your body and face (via AnydayGuide).
All of mango butter's benefits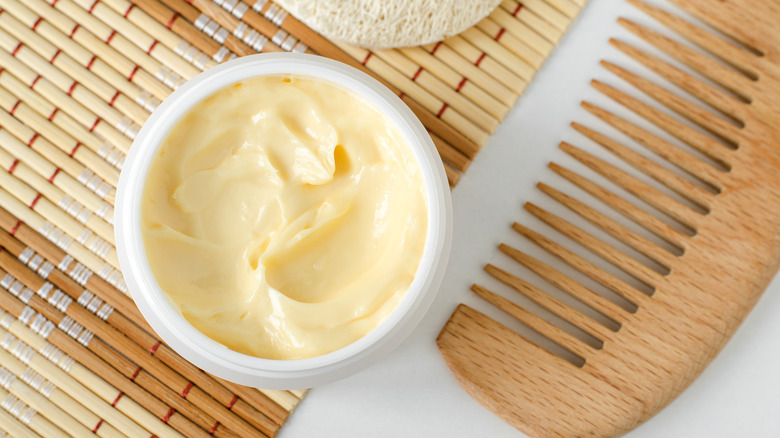 Shutterstock
Apart from mango butter's fatty acids, the whipped cream-like moisturizer is seriously vitamin-rich. As per WebMD, it contains antioxidants, minerals, and impressive amounts of vitamin C, vitamin E, vitamin A, folates, and copper. In fact, just 100 grams of mango is the perfect daily dose of vitamin C, so applying it directly on the skin will give you serious benefits. According to Healthline, vitamin C supports skin's collagen production and works as an antioxidant warding off sun damage. Plus, mango butter's vitamin E can safeguard your skin from environmental pollution.
For skin, mango butter can prevent aging through its protective properties (via WebMD), but can also help fight acne too. As per Flora's Angels, mango butter is non-greasy and noncomedogenic, and will offer light hydration to oilier skin types. It even works as an antibacterial and soothes inflammation. As if that wasn't enough, mango butter works great for hair, too — it seals in moisture, reduces breakage and hair loss, and allows your hair to grow long and healthy (via New Directions Aromatics).