This Unexpected Disney Show Has A ColourPop Makeup Collection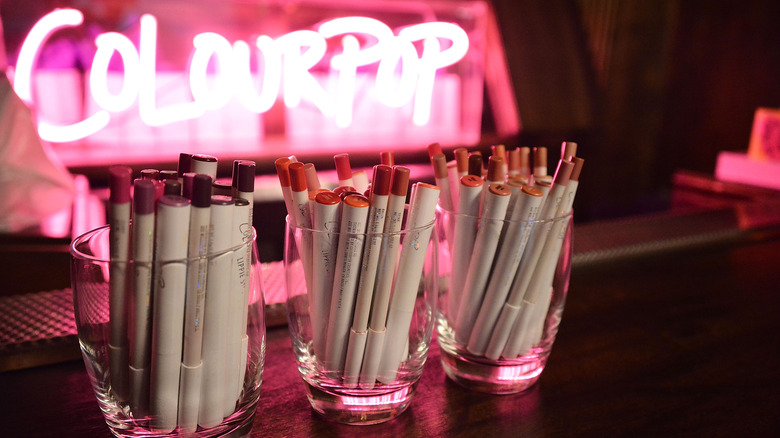 Araya Doheny/Getty Images
ColourPop's collaborations are often long-awaited and sought after, ranging from classic favorites like "Sailor Moon" and "Bambi" to nostalgic nods to millennial youth like "Lizzie McGuire." The brand itself is known for bold hues and affordable pricing, making it a go-to for beauty gurus on a budget, and pop culture super fans alike. When a collaboration drops, fans often sellout the products almost as soon as they go live on the site, but one recent (and very cute) collaboration is still available.
Under the "Collections" tab on the ColourPop site, you'll find your favorite baby humanoid alien gracing the packaging of a brand new eyeshadow palette. Baby Yoda hit the small screen via Netflix in 2019 in "The Mandalorian," and has worked his way into the hearts of viewers thanks to how adorable he is. The show itself has maintained high-ratings and viewership ever since it's debut, and even those who have never watched the popular series have seen Baby Yoda in the form of memes, stuffed animals, t-shirts, and a wide range of other products boasting the character's large eyes and pointed eyes (via ScreenRant). So, it's no surprise that he ended up on the cover of his very own makeup palette.
ColourPop brings cuteness to its collaboration
The Baby Yoda palette, officially named "the child," includes a range of neutral and green hues in matte and sparkling shades. The packaging features a rendering of the fan-favorite alien baby on the front, as well as an internal mirror displaying the words, "cutest in the galaxy" (via ColourPop). Upon opening the palette, you'll see nine shades that YouTube makeup artist Makeupbytreenz says, "definitely represents what it's supposed to be."
The palette has 144 five-star reviews on the ColourPop website, so this palette isn't just for show. It's great for creating green-toned eyeshadow looks, and can easily be used to add a touch of sparkle to your everyday neutrals. Whether you're a major Baby Yoda fan or a beauty enthusiast in need of a new palette, run, don't walk, to the ColourPop checkout to add this cute new collab to your makeup bag before it sells out for good. In the words of big Yoda himself — buy this palette, you must!