Is Overtone Hair Dye Really Worth The Money?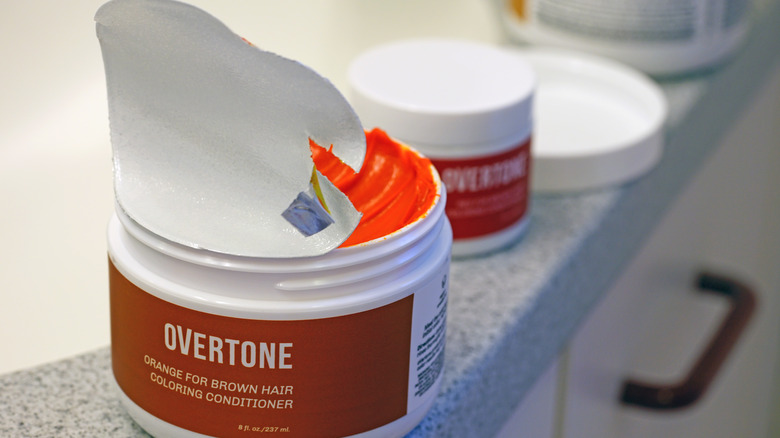 Shutterstock
We've all seen those oddly-satisfying Instagram ads: Brown hair transforming into a dark-purple shade with the snap of a finger, a comb brushing through blonde locks as they turn to pink. Overtone, the hair color brand that markets itself as an "industry disruptor," sells products that deposit vibrant color without the damage of traditional hair dye formulas. The company is also unique because it creates shades designed specifically for brown hair, such as purple and blue. Most color depositors require customers with brown hair to lighten their strands with a bleaching agent before dyeing. Overtone, on the other hand, claims that their extremely pigmented conditioning formulas will show up in darker hair tones.
Do all of these perks make Overtone the best coloring choice for those who crave a dramatic hair change? Allure writer Marci Robin, who used the Deep Purple Treatment and Daily Conditioner to dye her medium-brown locks, raved about the intense yet subtle purple shades that appeared in bright light. In darker light, however, Robin noted that the color was much harder to see. Some color enthusiasts might like the subtleties of the dye, but brunettes who want a truly vibrant color may still need to lighten their hair before applying the treatment. Customers have experienced other downsides of the famous hair dye as well.
Overtone stains easily, and doesn't last very long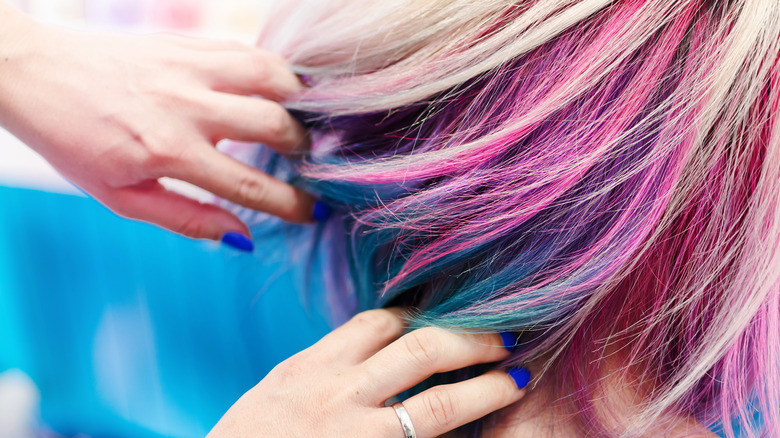 Shutterstock
Anyone who has used Overtone's color-depositing treatment will tell you that you need to wear gloves, and with good reason. As Allure notes, the product stains bathtubs and sinks very easily, and can be quite a hassle to remove with bleach. The treatment is also thick and viscous, so it requires a very long rinsing time which increases the risk of staining your skin and bathroom surfaces.
In addition, The Zoe Report points out that Overtone is a semi-permanent color, meaning it washes out quickly and can easily transfer to clothes, towels, or pillowcases when your hair is wet. Using the brand's daily conditioner in the same color that you dyed your hair will help the color last longer. However, you will constantly have to deal with splotches of color on your clothing if you're not careful.
Overtone is not cheap, either. One full-sized bottle of treatment sells for about $27, while the package deal of the treatment and conditioner costs $47 (via Overtone). If you have thick, long hair, one bottle of the treatment might be enough for just one dye session. Plus, the product has a strong minty scent which while most users find pleasant (via The Zoe Report), it might be off-putting for others. Whether you choose to dye your hair bubblegum pink or deep green, knowing the pros and cons of your hair treatment will help you make the best decision for you and your color-craving strands.