Read This Before Bleaching Your Hair At Home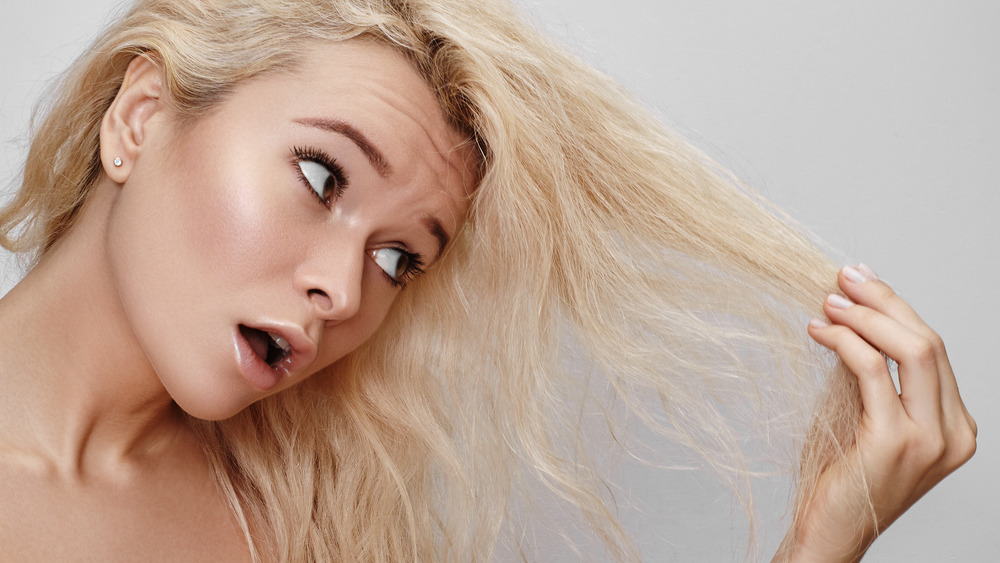 Shutterstock
Whether you're lazy to hit the salon, or love the idea of an at-home hair DIY, there are tips to keep in mind when bleaching hair yourself. While many experts assert that hair bleach is best left to professionals, at-home hair bleaching can work as long as proper techniques are followed. If not, you run the risk of ending up with an orange, burnt mess instead of the buttery, beach-blonde you want. As Bellatory explains, using chemicals on hair isn't for the faint of heart, but avoiding common mistakes is your best bet to perfect platinum blonde.
According to Bellatory, the top mistake people make when bleaching hair at home is not having all materials on hand before starting. While this sounds easy enough, being mid-dye and realizing you don't have enough mixture for your whole head can be disastrous — so avoiding emergency shopping-runs is key. Before starting the coloring process, make sure you have rubber gloves, old towels, a mixing bowl, dye brush, clips to section hair, enough of your chosen bleach, a bond builder, developer or peroxide, toner, and sulfate-free shampoo and deep conditioner. These materials are the top way to make sure you achieve the blonde you're wishing for.
When using a box kit, it's important to read the instructions to know how long to keep your bleach in, and to follow the process diligently. Testing a small strand of hair with your bleach will also prove beneficial in avoiding dreaded burnt hair (via Harper's Bazaar).
Everything to know about bleaching hair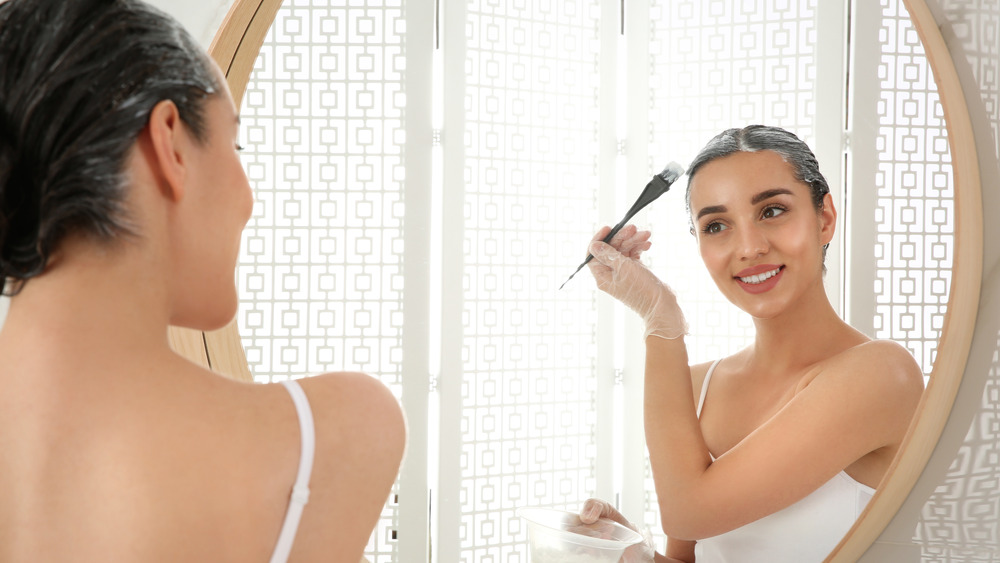 Shutterstock
Once you're ready to get bleaching, it's worth thinking over if you're ready to give the DIY method a try. According to Allure, most colorists do not recommend bleaching hair at home, even citing "horror stories" of clients frying their hair. As professional colorist Rachel Bodt says, "bleach is very strong and can go wrong if you aren't careful." The entire process "requires a lot of attention and detail," so keeping this in mind will make sure you're prepared for the task at hand.
If you decide to go for it, Bellatory recommends bringing in a friend for help, especially with the back of your head. That being said, be wary of time, as leaving bleach on hair too long can cause permanent damage. Check the bleach every ten minutes, and as New York stylist Chris Byrne recommends, do not leave bleach in any longer than 30-40 minutes.
Another mistake to avoid is over-bleaching hair, which can cause immediate breakage. As colorist Aura Friedman explained to Allure, "when you bleach your own hair, it's almost impossible to not overlap on already bleached hair" which can burn it, giving reason to go to a salon instead. If you still want to try, be careful to stick to the roots with touch-ups, and wait several weeks in between bleaches in order to get to your desired hue. Moreover, finishing with a purple toner can help you get to platinum faster without extensive damage (via Bellatory).