Here's Where You Know The Allstate 'Mayhem' Guy From
Allstate Insurance really hit the jackpot when they cast a familiar face as Mayhem personified. The premise of the commercials is that Mayhem can strike at any time and come in all forms. Dryer lint, an overly critical mother-in-law, a confused deer, a distracted teenage driver (via YouTube), and so on. All of these are acts of mayhem that can threaten the safety of your home or car. Dressed in a suit and tie, looking battered and bruised, with a smirk and swagger, Mayhem shows up to wreck your day.
The commercials are hilarious and stick with you, even if you can't always recall which insurance company it's for. Even the commercials' musical choices are on point — especially the smooth and sexy song played at the end, which sounds a bit like "Experiment in Terror" by Henry Mancini, but isn't. One thing is for certain. You've seen that guy before. But where?
Mayhem is everywhere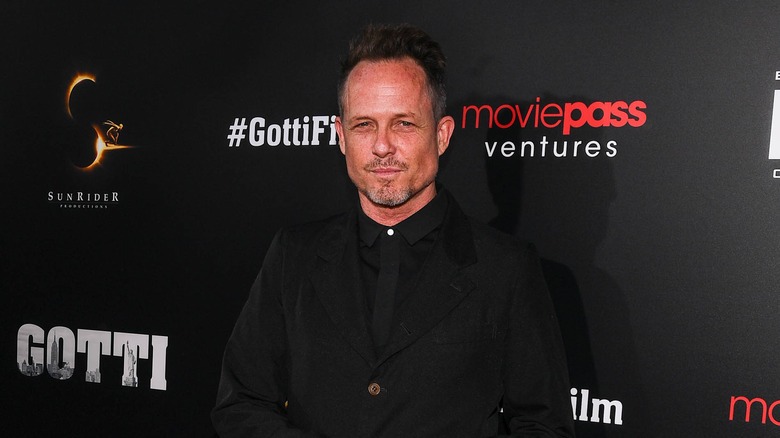 Dave Kotinsky/Getty Images
Mayhem was born Dean Gerard Winters, via Super Stars Bio. A native New Yorker and character actor, Dean Winters his first appearance on national television with the NBC cop drama "Homicide: Life on the Street." After playing Tom Marans in three episodes, "Tom Fontana ended up writing the part for me on Oz", Winters tells the AVClub. The part he's referring to is the dramatic role as Ryan O'Reily on the HBO prison drama "Oz" from 1997-2003. 
Winters may have been introduced to American cable subscribers as a homicidal sociopath, but he soon got to play on both sides of the law. While playing an inmate, Winters was also playing Detective Brian Cassidy on the NBC drama, "Law and Order: Special Victims Unit" (via IMDb). After two seasons, Detective Cassidy decides that he isn't cut out for the sensitive and heartbreaking nature of the SVU. But because SVU fans love him, Cassidy is a recurring character in later seasons of the TV series, per PopCulture.
Once "Oz" ended, Winters picked up another gig as an NYPD detective — this time playing Johnny Gavin, brother to Denis Leary's Tommy Gavin on the Fox series "Rescue Me."
After all of the hard and heavy dramatic performances, Winters got to flex his comedic muscles as Dennis Duffy, Liz Lemon's sleazy sometime-boyfriend, as well as Detective Jake Peralta's foil, Detective "The Vulture" Pembroke, in the comedic series, "Brooklyn Nine-Nine."
Dean Winters makes great mayhem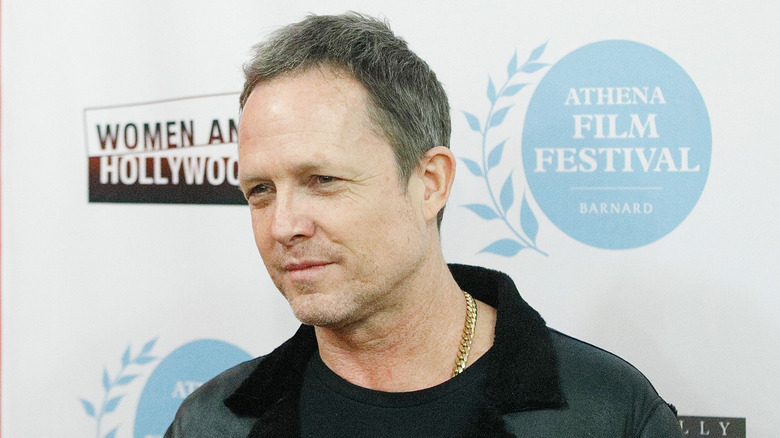 Lars Niki/Getty Images
Dean Winters landed the part as Mayhem, but the character wasn't love at first sight for him. "Initially, I was hesitant. They kept coming at me. They showed me the teenage girl script, the one where I was texting in the SUV, and it made me laugh out loud" (per Business Insider). It turns out, Winters' highest paying role also has a pretty large fan base. With a Mayhem action figure (via Mental Floss) and people dressing up as Mayhem for Halloween, one would say the public has fully embraced the messiness that is Mayhem. Allstate has even made a Mayhem holiday playlist available to us, via YouTube.
One could say that Winters has done very well making a name for himself as an actor. With a steady stream of TV shows since the late 1990s, he has also appeared in several films such as "P.S. I Love You," "John Wick," and "Lost Girls" (via IMDb).  If you are interested in getting a current Dean Winters fix, he's serving up his delightfully sardonic humor on Peacock's "Girlls5Eva."