Michael Douglas Just Shared This Cringe-Worthy Moment From His Daughter's Graduation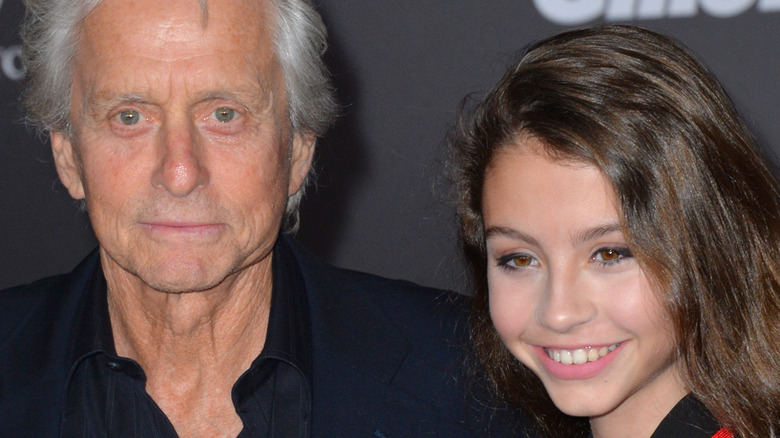 Shutterstock
Michael Douglas is one of the most prolific actors of his generation. He has 68 acting credits dating back to 1966, according to IMDb. That means he's been acting longer than his wife — "Prodigal Son" actress Catherine Zeta-Jones, who was born in 1969 — has been alive (via Brittanica). With lead roles in upcoming big blockbuster movies like the "Ant-Man" franchise's next installment, filming well into his 70s, it doesn't seem that "The Kominsky Method" star is slowing down. And really, why should he? If his father Kirk Douglas, who lived to be 103 and racked up an impressive 92 acting credits of his own (according to People), gives any indication of his potential longevity, he's got plenty more movies left in him.
In 2000, the Oscar-winning actor married the Welsh actress, who also has an Oscar of her own. Talk about power couples. The duo met in 1998 after being introduced by mutual friends Melanie Griffith and Antonio Banderas (via Us Weekly). They hit it off right away by noting they shared the same birthday. Though as Douglas quipped on "The Ellen DeGeneres Show," "Twenty-five years apart, the same day, but who's counting?" Their wedding was a lavish star-studded event at The Plaza Hotel in Manhattan just four months after the birth of their first child together, Dylan. Three years later, daughter Carys was born, as reported by CNN, making Douglas almost 60 years old at the time. This proved to come with its own unique issues, including a very awkward encounter.
Michael Douglas learns being an older parent can be tough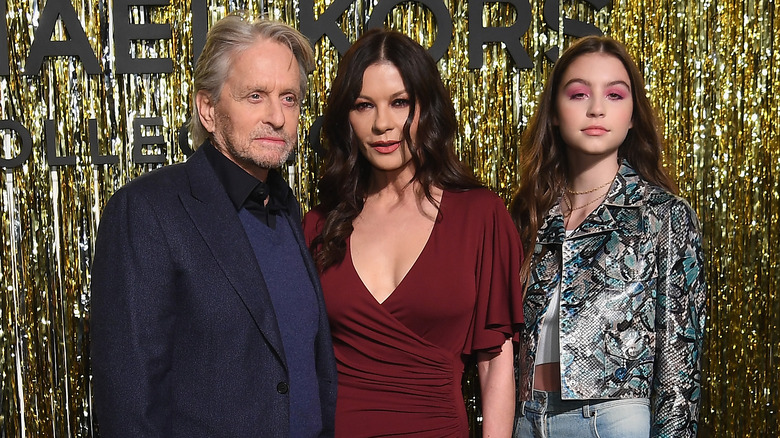 Nicholas Hunt/Getty Images
The "Wall Street" star spoke on "The Kelly Clarkson Show" of some seriously uncomfortable exchanges at his daughter's high school graduation. Apparently some people mistook Douglas, who was 76 at the time, for his 18-year-old's grandfather. He said, "I gotta tell you, Kelly, it's a little rough when you're going out the doors and the other parents are saying, 'Oh, congratulations ... you must be so proud of your granddaughter'" (via NBC).
According to Carys, this isn't an isolated incident. The celebrity daughter told Town & Country about the taunting she received over her father's age. The then-15-year-old said, "People would be like, 'Your grandpa's here to pick you up.'" However, the youngest Douglas, who is the spitting image of her mother, takes it all in stride with the help of her parents. She went on to say, "My parents do a really good job of reality-checking me and being like, 'Look around you. The life you have is extraordinary.'"