Jill Biden Makes A Statement With Her Latest Fashion Choice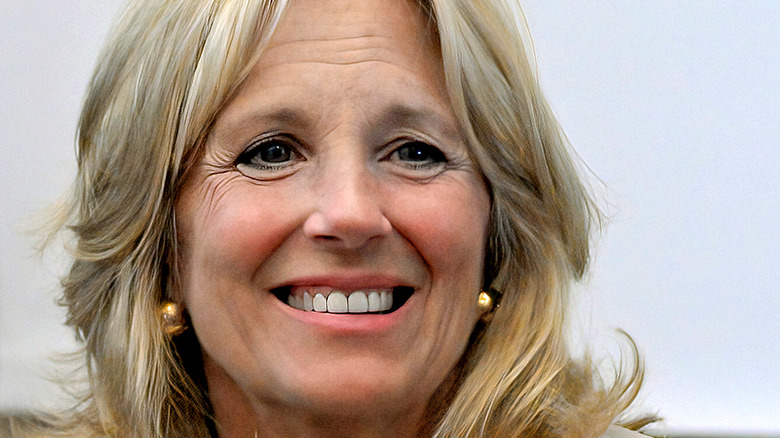 Shutterstock
President Joe Biden and First Lady Jill Biden have embarked on their first trip abroad to take part in the G7 Summit, which includes the U.K., U.S., Canada, Japan, France, Germany, Italy, and representatives of the EU (per CNN). Along the way, they will be stopping in England to meet with Prime Minister Boris Johnson and the Queen of England at her Windsor estate.
On Thursday, June 10, Jill Biden met up with Carrie Johnson in Carbis Bay, England (per AP News). All eyes were on the doctor's jacket, which spread the message of love. The word was sewn on the jacket's back with silver beads. It is important to note that the First Lady wore the same jacket two years ago when she and her husband kicked off his campaign. Talking to reporters, she claimed, "We're bringing love from America." And everyone can do with a bit of love from time to time.
Jill Biden shares a message of love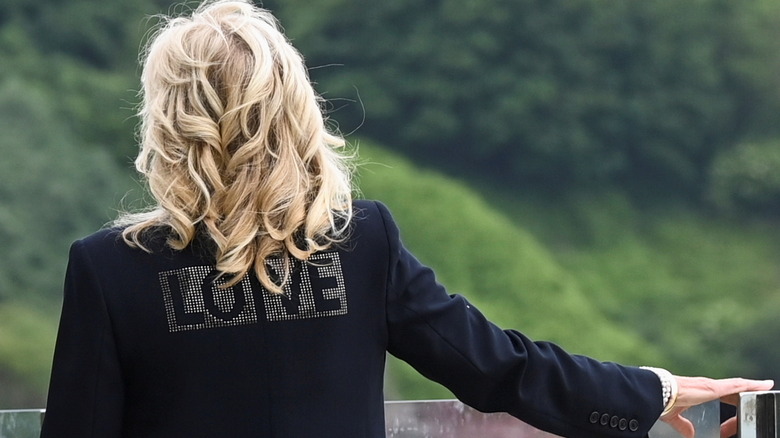 Wpa Pool/Getty Images
The fashion expression sent a clear message in more ways than one. Biden went on to tell reporters, "This is a global conference, and we are trying to bring unity across the globe, and I think it's needed right now, that people feel a sense of unity from all the countries and feel a sense of hope after this year of the pandemic" (via The New York Times).
The First Lady is direct, if nothing else. She has worn blunt messages in the past. During the campaign trail, she wore black jeans that had "VOTE" down each calf. Politicos were quick to point out the contrast between the current first lady and the last one, Melania Trump. Readers will recall that Trump wore a jacket to a migrant center that read "I Really Don't Care, Do U?" which immediately set off a firestorm of tweets. CNN immediately reported that it was hard to ignore the loud message Biden was trying to send, and suggested that the English professor was trolling her predecessor.