Why James Corden's Late Late Show Gag Has The Internet Fuming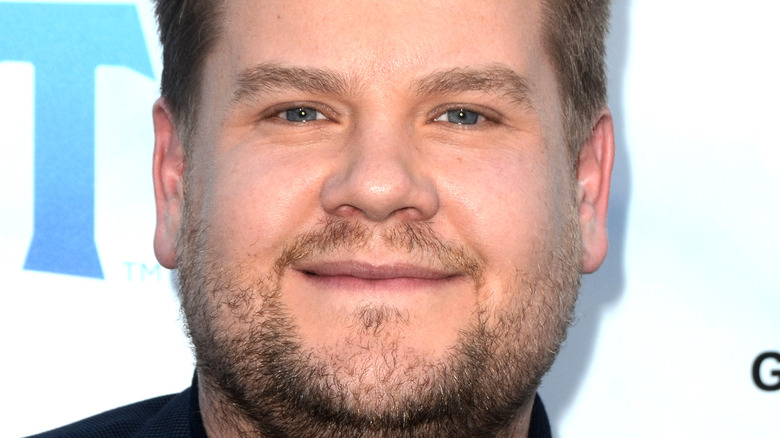 Shutterstock
James Corden's "Spill Your Guts" segment on "The Late Late Show" has been criticized for labeling certain cultures' foods as gross for years (via Embodied). But it seems now the chatter has advanced to a movement, with people calling for "Spill Your Guts" to end for good.
For those who have never seen the segment, it involves the host, Corden, asking guests to answer a series of personal questions — or eat foods some may not find palatable. For instance, in 2020, Justin Bieber was presented with a plate of bull penis, as well as having the option to sample cow blood and pork tongue jelly (via YouTube). Other guests who have been asked to spill or fill their guts include Kim Kardashian and Gordon Ramsay.
Daily Mail reports a Change.org petition has recently been gaining traction online, calling for Corden to modify or remove "Spill Your Guts," with over 12,000 signatures at time of writing. As noted on the petition, "Many of the foods that he presents to his guests are actually from different Asian cultures. He's presented foods such as balut, century old eggs, and chicken feet, and which are often regularly eaten by Asian people."
Twitter weighs in on the controversy
The Change.org petition goes on to state about "Spill Your Guts," "During these segments, [Corden] openly called these foods 'really disgusting,' and 'horrific.'" It is also noted that especially in light of the anti-Asian hate movement, "The Late Late Show" bit is "offensive," "insensitive," and "encourages anti-Asian racism."
Petitioners ask that the segment either change what foods are involved, or end the bit all together, and that Corden and the show issue an apology, as well as make a monetary donation to "local Asian American organizations that are working to help Asian-owned restaurants and small businesses."
Over on Twitter, people are also calling for Corden to alter or end the segment, with one user commenting, "the 'spill your guts' bit seemed really distasteful as the Asian community is openly battling racial attacks. Maybe consider odd food mixes (i.e. cold spaghetti with whip cream). Using a culture's delicacies and calling them gross, doesn't seem your style."
Another user tweeted, "can i bring up real quick how the spill your guts/fill your guts james corden thing can lead the celebs to knowingly or unknowingly disrespect common asian dishes."
Finally, someone else said, "Spill Your Guts or Fill Your Guts is xenophobic and anti-asian find a new segment."