Royal Expert Claims The Royal Family Has Had Enough Of Meghan And Harry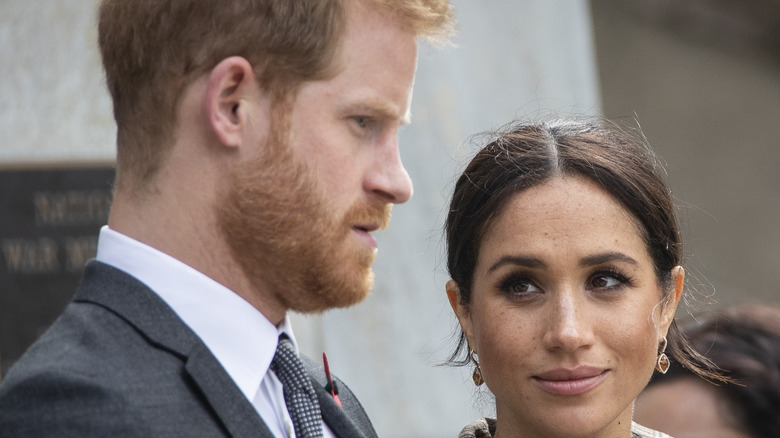 Pool/Getty Images
Prince Harry and Meghan Markle left their roles as senior members of the royal family in early 2020. Since that time, they've moved to California and have been hard at work on projects close to their hearts (via PureWow). Over the past few months, the Duke and Duchess of Sussex have also been sharing more of their lives with the media, including their thoughts on the royal lifestyle and their mental health battles. In March of 2021, the pair sat down for an interview with Oprah Winfrey, per Insider. During the tell-all, Meghan claimed that she suffered from suicidal thoughts while pregnant with her son. Meghan revealed that when she wanted to seek hospitalization for her issues, she was told that it would not look good for the family. The couple also admitted that some members of the family made racially insensitive remarks about their son's skin color.
A few weeks after the interview, Harry teamed up with Oprah again for a mental health docuseries titled "The Me You Can't See" (via Elle). During an interview, Harry confessed that when Meghan began experiences suicidal thoughts, he was "angry" that the couple were trapped in the system. "I was ashamed to go to my family, because to be honest with you, like a lot of other people my age could probably relate to, I know that I'm not gonna get from my family what I need," Harry said. Now, one royal expert reveals how the royals feel about Harry and Meghan today.
If you or anyone you know is having suicidal thoughts, please call the National Suicide Prevention Lifeline​ at​ 1-800-273-TALK (8255)​.
The royals may be growing tired of Harry and Meghan's behavior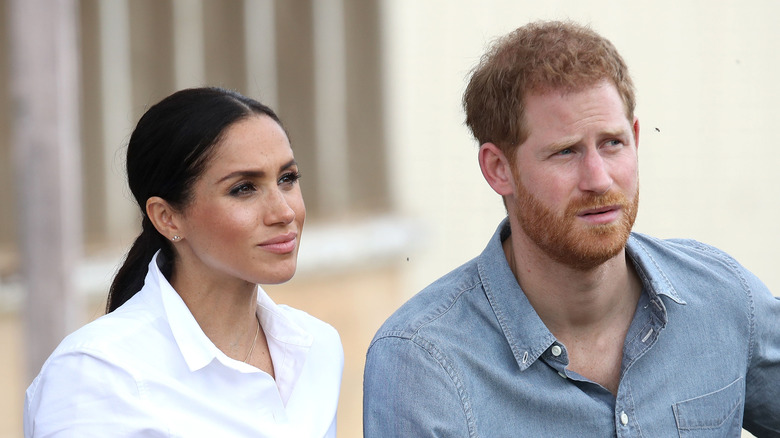 Chris Jackson/Getty Images
Rumors about the rift in the royal family have been circulating the internet for months. Prince Harry and Meghan Markle's comments regarding the institution, as well as their family members including Queen Elizabeth, Prince Charles, and Prince William, have had fans talking about what's in store for the future of the family. Now, one royal expert is weighing in, and revealing that the royals have had enough of the Duke and Duchess of Sussex's public commentary on royal life. 
"Without a doubt, the royal family are growing increasingly fed up with the behavior of Meghan and Harry, and also British public opinion is turning firmly against Meghan and Harry as well," Nile Gardiner, former adviser to Margaret Thatcher, told Fox News (via YouTube). 
Gardiner went on to share his interpretation of the royal family's response, saying that they are "closing ranks" with the passing of time. He shared that due to Harry and Meghan's "less than exemplary" behavior, the royal family members are starting to defend themselves, especially given that the couple have spoken out against the monarchy — which is, after all, run by Harry's grandmother. 
"The Queen is head of the monarchy and so I think there's a feeling within the royal family that the behavior of Meghan and Harry certainly leaves much to be desired," Gardiner said. The outlet went on to reveal that Gardiner's words came just days after Meghan and Harry's names were moved below Prince Edward and Princess Anne's names on the royal website. "You're seeing certainly the royal family coming together, distancing ... from Harry and Meghan," Gardiner remarked.