The Surprising Role Meghan Markle Played In Robin Thicke's Wedding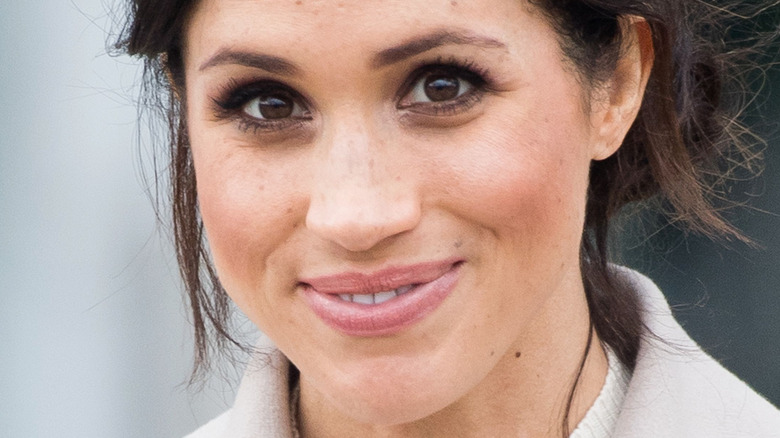 Shutterstock
While these days, Meghan Markle never fails to make headlines, there was once a time when she was the one doing the printing. Years ago, Meghan worked at Paper Source, a company that specializes in paper products, including gift wrap, personalized stationary, and wedding invitations. Per People, she "taught calligraphy, gift-wrapping and book-binding at the Paper Source store in Beverly Hills from 2004-2005."
It seems she was pretty good at her job, which she took on as part-time gig while auditioning and pursuing her dream of becoming an actor. "She's someone who really enjoys the creative aspects of the job, who enjoys helping people and also someone who enjoys making creative projects come to life," Paper Source CEO Winnie Park told People.
In the past, Meghan has touched on her love for handwritten notes. On her former blog, The Tig, she wrote (via People): "I think handwritten notes are a lost art form. When I booked my first pilot, my dad wrote me a letter that I still have. The idea of someone taking the time to put pen to paper is really special."
In an interview with Esquire, Meghan revealed she learned calligraphy as a young girl attending an all-girls Catholic school. "I've always had a propensity for getting the cursive down pretty well. What it evolved into was my pseudo-waitressing job when I was auditioning. I didn't wait tables. I did calligraphy ..." 
But what does all that have to do with Robin Thicke?
Meghan Markle had a hand in Robin Thicke and Paula Patton's big day — literally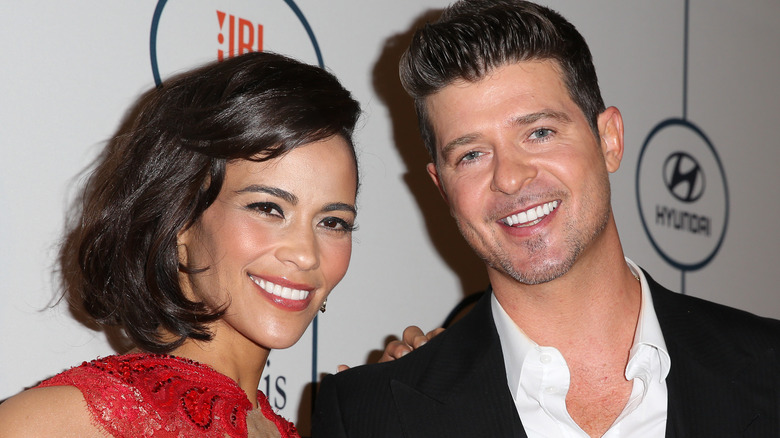 Chelsea Lauren/Getty Images
As it turns out, when Robin Thicke and his now ex-wife Paula Patton were looking for someone to do their handwritten wedding invitations in 2005, Meghan Markle was up to the challenge. Patton told Town & Country magazine about the conversation that led to this collaboration."Meghan was sweet and said I can do [your wedding invitations]!"  She continued, "I said, 'I can pay you,' and so she did it."
Per the outlet, Patton invited Meghan to her house to start in on the invitations. "Meghan wrote all the addresses and such," she said. "There was not a single mistake, it was truly perfect, and I remember being in awe of her." As a wife-to-be, Patton was riddled with anxiety getting ready for the big day. "I was like, 'Help me!," she said, revealing that she asked Meghan to "do both envelopes for the invitations and the save-the-dates, for around 200 guests."
While Thicke and Patton called it quits in 2014, the opportunity to make the pair's wedding invitation surely added to Meghan's impressive calligraphy resume, which, per her Esquire interview, also includes "Dolce & Gabbana's celebrity correspondence over the holidays."