Queen Elizabeth Just Wore The Same Outfit Twice In A Month. Here's Why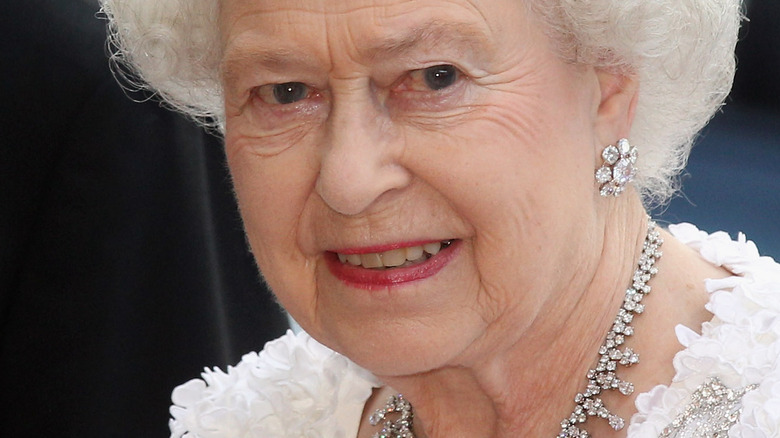 Oli Scarff/Getty Images
One of the perks of being a royal is being able to have a fabulous wardrobe. With so many clothes at their disposal, the ladies of the palace could easily go for a year without wearing the same outfit twice — and yet they do recycle favorite outfits from time to time. Catherine, Duchess of Cambridge, is renowned for repeating such stunning dresses as a teal Jenny Packham gown, an emerald-green Catherine Walker coat, and a black lace Diane von Furstenberg number (via Town & Country). Meghan Markle, too, has been seen rewearing faves like a Stella McCartney cape dress and a sheer-sleeved Erdem frock (via Insider).  
Queen Elizabeth doesn't have quite the same liberties as her granddaughters-in-law. Via Insider, the monarch's outfits are worn in public no more than twice, after which they are either remodeled or reserved for private gatherings. Her staff also keeps careful track of her outfits so as to avoid her wearing the same ones too close together; it might be two or three years between wearings for any single dress or coat.
That's why the queen's appearance at her annual Trooping the Colour birthday celebration raised more than a few eyebrows. Although she looked smart as always in a long pale gray dress coat and hat, it was the same ensemble she had worn just a few weeks earlier at the State Opening of Parliament. Plus, it was her third wearing of the coat, which she first donned in 2019. Was this a rare slip-up on the part of Her Majesty's staff?
The repeated ensemble followed an old tradition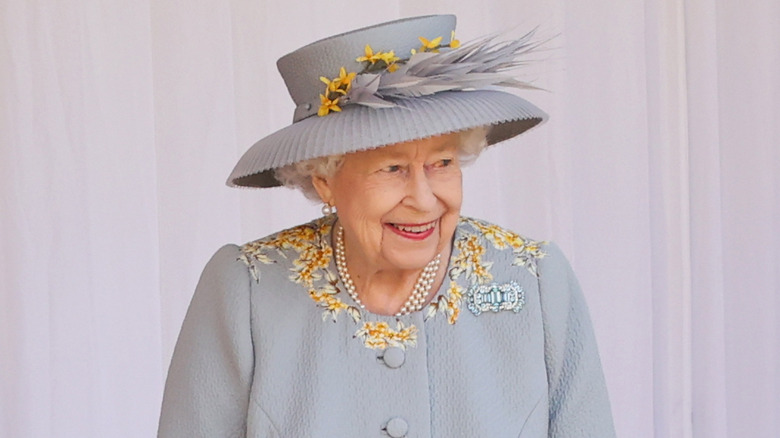 Chris Jackson/Getty Images
It seems the queen may have been observing an etiquette custom dating back a couple of centuries. Following the example of Queen Victoria, who stayed in permanent mourning after the death of Prince Albert, widows would wear only black mourning clothes for the first two years after their husbands' passing (via Funeral Basics). After this period, they were expected to wear "second mourning" clothes in understated colors such as gray and lilac. 
As The Telegraph explains, it seems the queen is putting her own twist on the custom. Although she has returned to her customary bright-toned dresses and dress coats for events such as the G7 Summit and the reception for next year's Big Lunch Jubilee coordinators, the queen is following the mourning color profile for official royal events such as Trooping the Colour. It's a subtle way of showing the world that her beloved Prince Philip is never far from her thoughts. Having lived through such historical lean times as World War II, Elizabeth is also a thrifty woman, so she may have preferred not to go to the expense of commissioning a special muted-color coat solely for her birthday parade. 
However, now that the meaningful ensemble has had three public appearances, it will probably be relegated to the royal closet for good.